Bela Fleck & The Flecktones 2011 & 2012 Tour
Submitted by press on Thu, 08/25/2011 - 19:13
Bela Fleck and The Flecktones have announced more dates for 2011 as well as a bunch of tour dates in 2012.   Check out their extensive tour dates below.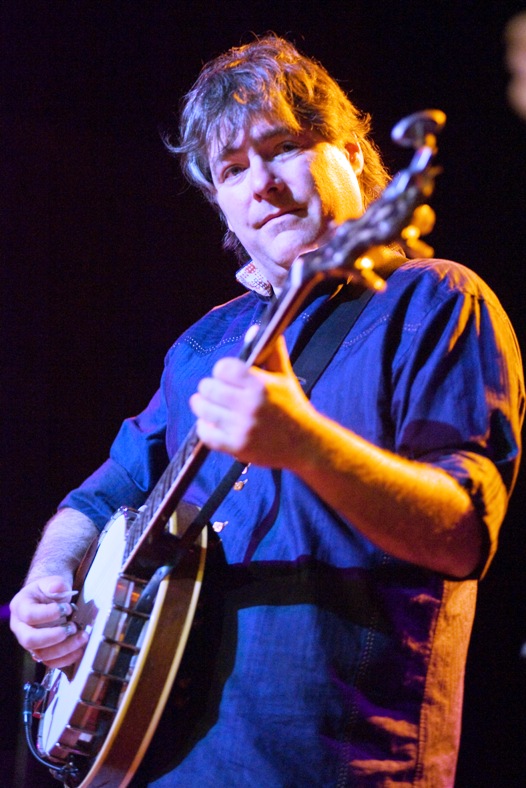 Béla Fleck is often considered the premiere banjo player in the world. A New York City native (named after composer Béla Bartok), he picked up the banjo at age 15 after being awed by the bluegrass playing of Flatt & Scruggs. He began experimenting with playing bebop on the banjo in high school. In 1982, he joined the progressive bluegrass band New Grass Revival, where he made a name for himself in the country-bluegrass world. At the same time he was releasing a series of solo albums for Rounder Records.
In 1989 he formed the Flecktones. They made their self-titled debut recording in 1990 by playing a "blu-bop" mix of jazz and bluegrass and soon became a commercially successful, critically-acclaimed and award-winning band. (Fleck--the only musician to be nominated for Grammys in jazz, bluegrass, pop, country, spoken word, Christian, composition and world music categories-- also recorded solo releases including 1994's Tales from the Acoustic Planet and last year's The Bluegrass Sessions--Tales from the Acoustic Planet Volume 2.)
Béla, commenting on the Flecktones' "raging eclecticism" in the May 2000 issue of Down Beat: "The more diverse the audience there is, the better. If you've got people who would normally be jazz fans sitting in the same room with people who love bluegrass, some funk fans who love Victor, some Deadheads, it turns into this roomful of happy people who are all real different."
Béla began the new decade by inking a deal with Sony Music that will result in five recordings for the label: two albums for Sony Classical and three albums for Columbia Records: a solo outing for the jazz division of the imprint and two releases by his celebrated category-defying band the Flecktones.
--
Tour Dates:
08.26.11         Windsor, CT      Summerwind
08.27.11         Portland, ME      State Theater
08.28.11         NY, NY US     Govenor's Island
09.01.11        Pittsburgh, PA Trib Total Media Amphitheater
09.02.11         Binghamton, NY      Binghamton University
09.03.11         High Mount, NY      Belleayre Music Festival
09.04.11         Orkney Springs, VA      Shenandoah Valley Music Festival
10.09.11        Shakori Hills Music Festival  Hope, NC
10.11.11        House of Blues    New Orleans, LA
10.12.11        House of Blues        Houston, TX
10.13.11        Paramount Theater, Austin, TX
10.14.11        AT&T Performing Arts Center, Dallas, TX
10.15.11        YonderFest, Ozark, AR
10.16.11        The Tennessean,  Knoxville, TN
10.18.11        Lyric Theater, Stuart, FL
10.19.11        Culture Room, Ft. Lauderdale, FL
10.20.11        Jannus Live, St. Petersburg, FL
10.21.11        House of Blues, Lake Buena Vista, FL
10.22.11        MagnoliaFest, Live Oak, FL
10.23.11        Blumenthal Performing Arts Center, Charlotte, NC
11.2.11        Foothill PAC  Oneonta, NY
11.3.11        Center for the Arts Mainstage, Buffalo, NY
11.4.11        Storer Auditorium, Syracuse, NY
11.5.11        Helen M. Hosmer Hall  , Potsdam, NY
11.6.11        Hart Theatre - The Egg, Albany, NY
11.7.11        The Music Center, Strathmore, MD
11.9.11        McCarter Theater, Princeton, NJ
11.10.11        Calvin Theater, Northampton, MA
11.11.11        Zeiterion Performing Arts Center, New Bedford, MA
11.12.11        Staller Center, Stony Brook, NY
11.13.11        Stone Mountain Arts Center , Brownfield, ME
11.16.11        Town Hall, New York, NY
11.17.11        Keswick Theater, Glenside, PA
11.18.11        Sanders Theatre, Cambridge, MA
11.19.11        Paramount Theater, Rutland, VT
11.20.11        Capitol Center for the Arts, Concord, NH
3.1.12            University of Wisconsin, Madison, WI
3.2.12            North Shore Center for the Performing Arts, Skokie, IL
3.3.12            North Central College,  Naperville, IL
3.6.12            Sunset Center Theater, Carmel-by-the Sea, CA
3.7.12            Humboldt State University,  Arcata, CA
3.8.12            Warfield Theater,  San Francisco, CA
3.9.12            Orpheum Theater,   Los Angeles, CA
3.10.12        John Ascuaga's Nugget,  Sparks, NV
3.12.12        Smith Center for the Performing Arts,  Las Vegas, NV
3.13.12        Anthology,  San Diego, CA
3.21.12        Florida State University,  Tallahassee, FL
3.22.12        Savannah Music Festival,  Savannah, GA
3.24.12        University of Connecticut,  Storrs, CT
3.25.12        Berks Jazz festival,  Reading, PA
3.28.12        Missouri State University,  Springfield, MO
3.29.12        Sheldon Concert Hall,  St. Louis, MO
3.30.12        Butler University,  Indianapolis, IN
3.31.12        University of Northern Iowa,  Cedar Falls, IO
4.1.12            Holland Performing Arts Center,  Omaha, NE
4.3.12            University of Wyoming,  Laramie, WY
4.4.12            Lincoln Center,  Ft. Collins, CO
4.5.12            Wheeler Opera House,  Aspen, CO
4.6.12            Vilar Performing Arts Center,  Beaver Creek, CO
4.7.12            Boulder Theater,  Boulder, CO
4.12.12        Walton Arts Center,  Fayetteville, AR
4.13.12        Performing Arts Center,  Germantown, TN
4.14.12        Ryman Auditorium,  Nashville, TN
4.20.12        Miami University,  Oxford, OH
4.21.12        Clay Center,  Charleston, WVA
4.22.12        University of Richmond,  Richmond, VA
4.25.12        University of North Carolina,  Chapel Hill, NC
4.27.12        Merlefest,  Wilkesboro, NC
4.28.12        Brown Theater,  Louisville, KY