Brass-A-Holics To Release New Album On October 29th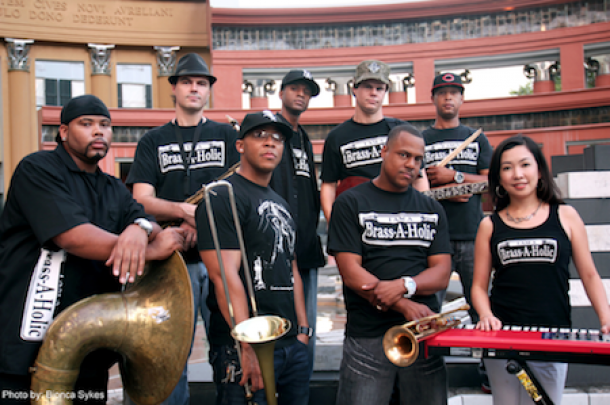 Pioneering the Go-Go Brass Funk genre since 2010, Brass-A-Holics are set to release their debut album I AM A BRASS-A-HOLIC on October 29th. I AM A BRASS-A-HOLIC was produced by Grammy Award and Billboard Award winner Irvin Mayfield, who is also featured on the album's first single "Alien Love Factory." For more information, please visit: www.brass-a-holics.com
Blended with keys and strings, Brass-A-Holics' Go-Go Brass Funk genre combines the unrivaled New Orleans brass sound with Washington DC's Go-Go groove. Such an innovative musical practice has landed the band a feature on The Grammy's ReImagined Series and performances at New Orleans Jazz & Heritage Festival, D.C. Jazz Festival and New Orleans French Quarter Festival. Watch Brass-A-Holics cover Paul Simon on Grammy.com, here: http://bit.ly/1awvKUx
Brass-A-Holics was conceived in the mind of the New Orleans' most celebrated trombonist, Winston Turner. Taking his years of experience playing in The Soul Rebels Brass Band, Turner brought together top members from fellow renowned groups like the To Be Continued Brass Band, New Birth Brass Band, Marva Wright and The Wild Magnolias, to form the 8-piece powerhouse he's always dreamed of. He explains,"I think I finally got it right. I am rejuvenated and more excited now than I have ever been in my 20+ years of being a musician. The family that we put together on stage is like a group of all-stars. The sky is the limit. We want to become legendary".
Along with Turner, this uniquely diversified band consists of Tannon Williams (trumpet), Robin Clabby (saxophone), Jason "Slick" Slack(bass horn), Matt Clark (guitar), Keiko Komaki (piano), Dwayne Muhammad (percussion) and Rickey Caesar (drums). Although there are differences in culture, style, and swagger within this band, the members of the Brass-A-Holics collectively craft a unified and unparalleled sound.
Be warned that this sound is a powerful substance; both addictive and intoxicating. It is guaranteed that you will find yourself addicted to the Brass-A-Holic sound!
Brass-A-Holics will release I AM A BRASS-A-HOLIC on October 29th. Please head to www.brass-a-holics.com for more updates.
Track Listing:
01. Alien Love Factory
02. Runnin
03. Get It In
04.Theme from Lupin III
05. Hey Baby
06. A Good Night
07. Raw Dawg
08. Hoochie Coochie Man
09. Do the Things You Do
10. They Sew
11. Happy Birthday Hallelujah