The Brothers Comatose | City Painted Gold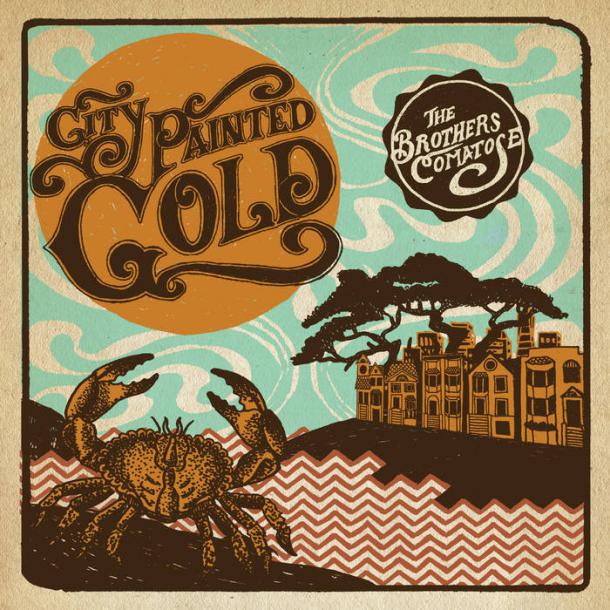 On their third album City Painted Gold, San Francisco string-benders The Brothers Comatose have deepened their rocking acoustic prowess to new heights. The musical comradery between banjo and guitar-slinging brothers Alex and Ben Morrison renders authentic each time they step onstage. In a matter of five years the Brothers, backed by Gio Bendetti (bass), Philip Brezina (fiddle), and Ryan Avellone (mandolin) have attracted legions of loyal followers; many whom might have not have previously been bluegrass junkies. Brothers Comatose plays its own brand of West Coast acoustic inspired by gospel, soul, punk, and rock. It's their versatility that has kept them busy touring year-round in different settings, from MerleFest in North Carolina to laid back breweries on the Central California Coast.
This time around, on City Painted Gold, their diverse influences are clearly discernable. The harmonies are polished and the instrumentals are assured but more woven than solo oriented. Stories and nostalgia are abundant on tunes like "Yohio" and the album's title track, which is clearly a statement about the tech-boom in their home city of San Francisco. It's reminiscent of Bruce Cockburn's early 80s soul anthems plus inspired fiddle work. "Knoxville Foxhole" is playful and old-timey and undoubtedly a bar-burner at a show. Gnarly ripping harmonica and strong dual harmonies sound crisp in the studio. Strong lyrical metaphor and reinforced songwriting shines through. "She's a Hurricane" is beautiful, perhaps even possessing a stealthy chart potential. Still, City Painted Gold is too personal to be overreaching for the recognition that the Brothers have already won from steady touring, and doing what they love most, playing their asses off.
Hardcore Bluegrass folks will dig "The Way The West Was Won" which features the hottest licks on the record. Furious fiddling, rolling banjo, ripping gee-tar, and spot-on mando, make it obvious that the folk and bluegrass community is gelling well with Brothers Comatose. "Black Light Moon" has a canned bluesy vocal reminiscent of Dylan's late 1960s cowboy-hoedown phase. Ultimately The Brothers Comatose sound only like themselves. Their chemistry and connection with the fans have proven precious. City Painted Gold reveals their durability in many different forms. Many of the tunes are about abundant change and rolling with it smoothly. It's time for Americana fans all over the country to get down with the Brother's, who are currently on tour on the East Coast before playing all over nationwide throughout the summer. City Painted Gold is available on vinyl, CD, or digital download from thebrotherscomatose.com