The Brown Edition | Soulpocalypse | Review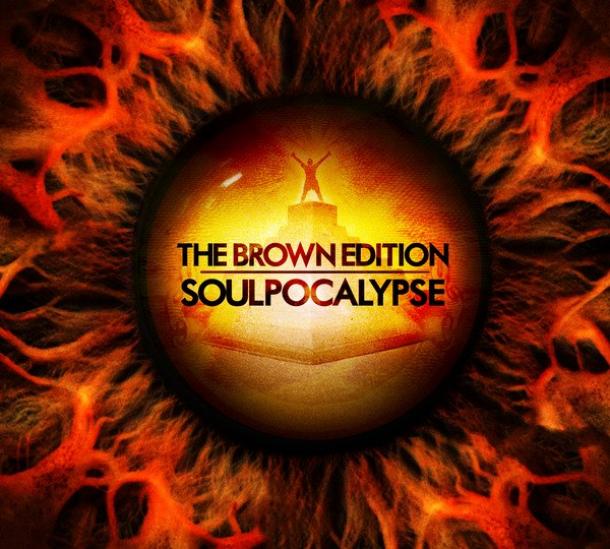 The Brown Edition's new release from Spectra Jazz, Soulpocalypse, is nothing less than a cause for collective rejoicing. The superbly assembled album marks a throwback of sorts - they hail from another era when outstanding outfits like The Electric Flag, Blodwyn Pig, and Blood Sweat and Tears recorded on the cutting edge of popular music. Hailing from the northwest United States, the eight-piece outfit is led by lead vocalist and guitarist Miguel Pineda.
The album kicks off with a sprightly, horn-driven instrumental entitled "Squiggle Buzz". The entire album makes it apparent that the horn section of Aaron  and Ninee Wolff on sax and flute respectively, Jeff Brooks on clarinet and sax, Nathan Geyer on trombone, Brian Briggs on trumpet are a musical subunit to be reckoned with and this opener is no exception to that fact. "Chicken Shack" has a powerful groove and Pineda's strong, commanding vocals and snappy guitar playing really carries the song far, but there's not a weak spot in the band's presentation.
"Break Down" is another song that features the band flexing their musical muscle with another skillful instrumental workout.
The winding saxophone lines and fleet-footed percussion are a highlight of "Dog Couch", one of the album's best instrumentals. Pineda's vocals step to the fore again for another opportunity to shine on "St. James Infirmary". It is a jaw-dropping rendition of this standard that excels at weaving unbelievable atmosphere with a minimalist approach. "High Life" is a Latin flavored romp with a wonderfully energetic vocal, but the drumming propels the song more. The band saves the best number for last with the album's final song, "The Neighborhood". The number allows the band a final chance to stretch out and the twisting horn lines, busy drumming, and discordant guitar work gel together well. It is chaotic, but never unmusical, and one cannot help but admire the band's strong songwriting skills. While they are still primarily an instrumental band and create compelling material in that field, one senses a growing ambition behind the band. Pineda's appealing vocals are a strength that the band underutilizes on this album, but I don't expect that will be continuing long.