Deborah Bonham | Spirit | New Music Review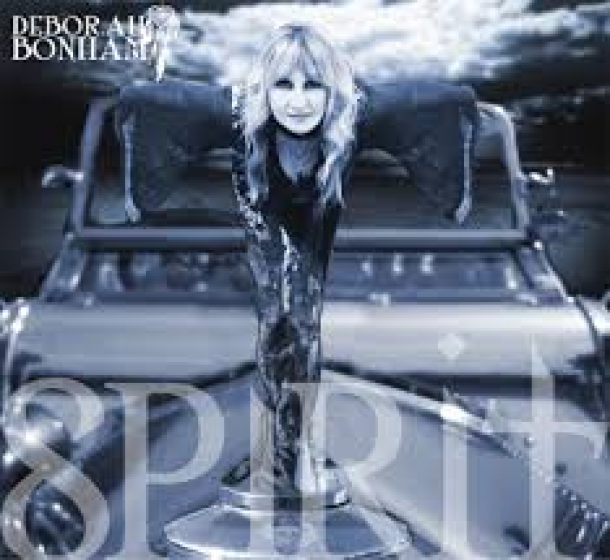 Deborah Bonham is not only the sister of John Bonham (the late drummer for the band Led Zeppelin she's also an accomplished blues based, 70s-style neo-classic rock singer/songwriter based out of England who just released her latest release "Spirit" in 2014 (Spectra Records).  This is her fourth release to date.
The CD kicks things off with "Fly" a bluesy. upbeat intro piece that serves-up methodical musical build, soulful vocal melodies accompanied by inviting slide guitar, R&B style guitar licks and impressive feel. Track 2 "Painbirds" shifts gears a bit with its striking movement meshed against well placed vocal harmonies, painted against a grand slam chorus. Track 3 "Feel so Alive" delivers smooth moving ditty with well-placed vocal melody, warm musical flow and thought provoking lyrical content that flows and ebbs its way through to musical fruition. As the CD slowly unfolds you will notice a lot of musical variety from these guys reminiscent of classic Melissa Etherdige, Bonnie Rait, Heart, Cheryl Crow and even Fleetwood Mac on steroids.  First the music itself has a lot of vocal originality and possesses a psychedelic 70's rock persona sung from a soulful female perspective. The CD offers a rich melodic vocal foundation and lush layers of instrumentation. I would classify this music as classic 70's Psychedelic Rock, R&B, Soul Rock and even Jam Band with a strong emphasis on vocal harmonies and good songwriting and superb musicianship. All in all the CD has some truly impressive moments on it showcasing amazing playing, dynamic arrangements, and wire arrangement of instrumentation. Besides the standard 4 piece delivery you will also notice brief splashes of Hammond Organ, well placed harmonies, Fiddles, R&B guitar and solo guitar, impressive harmonies all layered within the music built upon a thick as a brick musical foundation. As far as vocal abilities go Bonham brings the mojo and lets it all hang out with a lot of power, passion, raspy grit and groove-ability. Above all she showcases enough easy going soul to go around. Her voice works well across the board possessing a strong tonality reminiscent of classic Melissa Etherdige, Bonnie Rait, the Heart sisters and maybe a splash of Janis Joplin. Bonham's  voice fits this style of music perfectly. She clearly demonstrates a strong and confident vocal ability as she takes many impressive vocal risks along the way. All production aspects check out as the CD has solid low end groove and crystal clear high end clarity. From powerful "Killing Fields" to smooth moving "Take me Down" to heartfelt "I Need Love" to upbeat I Won't Let You Don" to rocking "What it Feels" to bluesy Stop Now" this CD has something for just about everyone. The CD ends with Track 12 "Lay Me Down" the perfect faille statement for a CD of this caliber.
To go along with the Jam Band format I wish there were more solos segments throughout.
In closing Deborah Bonham's latest effort Spirit is just a blast to listen to and is a strong musical production from start to finish. The music is highly original, extremely melodic with amazing writing and playing from all involved. As the CD progressed I became more and more impressed with it. Because of the influences I would say the flower children who like Janis Joplin or even Heart to Fleetwood Mac will no doubt love this one. The musicianship is first rate, the songs are all consistent and strong. Each song possesses a unique personality, flair, and signature groove. Regardless of her lineage Bonham deserves a lot of credit for being a musical mastermind on her own right.