Halloween is a festive occasion across the nation, but few places are able to boast the sort of debauch festivities Boulder, Colorado is known for. Hit the Pearl Street Mall starting at around 8 pm and treat your eyes to a cornucopia of sights, including the Naked Pumpkin Run (just what it sounds like), the "Anything Goes But Clothes" costume contest at the Lazy Dog, and generally more sexy, sultry, scandalous and skintastic costumes than you could shake your stick at. A mainstay of Boulder's spooky holiday scene for the past several years is DeVotchKa's Halloween Extravaganza at the historic Boulder Theater. Looking around the crowd as I entered the theater, I was pleased to see that only a few people were square enough NOT to dress up for the occasion.
Local favorites Paper Bird were getting the night started as I entered; unfortunately I was not able to actually see them, as I was firmly stuck in the intensity of the beer line, trying hard not to spill any on my bright red women's pants (hey, it's Halloween!). The folksy melodies, however, were loud and clear, and were a pleasant reminder that even folk music can be experimental. Paper Bird's onstage cast of characters includes three vocalists, all female, a banjo, acoustic guitar, standup bass, sometimes a fiddle, and a trombone that could kick it with some of the best lead guitarists on the local scene. Their sound is pretty unique, and this innovative, fun-lovin' bunch may very well be destined for great things.
Denver-based band Bela Karoli followed Paper Bird. Another local favorite, at least of mine, Bela Karoli's new age jazz, rock, and electro fusion reminds me a little of bigger names like Beth Orton, or even Radiohead. Dressed up in shiny silver and white cosmic costumes, Bela Karoli's music sounds as if it could have come from outer space, or from sometime in the future after the flying car has finally hit the consumer market. By this point in the evening, I had pushed my way through to the front of the theater to mix and mingle with genies, call girls, zombies, Team Zissou and Che Guevara. The first two feet of the stage, plastered with signs reading "please do not set your drinks on the stage," was already covered with empty glasses, cups, and bottles, and was sticky with hooch.
Driven largely by vocals and strings, and backed by moody synthesizer and keyboard work, and a well-positioned accordion, Bela Karoli has a progressive, mechanical feel to their music, a tasty mix of analog and digital that is both a haunting and melodic. Two part vocal harmonies break up the hypnotic electronic clicks, pops, and thumps that serve as the band's rhythm section. The total effect is one of elegant simplicity, and borderline psychedelia. The mechanical vibe was heightened by the band's choice of futuristic silver costumes, and singer/bassist Julie Davis's bleach white platinum hair. In reality, I think the costume material was the same stuff most people use to block the windshields of their cars, but hey, it's Halloween! Something about it being Halloween made the eccentric sounds of Bela Karoli feel just right, as if there couldn't really be any other soundtrack appropriate to the ever-growing Zombie Zoo that was the Boulder Theater.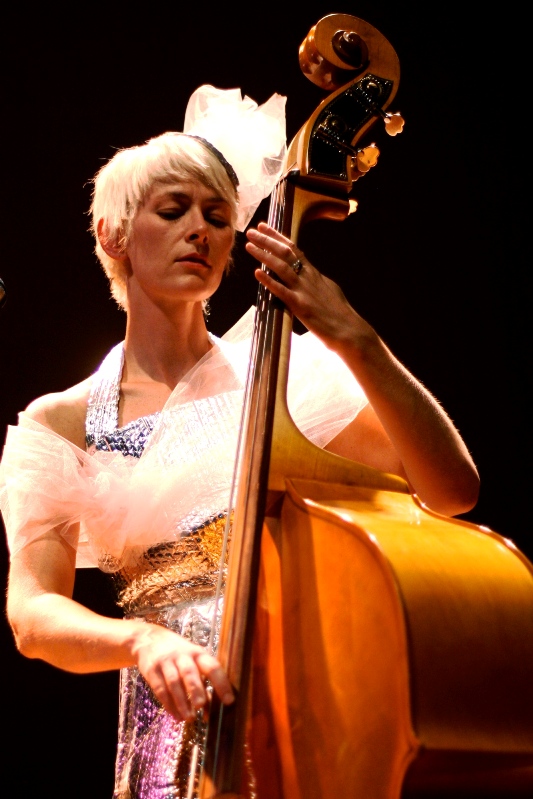 And then it was costume contest time. A gaggle of girl jelly fish, a bike wreck zombie, the guys from Tron, and even John McCain and Sarah Palin pranced across the stage. These last two received a deafening "BOOOOOOOO!" from the audience, but it was all in good fun! There was also a large assortment of god-knows-what costumes as well, interesting purely for their oddity and ingenuity.
If Bela Karoli had provided the "whoa" for Halloween night at the Boulder Theater, DeVotchKa provided the "wow." A little bit folksy, a little bit gypsy-punk, a little bit mariachi, and a little bit all-out rock and roll, DeVotchKa is another one of those bands that defies categorization. The only thing you can count on is passion and intensity, two things DeVotchKa has in abundance. The Denver-based quartet came out guns blazing, or rather, three-cornered hats blazing. Despite their modern flare, the fact that DeVotchKa was dressed as a gang of colonial Americans was pretty appropriate. Modern they may be, but there is more than a hint of the classics in their music, something indescribably rootsy mixed into the worldwide fusion of styles and schemes. Maybe it's the strings, or the Eastern European polka-esque accordion and tuba, or Nick Urata's opera worthy voice, but whatever it is, the old-meets-new sound that DeVotchKa has forged over the course of their career has earned a massive and well-deserved cult following.
In all honesty, though, DeVotchKa's fan base has moved beyond cult status and into the fringes of mainstream. After they wrote the soundtrack to the Oscar winning Little Miss Sunshine, they became something of a household name. "They could be the biggest band in the world if they wanted to," the guy next to me said. In as much as you can trust the drunken guy next to you at a show, I believe him. Earlier this year, the band released A Mad and Faithful Telling on ANTI- Records, an Indie label still, but a serious step up from way the band's previous records had been released. But that's not the band's only sign of success. DeVotchKa recently recorded the first track on Nightmare Revisited, a remake of the soundtrack for the movie Nightmare Before Christmas, and the title track from their 2004 album How It Ends appears in the TV trailers for a new video game, Gears of War 2. This is where the snobbiest of music snobs get to yell "sellout!" but for my part, I think DeVotchKa deserves all the recognition they can get, and as they say, any publicity is good publicity.
In person, the DeVotchKa experience is a wild and crazy time, above and beyond the already sharp sound the band creates in the studio. When there is space to do so, horn and string sections accompany the band, but on Halloween, it was just the four core members – Tom Hagerman on violin and accordion, Jeanie Schroder on upright bass and tuba (sousaphone, whatever), Shawn King on drums and percussion, and Nick Urata on guitar and enough voice to blow your head off. Although their sound is somewhat less complex without the horns and strings, there is an appealing angst that comes out in their absence, a more genuinely rock and roll vibe. Each format, big band or small, is exciting, and each has its place. But while the big band thing may work wonders for a place like Red Rocks Amphitheater, the smaller, simpler approach was perfect for the Boulder Theater.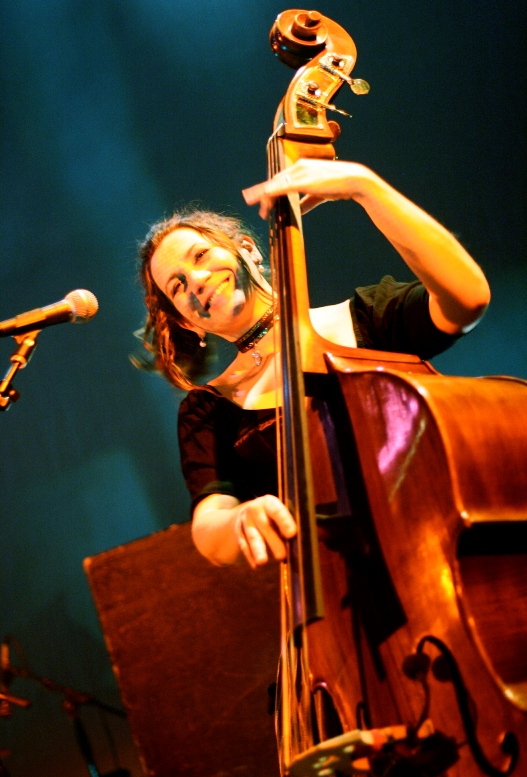 It was like a punk rock mosh pit meets barn dance, polka party meets drinking contest, fiesta meets circus. If you weren't sweaty and gross from dancing, stomping, clapping and hollering, you weren't even there.
Halloween has got to be one of the most fascinating occasions to see a show. Music brings out the hidden oddity of the human spirit, and nothing illustrates the oddity more than the occasion to dress in any way you want, free from the typical norms that society imposes. "I wish that you could see this through my eyes," Nick Urata said. Me too, I thought, I'm sure we make for a hell of a sight. The theater was packed, and because I couldn't leave for fear of never returning, all I could see was the front row. As good as the costumes in the front row were, I couldn't help but wonder what I was missing behind me.
I am perpetually enthralled by the power of Nick Urata's soulful and impassioned voice. When I said it was opera-worthy, I was not exaggerating, and I wouldn't be at all surprised if he had been classically trained in that manner before switching to rock and roll. With a clever dual microphone setup in front of him to create a sort of vocal echo, Urata propels his voice out at the audience, the resulting words (or whistles, or la la la's) resonating from wall to wall, floor to ceiling in a torrent of raw and beautiful energy. It is in many ways the centerpiece of the DeVotchKa sound, and as instrumental as any actual instrument on stage.
It would be an injustice, however, to assume that the other three members of the band are merely the back up to Urata's talent. The best bands are solid on all fronts, and DeVotchKa is no exception. Tom Hagerman's work on the violin and accordion provide the atmosphere, which is as emotionally charged as Urata's voice. Jeanie Schroder's tuba and bass playing give the band much of its unique, gypsy swing, and Shawn King's drumming is quite unlike anything else you're likely to hear in the realm of rock music. With so many sounds floating around the ether, being distinctive is a must; ordinary simply won't do.
The band was as festive as the audience, and that's saying something. Nick Urata took hits from a bottle of red wine throughout the show, at one point using the bottle as a slide, and at another banging a cymbal against it, getting wine all over the stage. Urata wasn't the only one celebrating. Jeanie Schroder drank whisky and Tom Hagerman drank beer. If Shawn King was drinking, I'm not sure what he was having. Early in the evening, Urata got an eager look in his eyes. "I think I'd like to know you better," he said to a fan in the front row, and proceeded to take a big slug from whatever the fan was carrying in his wineskin. Maybe it was wine, maybe it wasn't, but Urata seemed to like it.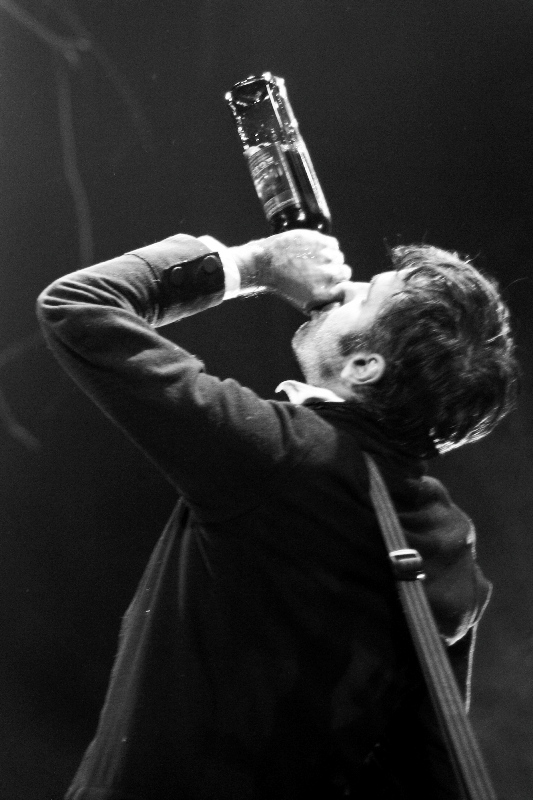 DeVotchKa played most of the songs off A Mad and Faithful Telling, including Transliterator, Head Honcho, Basso Profundo, and The Clockwise Witness. The band dug deep into their catalog, pulling out favorites like How It Ends, and several all-instrumental rock out jams. As if the music alone wasn't enough, DeVotchKa brought out a scantily clad gymnast to spin, twirl and swing from a giant ring suspended from the ceiling. When she mounted the ring, the crowd, who had been dancing and singing as hard as they could, went completely silent and still, entranced and amazed by the spectacle. I don't even remember what song the band was playing at the time, although I do remember something about a Theremin.
When DeVotchKa went off stage, the crowd screamed and stomped for a good ten minutes until the band came back out to play an encore. The band seemed truly grateful for the enthusiastic reception, the reason they come back every Halloween, no doubt, and the crowd was just as enthused to be in the presence of such a remarkable, unique and captivating band. After DeVotchKa walked off stage again, toasting the fans as they went, the crowd remained fixed, hoping beyond hope for a second encore. If they do ever become the "biggest band in the world," I know that I'll look back on these more intimate days with extreme fondness.
The scene outside the theater was madness, shear madness. The costumed masses were now drunk and rowdy. It was like walking out into a human circus, like Cirque du Soleil with beer goggles. And with the Pearl Street Mall only a half-block away and still boiling with energy and sleaze, the party wasn't over yet. Only forty-five minutes until last call, and not a moment to lose. But that's a story for another day.
To see more photos of the festivities, including yours maybe, please visit the Gallery.