Ghost Owl Summer Tour - feat. members of PGroove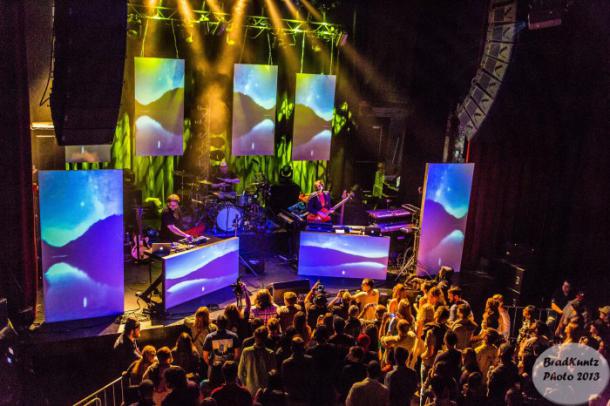 Newly debuted trio Ghost Owl - comprised of recently disbanded members of the jam staple Perpetual Groove - is proud to announce plans to release a debut album this fall. Ghost Owl spent a busy spring in the studio and on the road fine tuning new tunes and will embark on a summer tour with dates in the Southeast, New York and Chicago. The band will be joined on select dates by Toubab Krewe, Stokeswood and AFRO. Tickets can be purchased through all venue outlets. A full list of tour dates is below.
Ghost Owl features three original members of improv-rock band Perpetual Groove; Adam Perry, Albert Suttle and Matthew McDonald. Since first planting roots in late 2012, the trio has enjoyed an enthusiastic reception to their lush rock/ indie/ EDM influenced sound and lavishly visual live show. Ghost Owl strives to push their own boundaries of creativity by combining aspects of music, visual art, technology and production to create a complete live experience for fans.
Ghost Owl Tour Dates:
5/2/13 - Five Points Pub - Atlanta, GA
5/3/13 - The Pour House - Charleston, SC+
5/4/13 - The Chop Shop - Charlotte, NC+
5/8/13 - The Blockley Pourhouse - Philadelphia, PA*
5/9/13 - Stella Blues Bar - New Haven, CT
5/10/13 - Brooklyn Bowl - Brooklyn, NY*
5/11/13 - The Middle East - Cambridge, MA*
5/17/13 - Terminal West - Atlanta, GA+
5/30/13 - Rhythm and Brews - Chattanooga, TN^
5/31/13 - Martyrs' - Chicago, IL*
6/1/13 - Martyrs' - Chicago, IL*
6/21/13 - Exit/In - Nashville, TN
6/2213 - Athfest - Athens, GA
6/29/13 - Pasture Palooza - Berryville, VA
7/5/13 - Funky Biscuit - Boca Raton, FL
7/6/13 - Dunedin Brewery 17th Year Celebration Party - Dunedin, FL
7/12/13 - Freebird Live - Jacksonville, FL
+ with Stokeswood
* with Toubab Krewe
^ with AFRO