Grateful Dead Night @ The Giants Game
Submitted by mike on Thu, 08/04/2011 - 07:37
The San Francisco Giants will again honor their local house-band, The Grateful Dead, and Jerry Garcia on August 9th, 2011.  August 9th will mark the 16th anniversary of Jerry's passing.  Last year the annual Grateful Dead night ended up in a very exciting 11th inning win for the SF Giants, who eventually went on to win the World Series!  Check out more details below.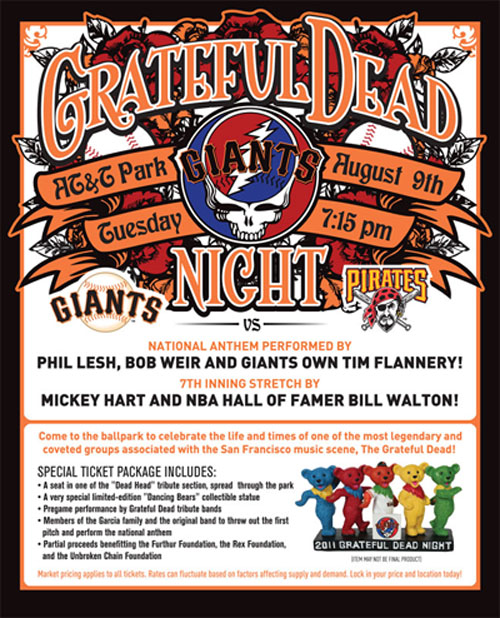 --
Giants VS Pirates
National Anthem performed by Phil Lesh, Bob Weir, And Giants Own Tim Flannery
7th Inning Stretch by Mickey Hart and NBA Hall Of Famer Bill Walton
Special Ticket Package Includes:
•A seat in one of the "Dead Head" tribute section, spread through the park
•A very special limited-edition "Dancing Bears" collectible statue
•Pregame performance by Grateful Dead tribute bands
•Members of the Garcia family and the original band to throw out the first pitch and perform the National Anthem
•Ticket proceeds will be donated to the Furthur Foundation, Rex Foundation and the Unbroken Chain Foundation as well as other non-profits affiliated with the individual band members causes...
Get your tickets here. Please note you will be automatically directed to purchase tickets in the Special Events sections.