Great South Bay Music Fest Features DSO, Infamous Stringdusters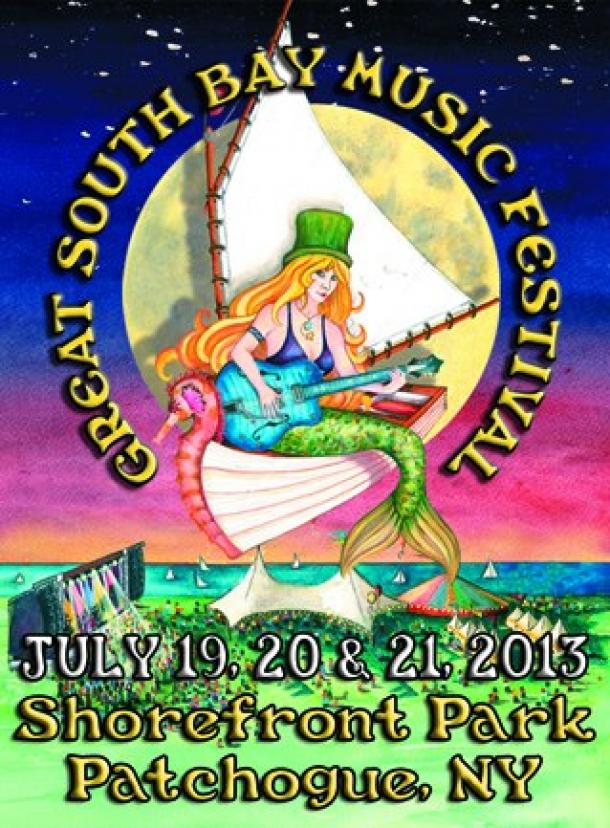 The Great South Bay Music Festival is the largest three day, "American Themed" music, art & cultural family event on Long Island. Featuring over 50 musical artists on 4 stages, and presenting top name, as well as local emerging artists in contemporary & classic rock, jazz, jam-band, country, folk, zydeco, funk and all types of American music.
The Great South Bay Music Festival is committed to excellence in "Fun Education"! Parents (and of course kids) will love our KIDZONE – featuring top quality "educational & fun" children's entertainment, all day Saturday & Sunday.
For "Arts & Crafts" Lovers, and shoppers, Great South Bays "Artisan Market", features a diverse collection of interesting handmade and imported creations.
WHERE CAN I PARK?
Multiple parking options are available. See our Directions & Parking page.
WHEN AND WHERE IS THE FESTIVAL BEING HELD?
The Festival will be held on Friday July 19, Saturday July 20, & Sunday July 21, 2013. The Festival is located on Smith Street, Shorefront Park in Patchogue, Long Island, New York.
WHAT ARE THE HOURS OF OPERATION?
Friday, July 19:
Doors open at 4:30 PM
Music stops at 11:00PM
Saturday, July 20:
Doors open at 12:00 PM
Music stops at 11:00PM
Sunday, July 21:
Doors open at 12:00 PM
Music stops at 9:00PM
HOW & WHERE CAN I PURCHASE TICKETS?
Tickets are available Online as well as on the day of the event, at the Box Office.
NOT PERMITTED ON FESTIVAL GROUNDS:
Alcoholic beverages, cans, bottles, recording devices, professional cameras, video equipment, laser pointers, coolers, outside food and beverages, empty containers, bicycles, wagons, carts, pets, glass, personal tents, umbrellas, unauthorized vending, fireworks, campfires or grills, weapons, illicit drugs, and other contraband are strictly prohibited. Festival reserves the right to deny entry or remove anyone from the grounds in violation to these rules and regulations.
Video and professional cameras (a professional camera is any camera with a removable lens or lenses over 2-3 inches) are not allowed. Please don't bring them! If in doubt we suggest you don't bring it.
WHAT YOU SHOULD BRING TO THE FESTIVAL?
A Lawn Chair (unless you have V.I.P. Tickets)
We highly recommend bringing sun block, a hat, sunglasses, unrestricted clothing. Since the festival is being held in the middle of the summer it may become uncomfortably hot, even though you are on the water.
We also advise wearing comfortable shoes.
HOW DO I GET TO THE FESTIVAL GROUNDS?
Drive, Train, other…
See our Directions & Parking page for links to all options.
WHERE SHOULD I PARK?
There are designated parking areas as well as street parking throughout the area. There will be staff to direct you.
ARE THERE ATM'S AT THE FESTIVAL?
There are ATM machines conveniently located throughout the festival site.
ARE THERE FOOD VENDORS? WHAT KIND?
The Great South Bay Music & Art Festival is proud to feature all types of food & beverages from healthy fare to American classics such as burgers, hot dogs, shrimp, clams, barbeque and smoothies.
WILL ADULT BEVERAGES BE SERVED?
A "Brews Tent" serving a diverse selection of Blue Point Brewery's award winning creations, as well as regional favorites Also, for a comfortable respite in the middle of all the activities and events visit the Grape Jam tent, a quiet spot to catch your breath and sample some of Long Islands finest wines.
LOST & FOUND
There will be a lost & found located at the box office.