John Fogerty To Close Out SXSW
Submitted by MSO on Fri, 03/08/2013 - 13:30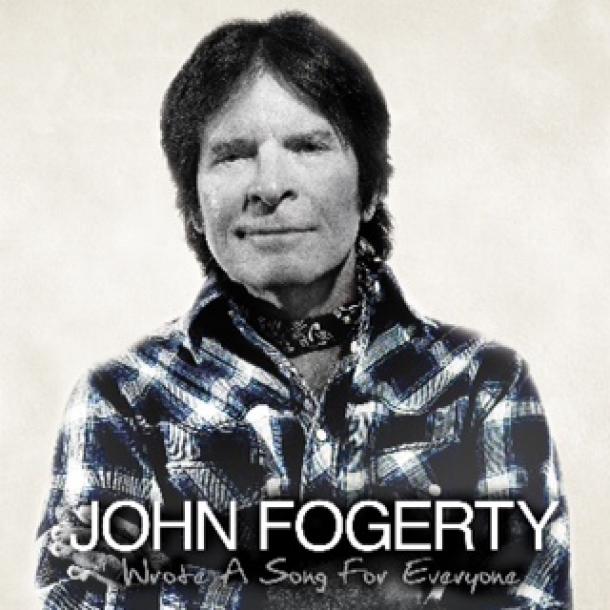 John Fogerty will close out SXSW this year on a high note with a special performance Saturday, March 16 at 10:00 PM at the ACL Moody Theatre in Austin, Texas. This show with the legendary singer, songwriter and guitarist's band comes as the excitement is building for the May 28 release of his new self-produced album for Vanguard Records, WROTE A SONG FOR EVERYONE.  A celebration of his iconic songbook, it is a collection of 12 classics and deep tracks from his remarkable canon of hits recorded in collaboration with other artists, plus two brand new solo songs. FOGERTY will also perform Thursday, March 14 at SXSW at Stubb's as part of the Sound City Players, the all-star band assembled by Dave Grohl.
This past Tuesday (March 5), FOGERTY appeared with the Sound City Players on "Jimmy Kimmel Live!" playing the classic FOGERTY original "Fortunate Son." FOGERTY performs a new version of this song with the Foo Fighters on WROTE A SONG FOR EVERYONE. To see the "Kimmel" performance, which took place on Hollywood Blvd in Los Angeles, go here.
FOGERTY recently appeared at album playbacks for media and tastemakers, talking about each song on WROTE A SONG FOR EVERYONE in sessions moderated by Bill Flanagan (in New York at Iridium) and David Wild (in Los Angeles at Hotel Café).
USA Today's Edna Gundersen, writing about the Los Angeles event, praised the new version of "Fortunate Son": "The Foo Fighters join in on a fierce, raucous all-too-timely remake of Fogerty's bitter slap at the entitled class" (2/24/13). Read the full piece here.
Billboard's Thom Duffy noted that FOGERTY "songs like 'Proud Mary,' 'Bad Moon Rising,' and 'Fortunate Son' not only created a soundtrack for those tumultuous years in America, they've transcended that era to define rock n' roll for the ages." Duffy also said: "As a solo artist Fogerty's songwriting gift has been undiminished, with tunes like the joyous anticipation of 'Almost Saturday Night' or the wheels-on-fire celebration of 'Hot Rod Heart' from his Grammy-winning Blue Moon Swamp album" (2/14/13). Read the full piece here.
WROTE A SONG FOR EVERYONE--performed alongside an array of today's biggest superstars from the  country, pop and rock worlds--marks FOGERTY's ninth studio solo album since disbanding Creedence Clearwater Revival.  Mixed by Bob Clearmountain, it was recorded in Los Angeles and Nashville except for "Proud Mary" which was recorded in New Orleans with Allen Toussaint and the Rebirth Brass Band.  FOGERTY recorded "Fortunate Son" with Foo Fighters at their 606 studio using "the" legendary Neve recording console featured in the #1 iTunes documentary Sound City. In an in-studio feature in Rolling Stone (2/14/13), Clearmountain is quoted as saying: "It's no nostalgia fest. It's like they're new songs."
WROTE A SONG FOR EVERYONE tracklisting:
1. Fortunate Son (with Foo Fighters)
2. Almost Saturday Night (with Keith Urban)
3. Lodi (with Shane Fogerty and Tyler Fogerty)
4. Mystic Highway (John Fogerty solo)
5. Wrote a Song for Everyone (with Miranda Lambert feat. Tom Morello)
6. Bad Moon Rising (with Zac Brown Band)
7. Long As I Can See the Light (with My Morning Jacket)
8. Born on the Bayou (with Kid Rock)
9. Train of Fools (John Fogerty solo)
10. Someday Never Comes (with Dawes)
11. Who'll Stop the Rain (with Bob Seger)
12. Hot Rod Heart (with Brad Paisley)
13. Have You Ever Seen the Rain (with Alan Jackson)
14. Proud Mary (with Jennifer Hudson feat. Allen Toussaint and the Rebirth Brass Band)