Jon Hopkins | Immunity | New Music Review
Submitted by Jason Chiu on Wed, 06/19/2013 - 08:48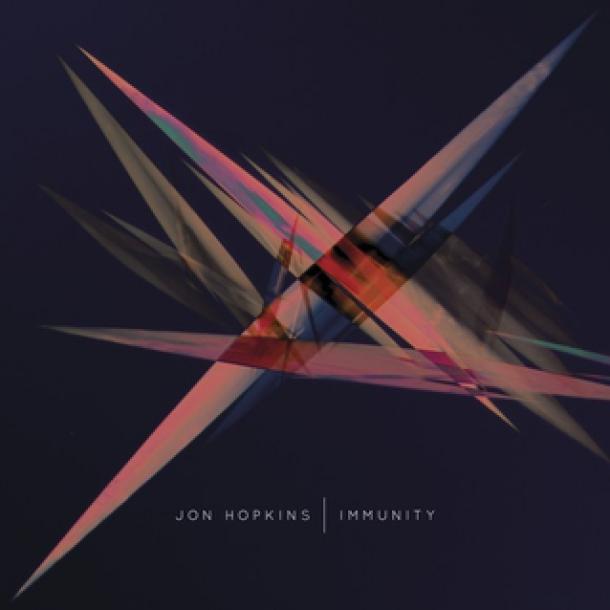 Jon Hopkins has always been a bit of a journeyman in the music world. The British producer got his first gig as the keyboardist for Imogen Heap's backing band, and has built up quite a resume from there. He collaborated often with prolific producer Brian Eno, which led to production work with him on Coldplay's 2008 album Viva la Vida or Death and All His Friends.
After touring with Coldplay for a few months, Hopkins went back into the studio and pounded out Insides, a well-received album that led to bigger gigs as opening act for Röyksopp, the xx, and Four Tet. He was tapped for a few film scores too and released Diamond Mine, a Mercury Prize–nominated collaboration with King Creosote. Hopkins' star has been rising for the past decade, and his most recent release, Immunity, will likely push him further into the spotlight.
Immunity would most likely be labeled as a techno album, but it's much more than that. Many artists these days are blending genres to sharpen their compositions and develop their own sound, and on this album, Hopkins has perfected his. The album relies heavily on the piano; a reminder that he's a keyboardist first, producer second. But it's also an album heavy on electronics, with healthy clattering drums and robust synths.
Hopkins creates lots of space in the mix to give each instrument time to breathe. At times it can sound like there are two motives going on at once. One is a steady beat for the dancers, pushed to the front of the mix. Another is a cold pitter patter in the background, hovering around the grimy club fare. It gives a lot of life to the songs, offering the listener two different moods to focus on.
As with most of EDM, Immunity doesn't have much of a theme, but there is enough of a continuous thread to bring a picture into focus. The album is purportedly about the experience of dancing all night, which, given the consistent driving beats, seems like a fitting narrative.
But what sets Immunity apart from the rest of the dance world is how consistently good the tracks are. Many point to the electro burner "Open Eye Signal" as the big hit, but the other songs pull their weight just as effortlessly. Not to belittle "Open Eye Signal" though. It's a monster of a track. The deep clubby synth, rattling drums that squeak and squelch, and easy chord progression make a fantastic, locked-in groove – something you wouldn't mind hearing on repeat for a few hours. Its coda of straight bumping and grinding techno is the cherry on the sundae.
Elsewhere in the album, "Breathe This Air" ramps up the dramatics with a sorrowful piano interrupting a bracing dance groove. The beat kicks in again, and combination of piano and drums puts a new spin on the track. The groove has a more melancholy feel, as if a person's night out took a bad turn while they were on the dance floor, and the night is forever changed. The following track "Collider" is nine-minute hypnotic marathon, with a healthy amount of bass and an ominous drone in the back. You could imagine the song as the moment the drug kicks in, and all you hear is the music surrounding you.
The closing tracks, "Sun Harmonics" and "Immunity," end the album on a high note. The former's title is apt, the same four-to-the-floor beat encased in a halo of sunlight. Echoing coos, gently plucked strings, and a steady rhythm recall The Field's work: mesmerizing in its simplicity and repetition, but with enough variation to make every new note sound like a revelation. From there the beat disappears, the last two minutes of "Sun Harmonics" a cool-down after the clubs close. The title track is the slow walk home, featuring hazy percussion, light piano and a gorgeous vocal turn by King Creosote.
In many ways, Immunity feels a film soundtrack, with its big moody production appropriate for setting scenes. The title track feels like something that'd accompany the last moments of a movie, with the camera panning out and everything fading to black. But Immunity doesn't require a film. It's a fully-formed album on its own. Jon Hopkins doesn't need someone or something to help his music along. Immunity is proof that he has the chops to make it on his own, playing shows where people principally want to see him. After many years, this journeyman has finally found his own place.