Keller Williams Announces Fall Tour, New Album Release
Submitted by LiveLoud on Tue, 07/16/2013 - 11:32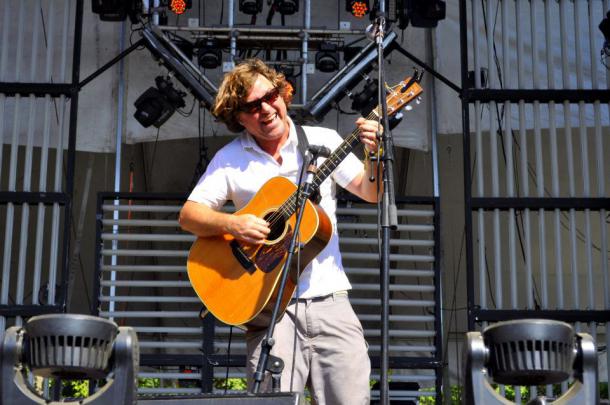 Today, Keller Williams announces a massive 2013 Fall Tour. Stopping in over 40 markets through the end of the year, Keller performs his signature one-man-band solo sets and also collaborates with The Travelin' McCourys, More Than A Little, and The Keels in select cities. Special guests - moe.'s Al Schnier & Vinnie Amico - join for a short run in October as Floodwood, and a few co-headlining shows with fast finger ukulele composer Jake Shimabukuro will soon be released. Also announced today, Keller Williams with The Travelin' McCourys join Mumford & Sons' Gentleman of the Road Stopover in Guthrie, Oklahoma on September 6-7. Keller Williams' complete list of currently confirmed fall tour dates is included below.
Presale for most Fall Tour dates begin Wednesday, July 17th at 10:00 AM Mountain Time. Presale participants, lovingly dubbed SUPER FREEKS, can purchase tickets directly through kellerwilliams.net prior to the general public on sale, for the lowest service fee out there. Those who take advantage of the presale will be entered for the opportunity to enjoy a special SUPER FREEK perk: in advance of each show, two winners will be chosen at random to receive a signed tour poster and the chance to hang out with Keller backstage after the show.
Keller Williams releases his new album FUNK on November 12, 2013. Culled from recent live shows with Keller's most recent muse - his 6-piece funk band dubbed Keller Williams with More Than A Little – FUNK's 10 tracks find Keller performing new, super-funky versions of Williams' originals and an unexpected collection of cover songs that pay deep homage to the genre's roots. FUNK pre-order will begin in September at kellerwilliams.net . Additional information, including details on Keller's always-killer presale prize packages, will be announced soon.
Before fall, Keller Williams finishes up a busy summer season, performing a slew of festivals with each of his various projects: at Northwest String Summit, Arise Festival, Interlocken and 3 Sisters Festival with Keller & The Keels; Grey Fox, All Good, Roots N Blues N BBQ, Bristol Rhythm & Roots Reunion Festival, Rockygrass and MagFest with Keller Williams with The Travelin' McCourys; Equifunk and Camp Barefoot with Keller Williams with More Than A Little, and some additional solo festival appearances.
COMPLETE LIST OF UPCOMING KELLER WILLIAMS TOURDATES
7/18/13 | Grey Fox Bluegrass Festival | Oak Hill, NY | *
7/19/13 | Northwest String Summit | North Plains, OR | +
7/21/13 | All Good Music Festival | Thornville, OH | *
7/26/13 | Big Mine Ice Arena | Crested Butte, CO
7/27/13 | Snowbird Cool Air Concert Series | Salt Lake City, UT
7/28/13 | RockyGrass Festival | Lyons, CO | *
8/02/13 | Outer Banks Brewing Station | Kill Devil Hills, NC
8/15/13 | Arise Music Festival | Loveland, CO |+
8/16/13 |Live on King Street | Madison, WI
8/17/13 |Equifunk | Equinunk, PA |#
8/24/13 |Camp Barefoot | Bartow, WV | #
8/29/13 |John Ascuaga's Nugget | Sparks, NV | #
8/30/13 |Terrapin Crossroads | San Rafael, CA | #
8/31/13 |Terrapin Crossroads | San Rafael, CA | The Head Band ft. Keller Williams and Dark Star Orchestra's
Rob Barraco, Jeff Mattson and Rob Kortiz
9/1/13 | Snowy Range Music Festival | Laramie, WY | w/ Leftover Salmon
9/5/13 |Interlocken Music Festival | Arrington, VA |+
9/6/13 | Shangri-La Music Festival | Clarks Grove, MN
9/7/13 | Gentleman of the Road Stopover | Guthrie, OK
w/ Mumford & Sons, Edward Sharpe and the Magnetic Zeros,
Alabama Shakes and others
9/12/13 | German House | Rochester, NY
9/13/13 | Westcott Theatre | Syracuse, NY
9/14/13 | Bearsville | Woodstock, NY
9/19/13 | Abode | Wichita, KS
9/20/13 | Roots N Blues N BBQ | Columbia, MO | *
9/21/13 | Bristol Rhythm & Roots Reunion Festival | Bristol, VA
10/4/13 Newby's | Memphis, TN | *
10/5/13 | Three Sisters Festival | Chattanooga, TN | +
10/6/13 Avondale Brewery | Birmingham, AL | *
10/10/13 | Putnam Den | Saratoga Springs, NY | ^
10/11/13 | Toad's Place | New Haven, CT | ^
10/12/13 | Infinity Hall | Norfolk, CT | ^
10/18/13 | Magnolia Music Festival | Live Oak, FL | *
10/19/13 | Vinyl Music Hall | Pensacola, FL
10/24/13 | World Café Live at the Queen| Wilmington, DE
11/1/13 | Metropolitan | Morgantown, WV
11/2/13 | V Club | Huntington, WV
11/7/13 | Constellation Room | Santa Ana, CA
11/8/13 | El Rey Theatre | Los Angeles, CA
11/9/13 | Belly Up Tavern | San Diego, CA
11/1/13 | Metropolitan | Morgan Town, WV
11/14/13 | The Handlebar | Greenville, SC
11/15/13 | Georgia Theatre | Athens, GA | #
11/16/13 | Orange Peel |Asheville, NC | #
12/11 - 12/15/13 | Strings & Sol | Playa Del Carmen, Mexico| *
1/4 - 1/9/14 | Jam Cruise | Ft. Lauderdale, FL | KW Solo + Keller & The Kimocks
with The Travelin' McCourys * | and The Keels + | More Than A Little # |
with special guests Floodwood ^