Muse - Live at Rome Olympic Stadium, July 2013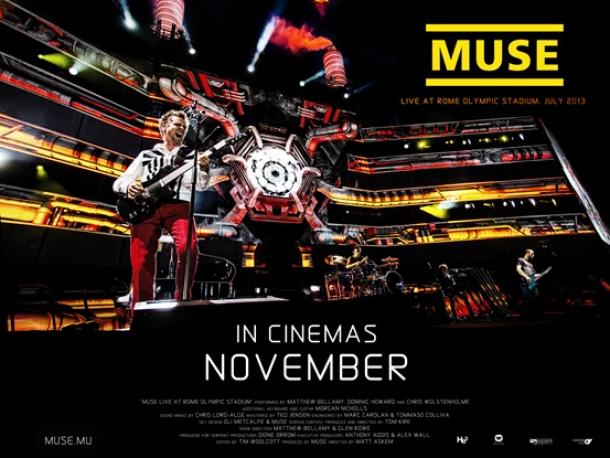 Muse - Live at Rome Olympic Stadium is the first concert film ever to be presented in 4K, a format soon to be adopted by Hollywood as standard for all blockbuster films. Now becoming widely known as Ultra High Definition, 4K means more pixels - to be precise 8.8 million of them - bursting off the screen in every frame, 4 times more than we're used to seeing in the cinema.
For fans of the band, more pixels mean an unrivalled opportunity to experience the full visual spectrum of their Rome stadium show shot in July this year. The Ultra High Definition format gives the cinema audience astonishing detail combining jaw-dropping shots of the Stadio Olimpico with views from 'spider' cameras darting above the surging crowd and on stage close-ups that expose the musical mastery and showmanship of the trio.
On 5th November 2013, 20 cinemas in 20 cities worldwide will host a special advance screening of Muse – Live at Rome Olympic Stadium exclusively in 4K. The unique screenings will start in Sydney and finish in Los Angeles, taking in other capital cities throughout the day including Tokyo, Paris, London and Rio.
Following the advance screenings, the film will be released in over 700 cinemas in 40 countries for limited screenings from 6th November.
For an exclusive preview of the cinema trailer along with a full list of cinemas with links to buy tickets visit: http://film.muse.mu
Where 4K is not available the film will be shown in 2K High Definition.
Muse said, "This is the biggest tour we've done in terms of scale and production value and it's definitely the show we're most proud of so we're really excited to be able to release it as the first ever ultra high definition concert film. It captures an extraordinary amount of detail and not just everything we're doing - the fans, even those at the back, the set, the actors and the incredible atmosphere on a very special night in Rome. We can promise our fans, whether they managed to come to the live shows or not, an entirely new Muse concert experience."