Orgone at Fox Theatre | 10.25.11
Submitted by mike on Tue, 08/16/2011 - 06:28
Z2 Entertainment is proud to present Orgone at the Fox Theatre on Tuesday, October 25th.  Tickets will go on sale Friday, August 19th for $10.00 in advance and $12.00 day of show.
Los Angeles based band Orgone is many souls with a cosmic connection, a natural creative force and musicians who have played together for years. They are self schooled and continue to shape their musical voice as a solid unit of guys who hang, spin records and jam out their shared inspirations. With a rooted sense of funk, soul, afrobeat, deep rhythms and an intimate understanding of dj culture as well as each others' individual talents, Orgone seamlessly slides through multiple styles and dynamic performances. The group continuously injects whatever they play with a heavy brand of raw funk power.
The band's reputation amongst the funk, soul, and hip hop fraternity is further backed-up by an impressive and ever growing resume that expands their reach. This includes a spot in an Adidas campaign, a tour with and backing band for Bun B (from UGK), Pharoahe Monch, Plantlife (including a BBC performance for Jools Holland), Little Brother, Nice and Smooth, Black Sheep and New Orleans funk legend Eddie Bo at a Hurricane Katrina benefit. Members of Orgone also have featured in the make-up of Ubiquity acts the Lions, Connie Price and the Keystones, Breakestra, and have performed with the Pharcyde, De La Soul, Too Short, Macy Gray among many others. To top it off, most of the group can be heard on recent major recordings by Alicia Keys, CeeLo, Estelle, Anthony Hamilton, Jennifer Hudson, Solange Knowles and many other R&B/Soul artists.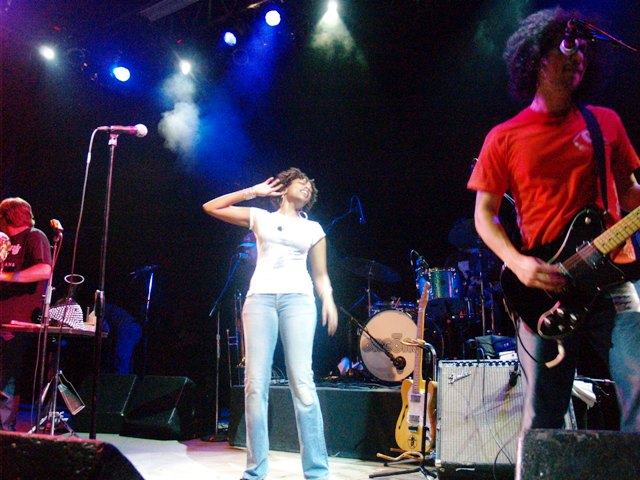 Orgone continues to tour, impressing audiences and winning new fans at festivals & clubs nationally and overseas. 2009 saw the release of their second fully independent CD "bacano", a collection of all original cold-blooded funk gems representing what's always been going down in Orgone's funky, sweaty home-grown recording spot. It's a recorded history of the band and its musical family throwing down: check the lethal neck-busting bass intro of founding member Tim Glum on "You Already Doin It", the Detroit thump of bassist Dale Jennings on the deep hypnotic funk soundscape of "Vibromeyer", the dance floor soul of singer Gino Garafalo on the undeniably hip-shaking "Come Around" and the sub-atomic gut punch of Orgone bassist Ethan Phillips on the heavy psychedelic groove of "Hott Karl".
Orgone live and recorded is 100% organic heart and soul an aesthetic and an attitude born out of half a lifetime of playing together.
-
Tuesday, October 25th
Doors:  8:00 pm
Show Time:  9:00 pm