PANTyRAiD's Halloween Preview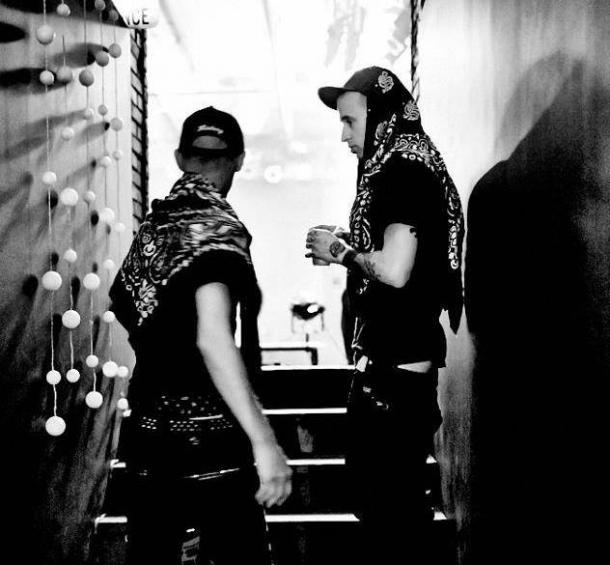 Each year, since 2008 (according to my research), MartyParty (who did this fun remix) and Ooah (of The Glitch Mob) have toured in the spring/summer doing a special show, PANTyRAiD. For me, their smooth, sexy music brings new life to electronic music. However, this is an electronic show – so don't come expecting your run-of-the-mill nursing home acoustic group. (Do those exist? They should.) And on Halloween night, there's no doubt PANTyRAiD will be throwing some amazing, danceable tunes mixed with familiar rap and other awesome sounds.
The first time I heard PANTyRAiD I was at a friend's house hanging out, and when my friend started playing PANTyRAiD, I was immediately interested – the songs were incredibly chill and danceable, not hard and confusing like so much electronic I seem to hear. I've been following the band ever since. This is my favorite song. The duo is politically active and has even sampled Obama's DNC speech from 2008. During a show, from the second the beat drops, the dance floor becomes a massive dance party.
Since the duo started touring as PANTyRAiD, their live shows have gotten increasingly better reviews. The stage show has grown, as well as the amount of ladies dancing onstage. (YAY!) We can expect lots of crazy laser beams and probably tons of costumes. The fact this show is on Halloween night will make it immensely better than any ol' day.
I'm expecting sexy, dancing, rowdy and loud. I've heard PANTyRAiD has been 'trapping up' some of their old songs (that's not a real-world catchphrase, I just invented it) and I'm kind of hoping they don't do too much of that. I barely know what trap is, but from what I've heard it sounds…erratic. But I'm also open to becoming a covert if PANTyRAiD des it well.
Openers will be announced soon, you can stay up to date via their Facebook event. I'm sure the opening acts will be spectacular – especially on a night that features such great and excessive partying! In any case, I'm excited to spend the night shaking my booty with all of the other great booties of northwest Arkansas and beyond! Tickets are still available for the show on October 31, 2013, at George's Majestic Lounge in Fayetteville, AR. However, there likely won't be tickets on the day of the show, so be sure to get them ahead of time. Purchase your tickets online or in person at the venue (their hours are kind of wonky). The concert is open to those 18+.
If you're in the northwest Arkansas area on Halloween this year, I encourage you to come to this show. Not only will it be a fantastic time, but it's also a great opportunity to spend some time in a famous venue with lots of character. Fayetteville is a beautiful place in the heart of the Ozark mountains – so if you're looking for a Halloween road trip and a beautiful place to visit, great live music (come early for YSMB's Harvest Music Festival) and lots of friendly faces, drive/bike/walk/fly on over to Fayetteville, Arkansas and getcha some PANTyRAiD + other cool stuff!
PANTyRAiD's next show will be in Denver, CO on November 9, 2013, at The Fillmore. And if you're looking to score free tickets to a show, the duo gives away the remaining spots on their guest list. All you have to do is share the event flyer with the hashtag #RAiD(nameofcity) on Facebook, tumblr, Instagram or Twitter. About a week before the show, ticket winners are selected at random.
Visit the duo's soundcloud or youtube to get a taste of their talents.