Papadosio Announces Over 40 Dates On The Future Forest Tour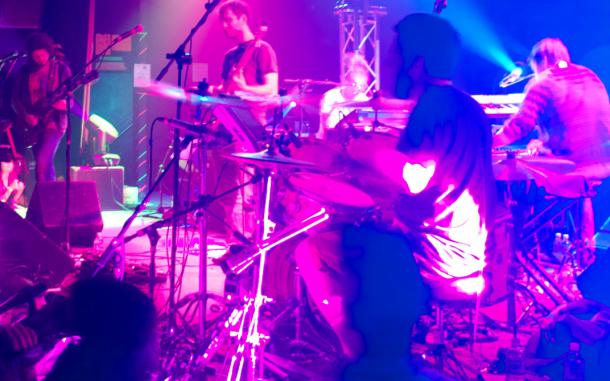 Papadosio just announced the second leg of their Future Forest Tour. Encompassing over 40 performances on the coast to coast run, the tour will kick off on January 23rd with Umphrey's McGee in Winston Salem, NC and make its way through Southeast, West Coast, Midwest and East Coast before an intimate 2-night tour finale in Denver, Colorado at the beautiful Bluebird Theater, on May 3 - 4th. Clearly a band to watch in 2013, Papadosio has been growing a rabid fan base since their 2006 inception, with no signs of stopping ahead.
Born in the burgeoning, artistic city of Athens, OH and recently relocated to Asheville, NC Papadosio has been making major headway in the independent music circuit over the last few years. In addition to headlining shows in every region of the country, their high-energy, technologically perplexing, and utterly engaging stage show has made the five-piece a staple on the festival circuit, with scene-stealing sets at Summer Camp, Wakarusa, Electric Forest, Camp Bisco, Bear Creek, and their own annual event, Rootwire, an inspirational confluence of music, art, science, and spirituality. With more than 100 performances a year, the band remains prolific by passing the endless miles between cities, all the while composing new material for their live performances.
Known for melding progressive rock with psychedelia, folk with electronica, and dance music with jam, the quintet has amassed a dedicated following of thousands of like-minded individuals, each sowing the seeds of unity and spreading the sounds of exultation. As a result, the five-piece band will hit the road with a brand new visual production and a new website loaded with features to bring further awareness about Papadosio, their music, and their spiritual vision.
Papadosio will hit the road this spring on the Future Forest tour, set to kick off this week, with key performances booked throughout the country including performances with Umphrey's McGee, Polish Ambassador, Acorn Project and the Malah before the tour's end. Leaving no stone unturned the 40+ tour dates will make stops in North Carolina, Chicago, Minneapolis, Madison, New York, Boston, Burlington, Ithaca, Athens, Charleston, San Francisco, Los Angeles, Seattle, Portland, Philadelphia, Atlanta, New Orleans, Denver and just about everywhere in between. For more information about Papadosio or the Future Forest Tour, check out their brand new website at www.papadosio.com.
FUTURE FOREST TOUR
1/23/2013 - Winston-Salem, NC - Ziggy's *with Umphrey's McGee
1/24/2013 - Charlotte, NC - The Fillmore *with Umphrey's McGee
1/25/2013 - Raleigh, NC - The Ritz *with Umphrey's McGee
1/29/2013 - Bloomington, IN - Bluebird Nightclub *with Dopapod
1/30/2013 - Urbana, IL - Canopy Club *with Dopapod
1/31/2013 - Minneapolis, MN - The Cabooze *with Dopapod
2/1/2013 - Madison, WI - Majestic Live * with Dopapod
2/2/2013 - Chicago, IL - House of Blues *with Dopapod
2/3/2013 - Detroit, MI - St Andrews Hall *with Dopapod
2/5/2013 - Kent, OH - The Kent Stage *with Aliver Hall
2/6/2013 - Pittsburgh, PA - Rex Theater * with Consider the Source
2/7/2013 - New York, NY - Stage 48 *with Consider the Source
2/8/2013 - Cambridge, MA - The Sinclair * with Consider the Source
2/9/2013 - Burlington, VT - Higher Ground *with Consider the Source
2/10/2013 - Ithaca, NY - The Haunt  *with Consider the Source
2/13/2013 - Wilmington, NC - Soapbox * with Dopapod
2/14/2013 - Athens, GA - Georgia Theater *with Dopapod
2/15/2013 - Charleston, SC - Music Farm *with Dopapod
2/16/2013 - Aura Music Festival - Live Oak, FL
2/17/2013 - Aura Music Festival - Live Oak, FL
3/28/2013 - Solana Beach, CA - Belly Up *with Polish Ambassador
3/29/2013 - Los Angeles, CA - El Rey Theatre * with Polish Ambassador 
3/30/2013 - San Francisco, CA - Inner Mission *with Polish Ambassador
4/3/2013 - Eugene, OR - WOW Hall *with Acorn Project
4/4/2013 - Seattle, WA - Nectar Lounge *with Acorn Project
4/5/2013 - Bellingham, WA - Wild Buffalo *with Acorn Project
4/6/2013 - Portland, OR - Branx *with Acorn Project
4/7/2013 - Bend, OR - Domino Room *with Acorn Project
4/18/2013 - Norfolk, VA - The Norva
4/19/2013 - Washington, DC - 9:30 Club
4/20/2013 - Philadelphia, PA - The Blockley
4/21/2013 - Charlottesville, VA - Jefferson Theater
4/23/2013 - Lexington, KY - Cosmic Charlies
4/24/2013 - Atlanta, GA - Terminal West
4/25/2013 - New Orleans, LA - Howlin Wolf *Gypsy Phonic (DJ Quickie Mart with Ben Ellman of Galactic)
4/26/2013 - Dallas, TX - Trees
4/27/2013 - Austin, TX - The Parish
5/1/2013 - Lawrence, KS - Granada Theatre *with The Malah
5/2/2013 - Ft. Collins, CO - Aggie Theater *with The Malah
5/3/2013 - Denver, CO - Bluebird Theater *with The Malah
5/4/2013 - Denver, CO - Bluebird Theater *with Yamn
5/17/2013 - Joshua Tree, CA - Joshua Tree Festival
5/18/2013 - Joshua Tree, CA - Joshua Tree Festival
5/19/2013 - Joshua Tree, CA - Joshua Tree Festival
6/1/2013 - Ozark, AR - Wakarusa