Specific aromas have the power to transport me back to an earlier, more youthful time: the earthy redolence of decaying leaves, mesquite smoke wafting from a neighbor's barbeque, and even the gamy stench of a hockey locker room. I also have triggers for my ocular, haptic, gustatory, and aural senses. All of us do. And I thought sensory recall was the closest thing I would ever have to a time machine. But on Friday night, Phil and Friends changed that – not once, but twice.
Three paragons of guitar virtuosity – one jazz, one blues, and one Southern rock – traded solos during New Speedway Boogie and, concomitantly, brought me back to The Fox Theatre in St. Louis. Likewise, a bassist nonpareil, a keys cornerstone of post-Dead triumph, and a drummer who has helped redefine percussion in the jamband era marshaled their sonic resources during Eyes of the World and, in so doing, set the DeLorean's dials to November 9, 2001.
The Phil and Friends show that took place on that date in Mound City marked my first live Dead experience. During the jam that bridged China Cat Sunflower and I Know You Rider, the music became a transmitter of ecstasy so great, my legs could no longer be immured by the narrow rows of cushioned theater seats. So I skipped out to the inner foyer and spun, swirled, and floated up to the empyrean until the paradisiacal melody of Rider gave way to set break. I hardly remember the music, but I could never forget the catharsis.
In the first Phil and Friends incarnation to feature a trio of superlative guitarists (my apologies to all you Chris Robinson fans), I was transported back to that Chinarider, but not by way of any aural vehicle. Instead, the sound waves that produced the "rarefaction" of concert air led to the same eruption of weightless euphoria I experienced in St. Louis. And this time I didn't have to worry about seats boxing my feet and knees into a small space. On the floor of the 1st Bank Center, 15 rows back from stage right, I was instead immured by a mass of Deadheads who shared in my paroxysms of joy and welcomed all swinging hips and flailing limbs.
I admit that I was one of those many naysayers that loved Furthur and wished Phil would continue on with Bobby and John K. However, after the 40+ minute opening sequence of Jam > Althea > Estimated Prophet > Eyes of the World, I realized that this lineup can take the Dead catalogue to places Furthur could never dream. The Eyes began auspiciously with Phil's walking bass line, high in the mix, pulsing below Jeff Chimenti's fluttering piano intro and the opening guitar riff. Given the juxtaposition of precision and raw power meted out in the preceding Estimated jam, expectations were high and they were eclipsed in spades. Is it even possible that Phil could be as good, at almost 72, as he was in '72? I thought the heat of the moment was blinding my judgment until I went back to the tapes. I popped in the 11-17-73 and 06-18-74 Eyes and then listened to Friday night's rendition. If there is any difference in Phil's playing, it comes out in favor of Broomfield.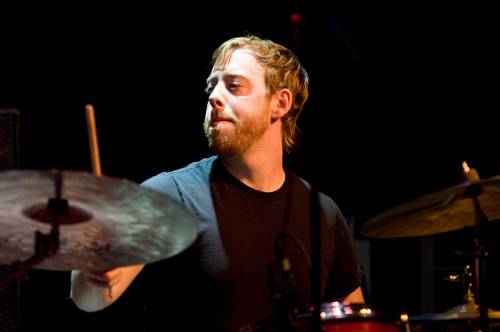 Joe Russo's unwavering loyalty to tom-driven rhythm and Chimenti's sweeping jazz fills were the two other reasons Eyes took me back to that sacred time and space over a decade ago. Chimenti, who, along with Russo, is a Furthur transplant, fortified the melody throughout with quick and prodigious flourishes. If you listen to this Eyes, you will know why he has been a mainstay in post-Dead culture, manning the keys for The Other Ones, The Dead, Ratdog, Furthur, and, now, Phil and Friends.
Mississippi Half-Step Uptown Toodleloo and Loose Lucy imparted the crowd with even more down-home dancing Dead fun and then it was treated to Jackie Greene's Like a Ball and Chain, a rollicking piece about the pain of falling hard for the dalliances of a woman, only to be chewed up and spat out. The accelerated tempo and coruscating solos by all three guitarists belied the anguish of the lyrics.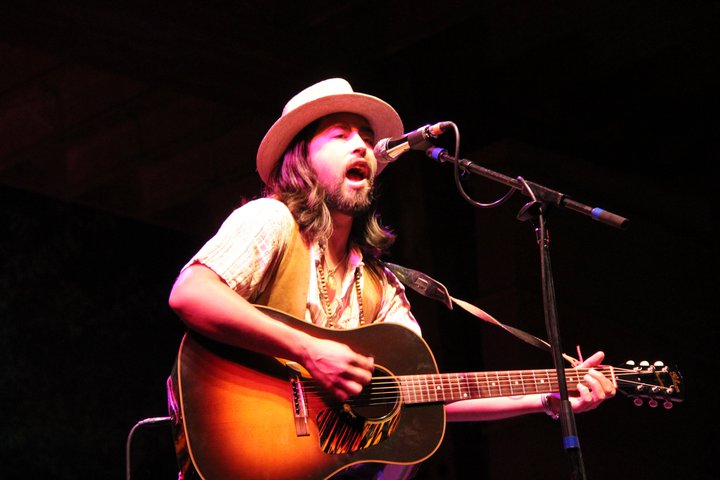 Phil and Friends wrapped up the first set with a truly forgettable Casey Jones. Usually, the crescendo mimics the speed of a train gaining momentum by adding layers – crash symbols, organ/synth pedal tones, higher levels of guitar distortion – onto each refrain with only the slightest uptick in tempo. However, they deployed a swift accelerando to the exclusion of any texture, packing even more notes into the shorter rounds of refrain. Instead of creating a verisimilitude of propulsion, the crescendo sounded like a vinyl record being played too fast on a turntable.
After a long set break, they flew out of the blocks with a conflagrant Passenger, driven by the wailing wah-wahs of Haynes's slide work as well as his vocal harmonies. And it was the perfect lead-in to my second jaunt back to The Fabulous Fox.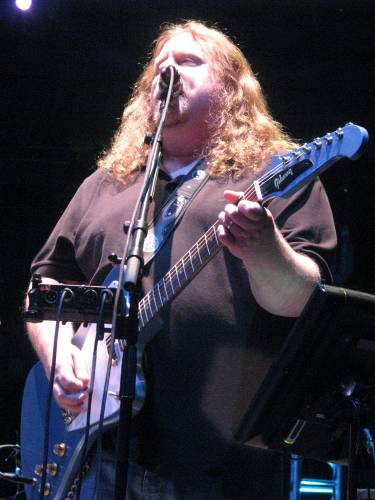 I was rendered speechless, then breathless, by a New Speedway Boogie that inflated me with irrepressible rapture. The solos were never competing or dueling, but instead built off of each other, bar by bar. There was even a physical linearity to the soloing movement, beginning at stage left with Scofield, shifting down to Greene at center stage, and ending with Haynes at right-center stage. Scofield, who has one of the greatest "O" faces I have ever seen among guitar luminaries, demonstrated an uncanny patience and ability to make every single note count. He instantiated rigorous note-by-note decision-making into his solo and coupled it with a Chicago blues feel. The torch was then passed to Greene who emblazoned the piece with raw sexual power. Say it anyway you want – raunch, stank, the ooey-gooey. It doesn't matter what you call the sound, because all of the different names elicit the same constellation of desires. Haynes topped off the brilliant string of solos with a power blues meditation on, and Southern rock ode to, Duane Allman. By then, I was so far into the stratosphere, I could see Broomfield, St. Louis, and Macon.
Upon the completion of New Speedway Boogie, I had some time to reflect on its beauty. And I couldn't help but think of another Friday night, over 31 years ago. In December of 1980, at The Warfield in San Francisco, guitar virtuosos Al Di Meola, John McLaughlin, and Paco de Lucia brewed a magical elixir called The Fantasia Suite. In this piece, as well as others like Spain, their classical and flamenco guitars sang with 18 strings, three bodies, and one soul. No matter who was laying down the melody, soloing, or ornamenting the spaces in between, a mystical power materialized from the existence of three as one. Last Friday, the guitars were electric and navigated a genre far different than Flamenco. But the mission of instilling the crowd with an unparalleled joie de vivre was the same – and it was emphatically brought to fruition.
Almost the entire remainder of the second set was laid out in the following manner: Low Spark of High Heeled Boys > Caution (Do Not Stop On Tracks) > Low Spark of High Heeled Boys > Unbroken Chain > Dark Star > I Am The Walrus > Dark Star. This 70-minute stretch was rife with cerebral music that bordered on the esoteric. And that's my euphemism for complex, and sometimes profound, jamming that, nonetheless, lacks the rhythm and/or tempo requisite for dancing. Low Spark has been omnipresent since Haynes's 2000 initiation into Phil and Friends. The Traffic cover was imbued with scintillating structural and rhythmic improvisation, even ambient in small windows, but always returned to the down tempo riff. Haynes's soulful vocals paired perfectly with a piece that pays homage to one of Steve Winwood's masterpieces. Low Spark segued into Caution which, unfortunately, devolved into a frenetic and uninspired mess. For most of the 14-minutes, it seemed like nobody could decide where to take it. With songs that are so open-ended, like Caution, sometimes too much choice leads to a lack of direction. Not even Haynes's ribbing of Newt Gingrich (aping a jocular Pigpen) or the machine gun trills near the end could salvage the dull repetition.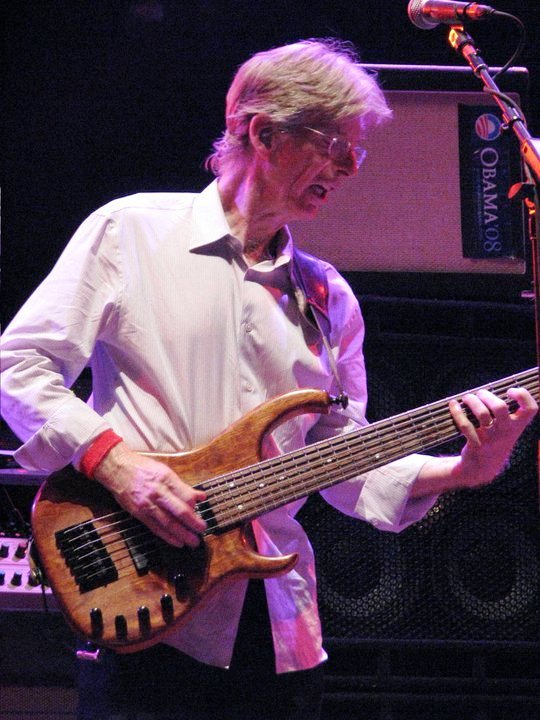 The band regained their mojo with Unbroken Chain, in which Greene joined Chimenti on keys, and Walrus. The second Beatles cover of the night has, just like Low Spark, been a go-to arrow in Haynes's quiver since joining Phil and Friends. Walrus was sandwiched in between a recondite Dark Star marked by typical experimentation with time signatures, chord structures, and pedal distortion. Overall, it never got off the ground and was, frankly, somniferous.
Morning Dew suffused the crowd with one last exemplar of the savage power and brilliant refinement that have quickly come to define this new Phil and Friends lineup. Not many musicians, much less entire bands, know how to nurture a symbiosis between the two entities, but this sextet has seemed to master it.
On Friday, Phil and his wife Jill celebrated the 30th anniversary of their first date. And after the final syllables of And We Bid You Goodnight dissipated into the arena air, I celebrated a band that I myopically wished would never come to be. Here's hoping that Phil and Friends will reconnect after Furthur's spring tour and share its majestic sound with Deadheads across the nation.