Red Mass Anounce US Tour Dates | To Play Pop Montreal
The brainchild of Roy Vucino, aka Choyce (CPC Gangbangs, The Daylight Lovers, Les Sexareenos), Red Mass took shape in 2008 following the inevitable implosion of the volatile and legendary CPC Gangbangs. Using Red Mass as a platform, Choyce and his collaborators are intent to pursue the ideals of free thinking, the use of chaos, sex-magik and liberation through art. The ever evolving line-up and contributors to Red Mass consist of musicians from Demon's Claws, Chocolat, Hot Springs, Black Feelings, Sunday Sinners, Vicious / Delicious and Ghost Limbs to name a few.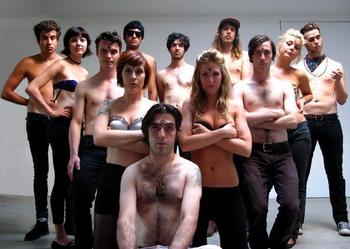 Through his prolific exploits, Choyce has helped give Montreal's flourishing garage and rock n' roll scenes international recognition. Having fronted CPC Gangbangs, he now also records and tours with long time collaborator Mark Sultan (Sup Pop, In The Red).
Now, Red Mass has opened itself to all with a sincere belief that it can offer young artists and outsiders alike a new haven. With a slew of singles, 10"s, EPs and experimental releases, Red Mass is ready to hit. Their psychedelic space rock 'n' roll and its elements of noise, folk, punk and electronic music is a culmination of 12 years of hard work. The dark poppy hooks, laced with other worldy sound effects, are at once an ode to the past, the music of today, and the shape of rock 'n' roll to come.
SEPT. 15th - Providence, RI - Machines With Magnets w/ An Albatross, Aids Wolf, Gila Monster, Holy Sheet & Whore Paint
SEPT. 16th - Baltimore, MD - Golden West Café w/ Kid Congo Powers
SEPT. 17th - Brooklyn, NY - Party Expo w/ Food Stamps, Try Cry Try, Xray Eyeballs
SEPT. 18th - New York, NY - Death By Audio  w/ Xray Eyeballs
SEPT. 19th - Silver Spring, MD - Jackie's -- matinee show w/ Thee Lolitas
SEPT. 21st - Charlotte, NC - The Milestone,
SEPT. 22nd - Atlanta, GA - 529 w/ Aids Wolf
SEPT. 25th - Memphis, TN - GONER FEST @ Murphy's
SEPT. 27th - Toledo, OH - Woodchuck's
SEPT. 30th - Montreal, QC - POP MONTREAL - SEMPRINI RECORDS/ SIGNED BY FORCE SHOWCASE @ Casa Del Popolo w/ El Boy Die & Crabe
OCT. 12th - Pawtucket, RI - @ The Met w/ King Khan & The Shrines
OCT. 13th - Boston, MA - @ Royale Boston w/ King Khan & The Shrines
OCT. 15th - Silver Spring, MD - Quarry House w/ Paul Collins, The Spectacles, and Dirty Shames