Savannah Stopover Music Festival Announces Final Lineup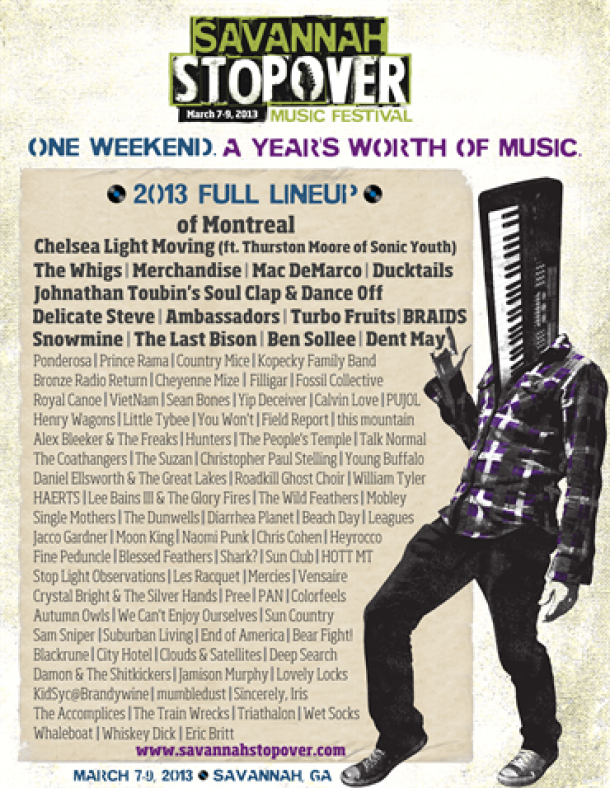 Over 90 bands, most of which are en route to SXSW, will fill Savannah's clubs and venues with the best up and coming acts. Bands have been hand-curated across multiple genres to represent an ideal microcosm of emerging excellence. Highlights include of Montreal, Chelsea Light Moving (featuring Thurston Moore of Sonic Youth), The Whigs, Merchandise, Mac DeMarco, Ducktails, Dent May, Turbo Fruits and dozens more.
Savannah is nicknamed "The Hostess City" for good reason. Bands are treated to the best in Southern food, drink, merriment and hospitality and given the opportunity to stay in local Savannah homes. Biscuits and gravy for breakfast is not out of the question! Festivalgoers get to immerse themselves in the shamelessly social mayhem of the South's most beautiful, vibrant and creative small city.
Savannah's open container laws make it one of only a few places in the U.S. where merriment takes to the streets. This year's festival will include the now infamous late night DJ after parties in the Artist Lounge, afternoon stages with beer, bar-b-cue and sliders and many more special events to be announced. In Savannah, you're never more than a short walk or Pedicab ride away from your next musical adventure.
Savannah Stopover's 2013 Lineup Includes
of Montréal, The Whigs, Merchandise, Mac DeMarco, Ducktails, Jonathan Toubin's Soul Clap & Dance Off, Dent May, Delicate Steve, Ambassadors,Turbo Fruits, Snowmine,The Last Bison, Ben Sollee, Ponderosa, Country Mice, Cheyenne Mize, Filligar, Bronze Radio Return, Royal Canoe, Sean Bones, Yip Deceiver, Levek, Calvin Love, Henry Wagons, You Won't, Field Report, The People's Temple, this mountain, Christopher Paul Stelling, Lee Bains III & The Glory Fires, William Tyler, Jacco Gardner, Mercies, Pree, Mobley, Chris Cohen, Shark?, Sun Club, The Wild Feathers, We Can't Enjoy Ourselves, Chelsea Light Moving (Featuring Thurston Moore of Sonic Youth, VietNam, The Coathangers, Alex Bleeker & The Freaks, PUJOL, The Suzan, Single Mothers, Hunters, Young Buffalo, The Dunwells, Daniel Ellsworth & The Great Lakes, Road Kill Ghost Choir, Moon King, Naomi Punk, Fine Peduncle, Blessed Feathers, Heyrocco, Little Tybee, Talk Normal, BRAIDS, Prince Rama, Diarrhea Planet, HAERTS, Kopecky Family Band, Leagues, Hott MT, Crystal Bright & The Silver Hands, Vensaire, Autumn Owls, End of America, Sun Country, Stop Light Observations, Colorfeels, PAN, Suburban Living, Beach Day, Swear & Shake, Les Racquet