Singer-Songwriter Justin Hines Triumphs With US Debut
Submitted by mike on Tue, 07/19/2011 - 02:48
Optimism permeates throughout Days to Recall, Justin Hines U.S. debut album to be released August 2nd on Decca. The Canadian singer/songwriter's collection of heartfelt songs about life and love showcase his considerable talents, and his will to overcome insurmountable obstacles.  The CD coincides with a PBS special of Hines in concert -- taped at Toronto's Royal Cinema with special guests Ron Sexsmith, Natalie MacMaster, Donnell Leahy, Sierra Noble and The Canadian Tenors -- slated to air multiple times across the U.S. during Public Television's August pledge drive.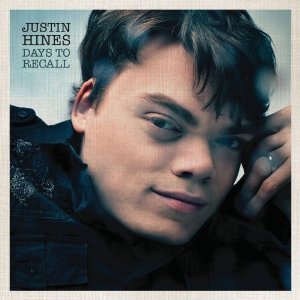 Justin Hines has thrived all his life against odds that would daunt someone with a less indomitable spirit.  Hines has Larsen Syndrome, a joint dislocation condition that confines him to a wheelchair.   He admits his condition has provided challenges, but primarily sees the good it has brought him and the inspiration he can provide others.  "There have been so many blessings. It's afforded me so many other opportunities. It's a bit of an attention grabber," he says. "But then my job is to keep people interested, and keep their attention with my music."
Highlights on Days To Recall include the first single, the instantly catchy "Tell Me I'm Wrong," a duet with fellow Canadian/actress Jill Hennessy on the plaintive, "Why Not Love Me" and the uplifting "Say What You Will."  The latter track took on a life of its own after a South African video featuring the Most Rev. Dr. Desmond Tutu was used as part of a campaign to build 20 schools in 11 days.  Hines performed in South Africa this spring and saw the schools that will educate more than 22,000 students.
To hear "Tell Me I'm Wrong," click here.
Music was integral throughout Justin's young life.  He doesn't remember it, but his mom tells him he wrote his first song when he was seven. In his late teens, he decided to teach himself how to play piano as a way to better express himself.  "I'd done a lot of writing with other people. The most frustrating thing was I could hear the song in my head, but I was relying on other people to write chords since I didn't play anything," he says.
Even though Justin grew up singing in church, the realization of pursuing his musical dreams happened at the most unlikely of places— at a Toronto Raptors' basketball game in his hometown 15 years ago.  A then 14-year-old Justin won a vocal competition to sing the National Anthem at the game — both the Canadian and American -- and his world opened up before him. "In that moment, it all seemed possible," he recalls. Thrown in the deep end, Hines has performed professionally ever since and realized he could not only survive, but succeed.
To watch the Justin Hines EPK click here.