SOJA announces 3 nights at Fox Theatre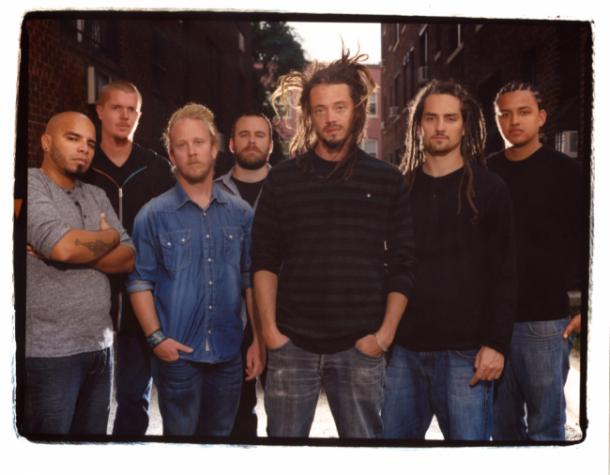 Z2 Entertainment is proud to present 3 nights of SOJA at the Fox Theatre on Friday, November 15th through Sunday, November 17th, 2013.  Tickets will go on sale to the public on Saturday, August 24th at 12:00pm for $25.00 general admission.
Mention folk music to the average listener and the list of usual suspects come to mind: Bob Dylan, Joni Mitchell, Woodie Guthrie, etc. Talk to SOJA lead singer/guitarist Jacob Hemphill, however, and you'll walk away with a different perspective. "To me, Rage Against The Machine, Wu -Tang Clan, Sade, Johnny Cash, Bob Marley – they're all folk artists," he says. "There's no difference between Raekwon saying, 'I grew up on the crime side, the New York Times side, where staying alive was no jive,' to Bob Marley saying, 'Cold ground was my bed last night and rock was my pillow, too,' to Johnny Cash saying, 'I know I had it coming, I know I can't be free, but those people keep on moving (around) and that's what tortures me.' Folk is all about storytelling and passing on a legacy. It's timeless, it's limitless and it crosses all boundaries. That's what this band is striving for. It's a tall order," he laughs, "but we're making our way."
They've raised the bar with Strength to Survive, their fourth full-length album, an intoxicating mix of hot-rod reggae grooves and urgent, zeitgeist-capturing themes. The album, produced by John Alagia (Dave Matthews, John Mayer, O.A.R.), is the band's first for ATO, the label co- founded by Dave Matthews.
Over the course of the past few years, SOJA has sold more than 200,000 albums, headlined large theaters in more than 20 countries around the world, generated over 40 million+ YouTube views, amassed nearly 2 million Facebook fans, and attracted an almost Grateful Dead-like international fanbase that grows with each tour, with caravans of diehards following them from city to city. Most impressive of all, they've accomplished all this on their own. This 8-piece band has spent the past year and a half grinding it out from venue to venue, playing more than 360 dates, including headlining sold-out tours of North and South America, as well as opening for O.A.R. and sharing stages with everyone from Dave Matthews Band to Matisyahu.
For more information, please visit: http://www.sojamusic.com