String Cheese Incident hosts Hulaween 2013
String Cheese Incident fans, plan your costumes, get your tickets and be ready to travel as String Cheese Incident will headline the first ever Suwannee Hulaween, an unprecedented musical celebration, during the 2013 Halloween weekend at the beautiful Spirit of the Suwannee Music Park (SOSMP) located on the famous Suwannee River in Live Oak, Fla.
Join the String Cheese Incident (SCI) family from Oct. 31 - Nov. 2 where fans will enjoy three nights of SCI, including a special three-set show Halloween night. This will be the first Hulaween show for SCI since 2010, and it promises to be an experience not soon forgotten!
Awesome electronic bands STS9 and Big Gigantic will play late night shows, making this first time ever event at the SOSMP a must attend weekend! More acts and details will be revealed in the coming weeks.
The SOSMP offers primitive camping, beautiful rental cabins, RV and camper parking, Store of the Village to purchase all your camping needs including gas, bath houses, SOS Café and Restaurant with a bar, Crafts Village, world's largest bat house with nightly flights, canoeing, bicycling, golf cart rental, hiking, radio studio with weekly broadcasts, bird watching and much, much more. Go to
www.musicliveshere.com for more info.
SCI's repertoire of cover versions is quite possibly the largest and most diverse of any touring band in recent memory—and one of the defining characteristics of their shows. The SCI concerts are unlike the average rock concert—the band goes to great lengths to design atmospheres that incorporates diverse elements of art, music and theater into the total experience. Holiday Incidents on New Year's Eve and Halloween (christened "Hulaween" in a nod to the fans who bring hula hoops to the shows) in particular are anxiously anticipated.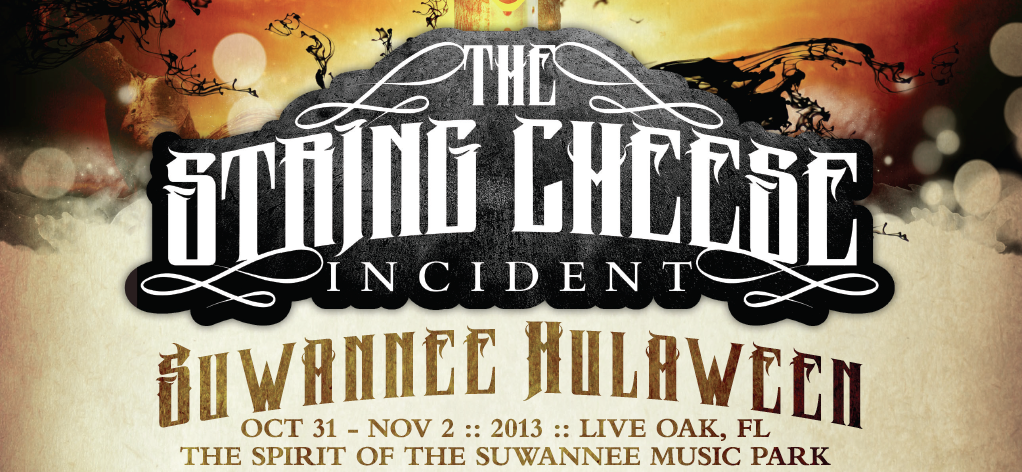 Today's SCI—Bill Nershi, guitars and vocals; Michael Kang, mandolin, violin, guitar and vocals; Keith Moseley, bass; Michael Travis, drums and percussion; Kyle Hollingsworth, keyboards and accordion; and Jason Hann, percussion—fuses together the most durable and inviting aspects of the jam band world with cutting edge electronics and the multi-sourced Americana on which they were founded. "Keeping the circular energy going" is how co-founder Nershi puts it.
You may purchase pre-sale tickets now at SCI.baselineticketing.com. All ticket sales final/no refunds. Ultimate VIP tickets will be offered in the very near future. Guests who purchased early bird tickets (now sold out) will have the option to upgrade to VIP! Now all you have to do is plan your costume!
TICKETS
*Public Limited Pre-Sale 3-Day Pass: $159
*Public 3-Day Pass: $189
*Gate 3-Day Pass: $219
All tickets include primitive camping. For upgrades to cabins, RV or camper parking, call the SOSMP at 386-364-1683,
www.musicliveshere.com or email spirit@musicliveshere.com but hurry!
The Spirit of the Suwannee Music Park is located at 3076 95th Drive 4.5 miles north of Live Oak, Fl off US 129 at the famous Suwannee River. The park is 4.5 miles south of Interstate 75 and 4.5 miles north of Interstate 10 off US 129. Keep an eye out for the SOSMP sign and white painted board fence!