Suwannee Summer Clusterpluck 2017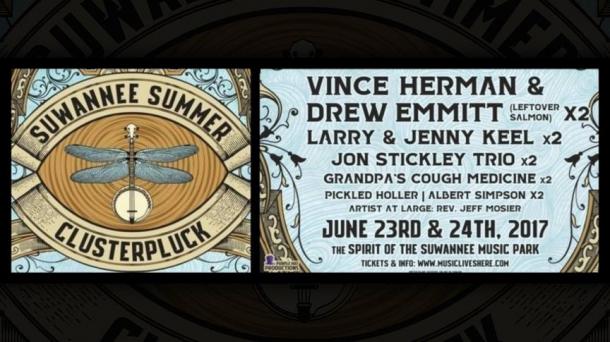 The very first Suwannee Summer Clusterpluck will be held at The Spirit of the Suwannee Music Park (SOSMP) in Live Oak, Fla. June 23-24. This fantastic bluegrass event will feature Vince Herman and Drew Emmitt of Leftover Salmon, innovative flat-picking guitarist Larry Keel and Jenny Keel, the gypsy jazz/bluegrass styling of Asheville, North Carolina's Jon Stickley Trio, boundary breaking bluegrass outlaws Grandpa's Cough Medicine, solo multi-instrumentalist Albert Simpson and artists-at-large Rev. Jeff Mosier and Pickled Holler, all which are some of the best American bluegrass and newgrass musicians touring today.
This brand new summer bluegrass/newgrass music and fun-filled weekend event will be held in the Music Hall at the beautiful SOSMP on the banks of the famed Suwannee River. Each act will perform two times at Clusterpluck, and fans can expect plenty of sit-ins and jams throughout the entire weekend as friends, family and musicians come together to participate in this joyous celebration of bluegrass music. Purple Hat Productions is looking forward to beating the heat at the Suwannee Summer Clusterpluck with a beach jam Saturday, June 24, with music from Albert Simpson. Come have fun in the sun all day then incredible bluegrass jams in the SOSMP Music Hall all evening! Tickets still available at suwanneezone.com! The awesome schedule can be found online at www.facebook.com/events/1121511007995759.