Travelin' McCourys play in Colorado with...Everyone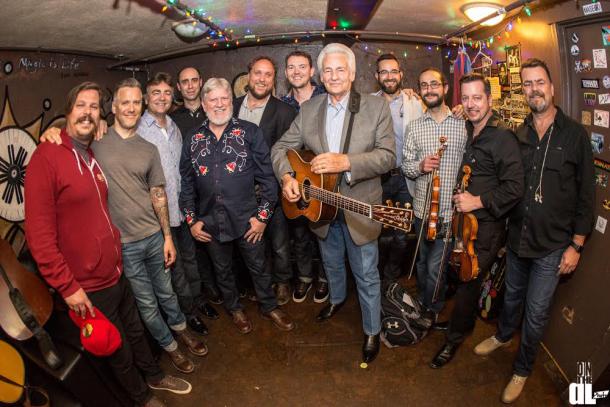 The Travelin' McCourys are known for their branding of the term 'Bluegrass Ball'. If ever there was a group of shows that defined this term, it was this past weekend on the Front Range of Colorado.  The Bluegrass Ball shows, Thursday in Ft. Collins at The Aggie and Friday & Saturday in Denver at Cervante's, were slated to include Bill Nershi of String Cheese Incident and Anders Beck of Greensky Bluegrass at all 3 shows with special guest, the Father of Bluegrass, Del McCoury on Saturday.  After Thursday and Friday all of Colorado was so a buzz with memorable collaborations drawing comparisons to Telluride and Delfest. Gaining speed, Saturday quickly sold out, with fans clamoring for tickets.  They did not know what they were in for.
 
Saturday started out with a special set from duo Bill Nershi and Anders Beck.  Everyone was surprised by the addition of Paul Hoffman (Greensky) playing a special tribute to Prince with 'When Doves Cry'. https://www.youtube.com/watch?v=3B3YFDLbQiY
Next up was The Travelin' McCourys starting with a set of their own, followed by a set with....well....everyone.  In true McCoury fashion, the guests were a plenty playing to the delight of the sold out crowd. Guests included Anders Beck, Paul Hoffman, and David Bruzza of Greensky Bluegrass, Bill Nershi of String Cheese Incident, Andy Hall and Chris Pandolfi from Infamous Stringdusters, Justin Hoffenberg, and of course patriarch Del McCoury.  The energy in the room has been described as magic and has everyone itching for festival season. 
Video from 'Rollin In My Sweet Babies Arms' https://youtu.be/M3Kun6BfXAk
 
The Travelin' McCourys just announced their next Bluegrass Ball date in St. Louis at The Grove with the Jeff Austin Band on June 10th, a unique ball, A Grateful Ball will feature sets from both bands as well as a set together of Grateful Dead songs to close the evening. 
Upcoming Travelin' McCoury dates:
 
Friday, April 29th - Jefferson Theater -Charlottesville, VA
Road to Delfest Benefit with Mipso - Supporting the Grottoes Volunteer Fire Department and Wildland Firefighter Foundation
Saturday, April 20th - Charm City Folk & Bluegrass Festival - Baltimore, MD
Friday, May 6th - The Charleston Pour House - Charleston, SC
Saturday, May 7th - North Carolina Brewers and Music Festival - Huntersville, NC
Friday, May 13th - Tractor Tavern - Seattle, WA
Saturday, May 14th - Yakima Roots and Vines Festival - Yakima, WA
May 26-29 - Delfest - Cumberland, MD