Turkuaz Bring in Dopapod's Eli Winderman to Support Injured Guitarist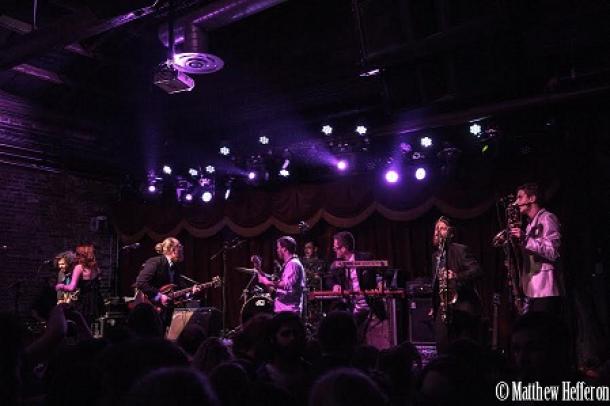 Folks checking out Turkuaz this week will find a slightly modified band: front-man, guitarist and co-founder Dave Brandwein has been sidelined with either a tendon or nerve issue that has affected his right hand since the band's May 2 date at Howlin' Wolf during New Orleans Jazz Fest. Turkuaz is bringing close friend and Dopapod keyboardist, Eli Winderman, in to fill out Turkuaz's normally very big sound. Brandwein— who is seeing a hand specialist in Atlanta today — was still singing and slinging the guitar, playing chords with his left hand until yesterday, and the band has made do by adjusting the arrangements to feature more of guitarist / keyboardist Craig Brodhead. The nine-piece Brooklyn 'Power Funk Army' normally features three horns, two female vocalists, two male vocalists, two guitars, bass and drums, as well as two keyboardists— the result of double duty from Brodhead and trumpeter Chris Brouwers. Unfortunately, Brandwein is uncertain as to whether he will continue to join the band on stage through the weekend's dates in Atlanta with New Mastersounds and at LEAF Fest in Black Mountain, NC.
Bassist and co-founder Taylor Shell commented that "it's been a strange week— we had a great Jazz Fest run of shows, but Brouwers had to leave for a few days for a funeral and Dave wasn't able to play guitar with this fluke injury. We have had first-time shows in Tampa, Dunedin and Boca Raton, and— although people seeing us for the first time definitely got the funk handed to them, and will in Atlanta, for sure, we wanted to do everything possible to make sure folks were getting the best thing we could deliver. Eli is an old friend and a great player, and Dopapod is off the road this week, so we're flying him in to play Atlanta and LEAF Fest. It's gonna work great. For people who haven't seen us, we just want to say we're still going to kill it and we hope you come back and see the full band, but the next few shows may be a little heavy on covers and old school R&B and Motown. For people who already know Turkuaz, well, this is going to be sort of a special treat. Either way, we didn't want to cancel the dates and we know Dave wouldn't want to let anybody down, so we're going to get funky and have fun up there and make people dance their butts off. That's how we do it."
Complete information on Turkauz including upcoming tour is available at www.TurkuazBand.com. Their new CD Future 86 is available now at iTunes and http://turkuaz.bandcamp.com.