TV Mike and the Scarecrowes tonight @ the Starry Plough
Submitted by Jason Chiu on Sat, 03/23/2013 - 16:10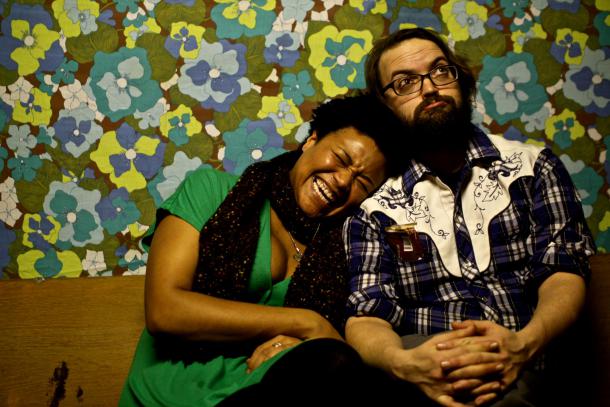 Tonight, perennial Bay Area folk group TV Mike and the Scarecrowes (yes, the extra e is necessary) perform at Berkeley's The Starry Plough. It's an intimate venue, with a big, open stage, giving performers enough room to move around, but also close enough to feel like there isn't a barrier. And while the Starry Plough may look more like a pub than a concert venue, make no mistake. It's a place that's perfectly suited for both. Live music and beer go hand in hand!
TV Mike and the Scarecrowes come on the heels of the release of their second album, Weeks to Days, a mature follow-up to their debut Spittin' in Cursive. While the recording of the album itself was quick and easy, the wait between albums was two years, mostly due to tUnE-YaRdS lead singer Merrill Garbus. Garbus's group experienced a rash of success behind her album w h o k I l l and hired sound engineer Eli Crews as her sound guy for her tour. So TV Mike and the Scarecrowes had to wait until Crews came back.
In the meantime, the group experimented more with their style, expanding their sound from just their country/folk routes. A heaping dose of electric guitar, more dynamic drums, and more polished production make for a fuller sound. It's louder, but not too loud to be overwhelming.
Weeks to Days is a celebration of life, from its highs to its lows. While some songs may be raucous sprints through sunshine-soaked fields, others like the ballad "I Need You" touch upon personal troubles that were haunting lead singer TV Mike. He lost his mother to pancreatic cancer in between albums, and the slow songs carry the weight of something that is long gone.
The band of ex-Indianans still haven't lost their joyful spirit, though. Their brand of Americana translates quite well to a live setting, and with the aforementioned intimate venue, it should be easy to groove along to this small, humble group. So pull up a chair, buy a beer, listen to the music, and enjoy a calm night out after the St. Patrick's Day hangover of last week. Catching TV Mike and the Scarecrowes is a great way to escape a chilly night and listen to a little bit of sunshine.