Whitewater Ramble Announces 2013 Fall Tour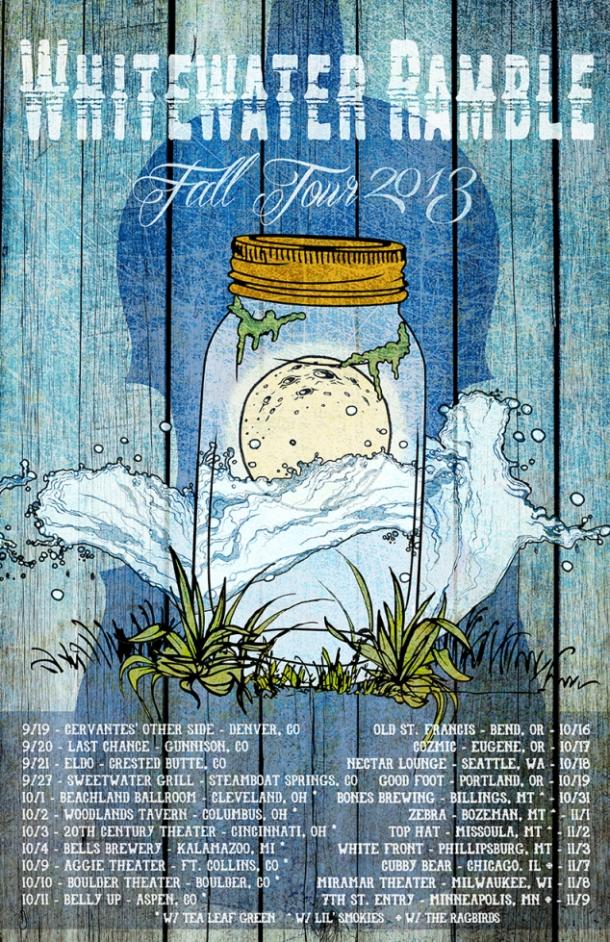 Whitewater Ramble (WWR) has announced their Fall 2013 Tour that will take the band through Montana, Wyoming, Washington, Oregon, Colorado, Illinois, Michigan, Wisconsin and Ohio. The band has announced several pairings and co-bills for the tour including a run with Tea Leaf Green and shows with The Ragbirds.
Whitewater Ramble is currently on tour behind their sophomore release Roots & Groove which was produced by Tim Carbone of Railroad Earth. The album features an array of special guests such as Andy Hall on dobro (Infamous Stringdusters), Andy Thorn on banjo (Leftover Salmon), Grammy Award winner John Macy on pedal steel, Bill McKay (Leftover Salmon, Derek Trucks Band) on piano and Tim Carone on electric guitar and vocals.
Tour Dates:
9/19 - Cervantes' Other Side "Grass for That Ass" - Denver, CO
9/20 - Last Chance - Gunnison, CO
9/21 - Eldo - Crested Butte, CO - Post-Vinotok Party
9/27 - Sweetwater Grill - Steamboat Springs, CO
10/1 - Beachland Ballroom - Cleveland, OH *
10/2 - Woodlands Tavern - Columbus, OH *
10/3 - 20th Century Theater - Cincinnati, OH *
10/4 - Bells Brewery - Kalamazoo, MI *
10/9 - Aggie Theater - Ft. Collins, CO * - co-bill
10/10 - Boulder Theater - Boulder, CO *
10/11 - Belly Up - Aspen, CO *
10/16 - Old St. Francis - Bend, OR
10/17 - Cozmic - Eugene, OR w/ Alder Street All Stars
10/18 - Nectar Lounge - Seattle, WA w/ Buzz Brump and Warren G Hardings
10/19 - Good Foot - Portland, OR w/ Sugarcane - co-bill
10/31 - Bones Brewing - Billings, MI ^
11/1 - Zebra - Bozeman, MT ^
11/2 - Top Hat - Missoula, MT - ^
11/3 - White Front - Phillipsburg, MT
11/7 - Cubby Bear - Chicago. IL +
11/8 - Miramar Theater - Milwaukee, WI w/ Horseshoes & Hand Grenades - co-bill
11/9 - 7th St. Entry - Minneapolis, MN - +
* w/ Tea Leaf Green
^ w/ Lil' Smokies
+ w/ The Ragbirds