Yoko Ono Heats Up Dancefloors Once Again With Her Latest Summer Smash "Talking to the Universe"
Following the overwhelming success of her eighth #1 BILLBOARD HOT DANCE CLUB PLAY charting remix single "MOVE ON FAST", YOKO ONO heats up dancefloors once again with her latest summer smash "TALKING TO THE UNIVERSE".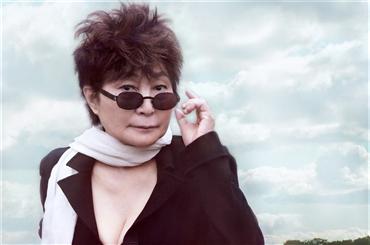 Since bursting onto BILLBOARD'S HOT DANCE CLUB PLAY SINGLES CHART as the Hot Shot Debut at #36* (with a bullet) (Issue date: 07/16/2011), "TALKING TO THE UNIVERSE" has proved to be a fiery confection and one of Yoko's most feverish and dynamic reinventions. Throughout its eight week stint on the chart, the single has quickly gained momentum claiming "the #25* spot (with a bullet)" as that week's Power Pick (Issue date: 07/23/2011) before leaping into the "Top 20 at #17* (with a bullet)" (Issue date: 07/30/2011). It's currently at #3* (with a bullet) (Issue date: 09/3/2011) nestled among contemporary pop and electronic music stalwarts BEYONCE, KYLIE MINOGUE, BRITNEY SPEARS, RIHANNA and DEPECHE MODE.
Originally taken from the 1995 YOKO ONO / IMA collaborative album RISING, the lean, funk-fueled rocker finds ONO tuning in to the universe as our as our celestial medium and ambassador to the cosmos urging listeners to purge all the preconceived notions, pretenses and fears that confine us in order to bask in a freer state of being. It's an inspiring message of self actualization and empowerment that has become hallmark themes throughout her vast career.
ONO has long been credited with igniting the punk-rock fire years before its official explosion and her work continues to be relevant and generation-inspiring decades later.  Meticulously reinventing her material for 21st-century dancefloors has given the vanguard artist a greater platform and visibility of which many contemporaries and present-day contenders can be envious.
"TALKING TO THE UNIVERSE" marks  the latest chapter in ONO's staggering body of remixed works which, to date, has yielded  eight #1 BILLBOARD CLUB PLAY chart hits ("MOVE ON FAST", "WOULDNIT' (I'M A STAR)", "GIVE ME SOMETHING", "I'M NOT GETTING ENOUGH", "GIVE PEACE A CHANCE", "NO NO NO", "EVERYMAN / EVERYWOMAN" and the timeless "WALKING ON THIN ICE") and two critically-acclaimed remix anthologies:  YES, I'M A WITCH and its companion release OPEN YOUR BOX, an incredibly impressive feat for an artist who has spent her life on the cutting edge of music, art and pop culture.
"TALKING TO THE UNIVERSE" is available as three separate digital green releases (no materials used or abused) on MIND TRAIN / TWISTED Records issued July 5th, August 2nd and September 6th, respectively, on  iTunes.