Jomeokee Campground is the home of the Jomeokee Music & Arts Festival located in the town of Pinnacle, North Carolina. The thought had not dawned on me, until I saw Pilot Mountain in the distance that I was heading to a bluegrass festival in the stomping grounds of the characters from The Andy Griffith Show. In the Andy Griffith Show, the writers of the show switched the name to Mt. Pilot. Mt. Pilot became the preferred destination for Sheriff Andy Taylor and Deputy Barney Fife for a night on the lowlow so the two could get out of Mayberry with Helen and Thelma Lou and drink some beer.
I have to show respect to the actors and region of North Carolina that brought so many depictions of love, tears down your cheek laughter and illustrated the perks of living a sweet and simple life. Bringing many Americans their first interaction with bluegrass, the episodes where the Darlings, Brisco, the boys and my first love Charlene, came to town are episodes of the show that should be seen by everyone on the planet.
Growing up in my area of the country the question wasn't as much "Ginger or Mary Anne?" but "Charlene Darling or Ellie Mae Clampett?"
I roll with Charlene Darling.
For those not currently familiar with the Darlings (the band is known as The Dillards in real life) but are soon to Google that band, they will be turned onto some of the finest old school Flatt and Scruggs type rolling banjo and mandolin so sweet, the sounds have to be heard, not only read about online.
For those familiar with the bluegrass works of David Grisman and Jerry Garcia, certain episodes of the show cover the song "Shady Grove" plus the traditional "Going Down The Road Feeling Bad" and Chuck Berry's "Promised Land". Do yourself a favor and check out a song, sang by the show's character Charlene Darling, "There is a Time". To me, "There is a Time" is one of the most hauntingly heartfelt love songs of all time. The lyrics zero in on the unforgiving passage of time and how fleeting love can be as our lives unfold.
A common phrase exchanged during many Darling episodes is inevitably going to include Briscoe Darling, the father of the clan, discussing the band's next song with his delightful daughter, Charlene. Charlene is a sweet mountain girl with a voice that is sweeter than sourwood honey. "That one makes me cry Pa." Or, "That one makes you cry Pa." The family always resolved the song choice dilemma and treated viewers to some of the finest bluegrass ever played on television.
So before even getting in the gate, Jomeokee has the good old, Mayberry aura working its magic. Also working its magic is the spirit of kind-hearted, flat pickin' master, Doc Watson who also hails from the mountains of North Carolina. Andy Griffith and Doc Watson did as much to share bluegrass with the masses as anyone and they both left this world this past year. We miss you Doc and Andy but your spirits are still with us and we are still making it happen !
The Venue
At the venue which easily accessed from Highway 52, the first impression made on the attendees is the lush greenness of the campground's surrounding fields and farmlands. The entry into the event went smoothly and having arrived early, which is always recommended, made the entrance even simpler. A carpeting of thick green grass is under foot that is soft enough to allow barefooting without fear of a sharp rock ruining your day, or the entire festival.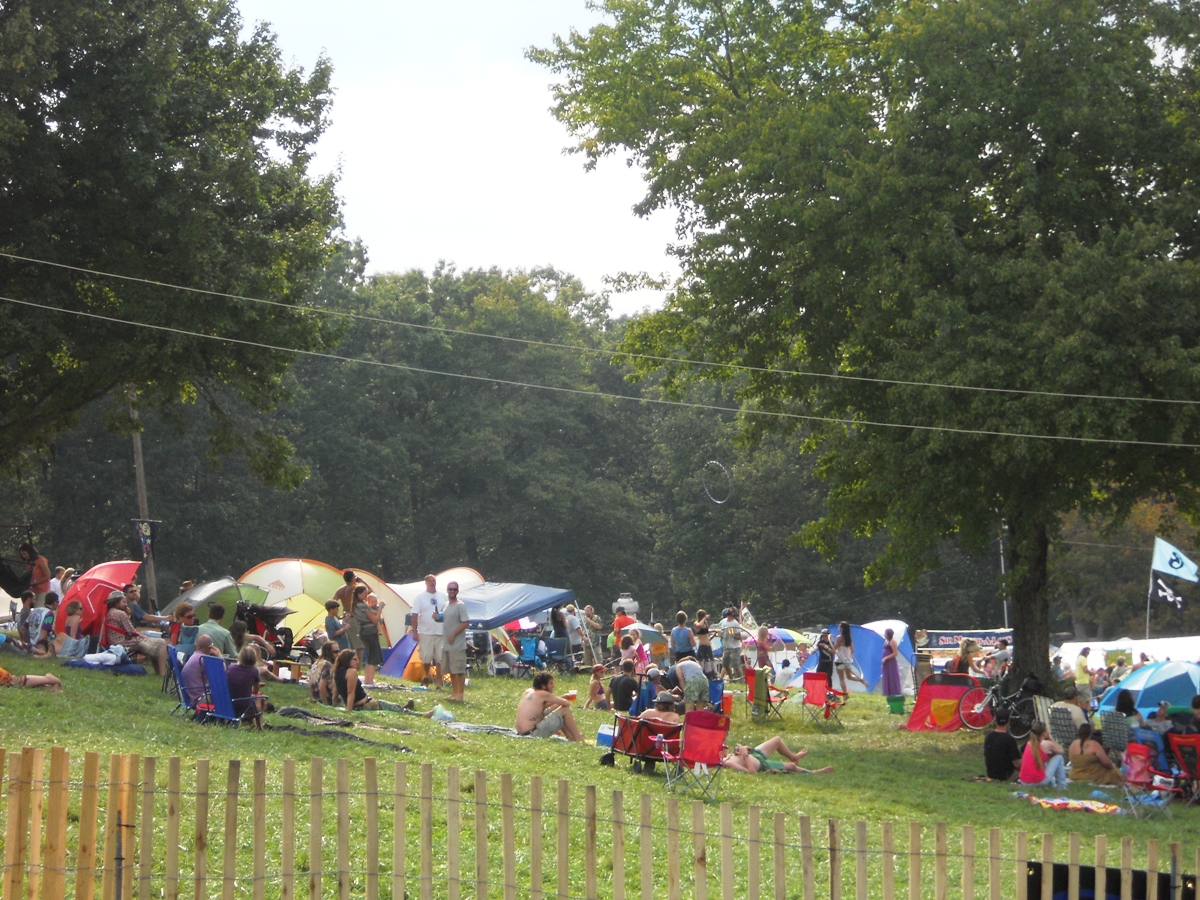 The festival's staff made a point to keep the trails and dirt roads watered down to keep dust to a minimum. The crew also kept a firm handle on trash removal. As for Porta-Pottys and their ability to affect how enjoyable a three or four-day event out in the woods can be, the Porta-Pottys were kept clean. Why shucks, even the Porta-Potty vacuuming trucks were clean. Those putting this festival on really deserve credit for making the venue pleasing to the eyes and noses of all in attendance as well as the ears. Aunt Bea herself could not have done much better in keeping the festival area clean.
The Acts
The festival has the two main stages set up side by side. Such a setup benefits both the bands and the folks in attendance by not having to shuffle from stage to stage, through the woods or across a creek and limits the amount of preparation time with sound equipment for each band. The third stage was set up within easy walking distance of the main stages. The Pickin' Stage was located in a cozy, bottom of a forest that provided shade from the Indian Summer sun that joined us for the festival on Friday and Saturday. The sets of music at the Pickin' Stage were a bit quieter than the main stages but not lacking in any manner related to hearing enjoyable bluegrass by some mighty fine musicians.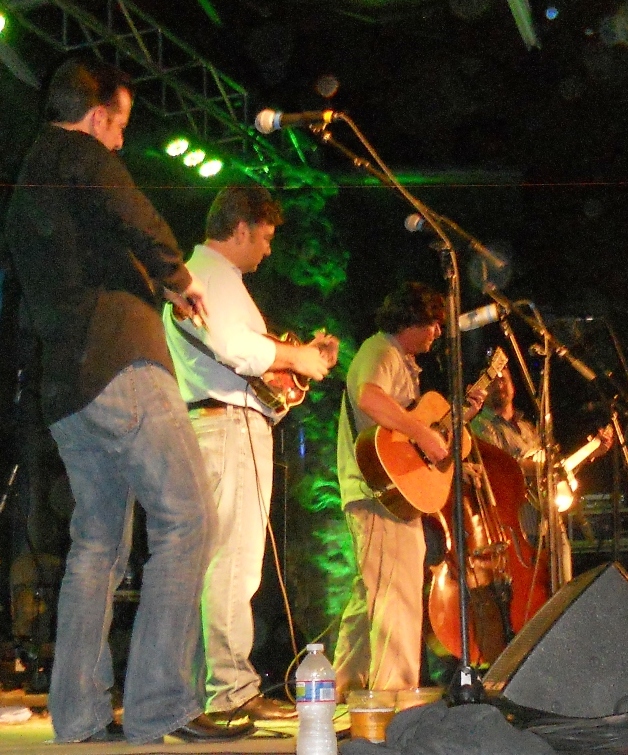 I am mentioning every band that was on the festival schedule. At most festivals there are bands or activities that seem to serve as "filler" in between the more popular acts. Not one of the bands served in that role during this festival.
On Friday, the bands were The Heritage, Invisible III, The Captain Midnight Band, The Twin Cats, Larry Keel & Natural Bridge, Floodwood, Patterson Wood and the Downtown Rumblers, Jimmy Herring Band, Keller Williams with the Traveling McCourys, Stephen Marley and Yonder Mountain String Band.
On Saturday, The Danberry's began the day followed by The Broadcast, Floodwood, The Mantras, Emmitt-Nershi Band, Midnite, Del McCoury Band, Lettuce, Yonder Mountain String Band, Bluegrass All-Star Jam and the Everyone Orchestra.
To end the festival on Sunday, the performers scheduled to play were the Del McCoury Band Gospel Hour, The Danberry's & Friends and Love Canon.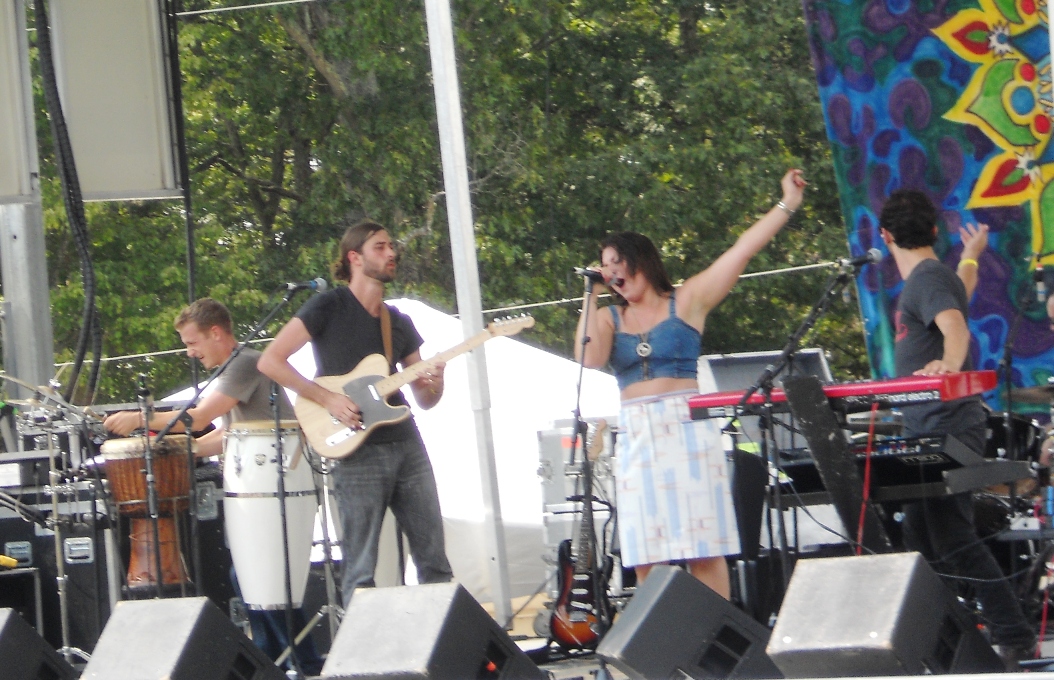 I am going out on what I consider a pretty stout limb with my prediction on Floodwood. If this line-up stays intact, I am predicting a Grammy Award or something similar for these fellows. This band produces both the old school bluegrass sound along with the indie/jazz/funkgrass that is spreading within the bluegrass genre.
At times I thought I heard some metalgrass over the course of the weekend. After all, Led Zeppelin has some mandolin in a number of songs and "Diamond" David Lee Roth redid some Van Halen tunes a few years back and the songs weren't half bad.
Let us get back to Floodwood and their wonderful performances over the weekend. The band is comprised of Vinnie Amico, Jason Barady, Zachary Fleitz, Nick Piccininni and Al Schnier. You may recognize Al Schnier and Vinnie Amico from the band moe. Given the chance at the next festival you attend, DO NOT MISS FLOODWOOD ! I'd say they stole the festival but between Jimmy Herring and his boys, Stephen Marley and his band, the Everyone Orchestra, Keller Williams, Larry Keel and Del McCoury's group, I cannot in good conscience say that any band or person in particular stole the spotlight. Well, Del did but we knew that going into the event.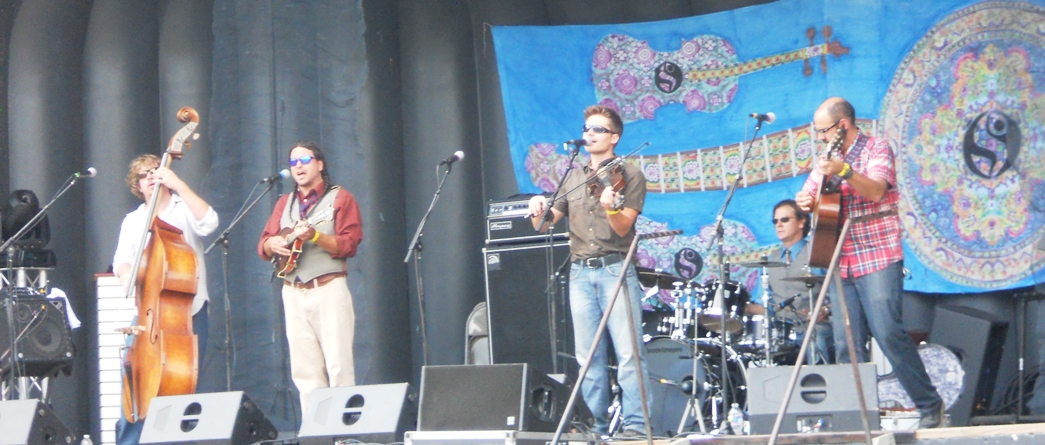 I can say in good conscience that for a festival's inaugural presentation of musicians, there have not been many festivals to trot out such a group of talent that sparked such a great rapport with the fans.
Jimmy Herring
Regretfully, having an opportunity to interview several of the performers just did not work out. I was told that there was friction between some of the photographers overstepping their bounds and as a result, interviews were not easy to come by. I did stumble into a couple of minutes with Jimmy Herring which I found to be enlightening. Jimmy was quite accommodating in the few minutes he was gracious enough to share with me.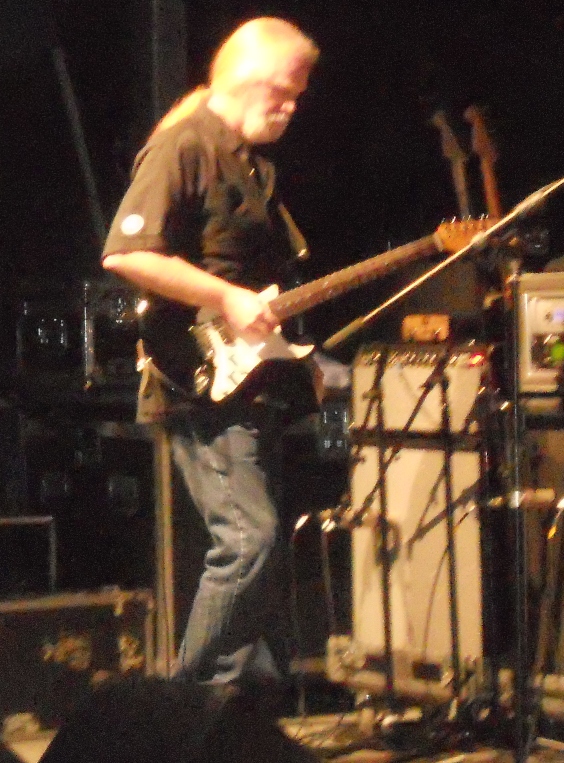 I asked Jimmy what it was like to play with such accomplished musicians as Warren Haynes, Phil Lesh, Widespread Panic and the like. Jimmy said those musicians and their supporting crews have things so organized it makes the gigs much easier to play. My second question dealt with playing his guitar more with his head, or thinking note after note, or with his heart and spirit just flowing through the music. I thought fantastic musicians or any performer that excels at their profession just popped up on stage, blew people's minds and just went on to the next show and did it again with little effort. Jimmy said it depends a great deal on the day's events. When things go smoothly before the show, he can just step up on stage and let his heart and spirit take the lead. On other days, days that we all share, days that don't go as smoothly as we'd like, there is more thinking involved to his playing.
Those words expressed a sentiment that made me and hopefully you the reader, feel better when we have days that could have swung a little more in our favor, unfold before us. The fact that when we have days that don't go as well as we'd like fall in our laps, we still have to keep "gettin' it". Keep getting' it yall !
Everyone Orchestra
Al Schnier, Vinnie Amico, Jimmy Herring, Michael Kang, George Porter, Junior, Melvin Seals, Jennifer Hartswick along with conductor Matt Butler and friends, combined their considerable skills to put on a fantastic improvisational set based on crowd input and musician's energy. I'd heard of the Everyone Orchestra but had not had the good fortune of catching this musical merry go round of talent in person. This ever changing act requires the crowd being completely involved and allows the crowd to steer the musicians into a jam that goes where it goes and does what it does. The Everyone Orchestra is another CAN'T MISS on your upcoming festival schedule of events.
Interesting Covers
Having "cut my teeth" on the Bill Monroe and Flatt and Scruggs school of bluegrass, I must admit loving the pop songs or classic rock songs we've grown up with being mixed into the sets of today's bluegrass bands.
Examples being:
Stephen Marley and his band did an instrumental version of "Norwegian Wood" that lasted a good ten minutes and was absolutely fantastic, as was the entire set. If you think Stephen Marley is just cashing in on his father's name, you would be way wrong in that line of thought. Way wrong.
Yonder Mountain String Band's bluegrass version of the Talking Head's "Girlfriend Is Better", stopped me in my tracks. The band's performance of this song was as excellent as it was surprising to hear a Talking Head's song at a bluegrass/jam festival.
"Price-Tag", by Jessie-J, was performed by Keller Williams and friends. "Price-Tag" sums up so much of what this jam band scene was based upon back in the Haight when the Grateful Dead starting expanding America's musical horizon. I get a kick out of knowing that some musicians still keep the thought of making music, out of a pure love of music and making people happy, floating around their heads.
Larry Keel and Natural Bridge made their presence known with a "good old marijuana song", his words exactly, as he and his band ventured into the world of a reggae and bluegrass hybrid sound. The cover song treats in his set were Lynyrd Skynyrd's, "Simple Man" and the Grateful Dead's, "Ramble On Rose".
Floodwood brought "it" their entire set, both days, and knowing how to please the crowd, they went old school with a high energy version of "Cumberland Blues". A fine version of yet another Grateful Dead song the audience was treated to this weekend. The back and forth between Floodwood's mandolin player and the banjo player was a highlight of the festival. Again, if Floodwood's line-up stays intact, big things await that band.
The Danberry's broke out "Shady Grove", "Working on a Building" AND "Mississippi Half-Step" as they worked the crowd with what seemed to be an Indiegrass style.
Broadcast, pictured above, offered a Grace Slick-ish and Rush vibe as they worked their set and played a surprisingly powerful and on point version of "Whipping Post" that would have had every Allman Brother smiling.
The Del McCoury Band
Del McCoury, taking requests as he freely held conversations with the folks standing at the foot of the stage, is simply what bluegrass festivals are all about. Del is the modern day father of bluegrass. Del rode around the festival in a golf cart greeting folks, he played his heart out on stage and he's set an example for all musicians to strive for no matter the type of music or sound.
Better yet, Del has been conducting himself in that manner for pushing fifty years in the music business. It is easy to get caught up in Del's accomplishments but to leave his fiddle player out would be doing every bluegrass fan a disservice.
Jason Carter, on fiddle, is an absolute phenomenon. I had a brief encounter with Jason as I was touring the grounds. Earlier in the day I'd stood a few feet away, watching and listening to Jason do his thing. Jason's thing happens to be playing a fiddle to the point of the fiddle spontaneously combusting. Jason Carter is yet another CAN'T MISS performer that was on display at Jomeokee this weekend.
Equally impressive were Jason's manners when I encountered him backstage one night. Here I am a stranger, in the dark, calling to him without calling him by name and Jason's response was to reach out his hand to shake mine and introduce himself by name. For a musician of such talent to be so down to earth is as impressive to me as his considerable fiddle skills. If someone were to ask me if I'd attend this festival again, my answer would be a resounding, "DEL YEAH !".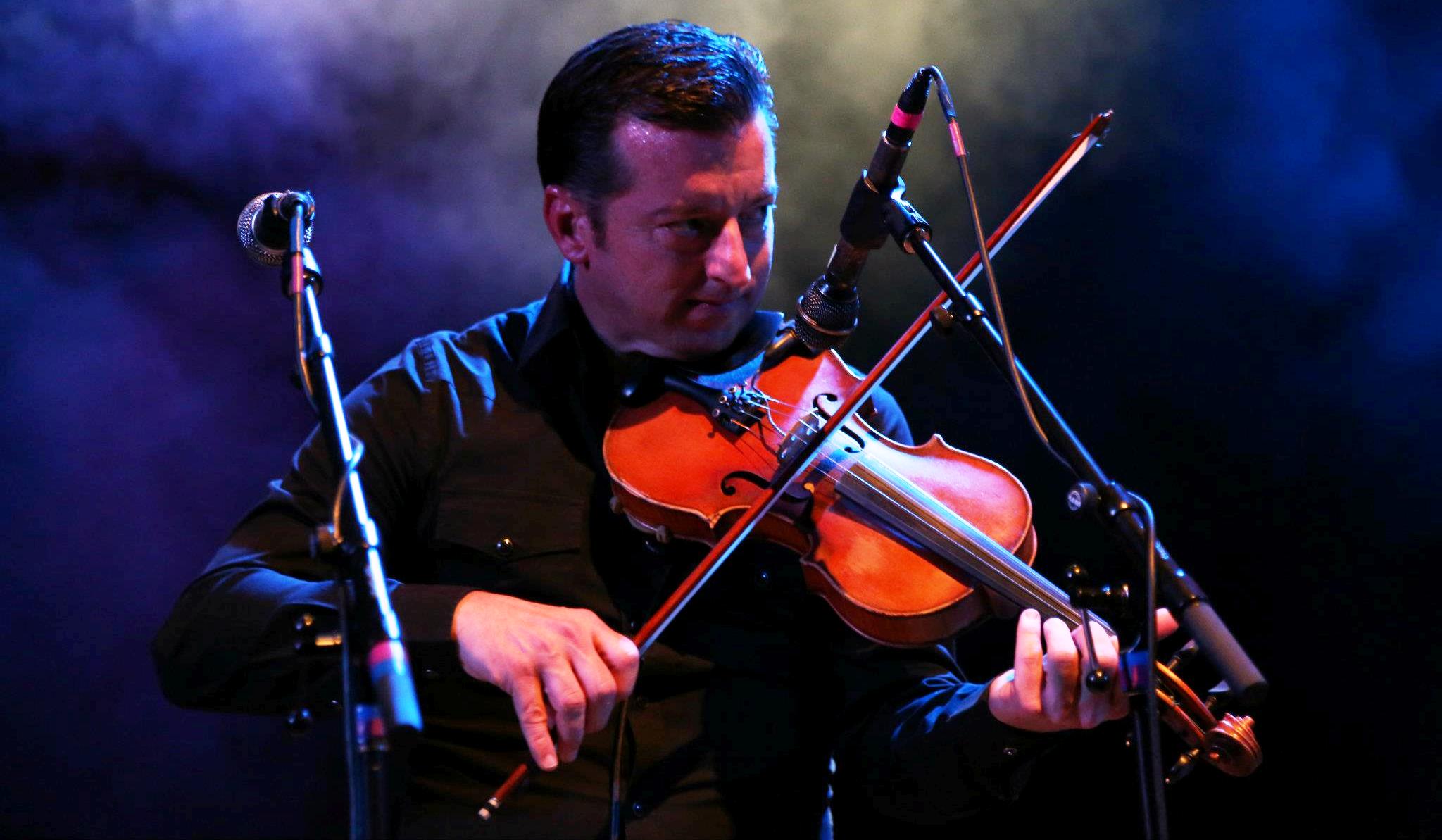 5 Point Festival Rating System:
Venue Access 5.0 Management/ Organization 4.0
Cost vs. Enjoyment 5.0 Music 5.0
Family Friendly 5.0 Do It Again 5.0
Vending 4.5 Crowd 4.5
In closing, please reflect and act on these ideas:
*The good it does a person's mind, body and spirit to attend a music festival.
*The lessening of our burdens and the freeing up of our spirit by a few nights in the woods listening to great music is priceless and will probably increase our life spans. You, your family and your friends all deserve to get out in the woods for some music, laughing, dancing and to make some new friends. Please do.
*Do yourself a favor and learn to play a musical instrument. Once you start getting an understanding of the instrument, the learning curve goes up more quickly than you expect.
*Go ahead and plan to attend Jomeokee next year.