Amendola Vs. Blades have announced the release of a new studio album, 'Everybody Wins,' on October 11 via Royal Potato Family. The funky California duo comprised of Wil Blades on Hammond organ and clavinet and Scott Amendola behind the kit have also added nine West Coast shows in October and November to support the collection. Throughout the eight tracks on 'Everybody Wins'—the second studio album from the organ/drums duo—Blades's cutting solos and deep bass lines make for a thick stew of soulful harmony and daring improvisation, while Amendola's beats are simply unstoppable. In a move away from their debut album, 'Greatest Hits,' that primarily featured solely the two musicians, this latest effort from Amendola Vs. Blades is bursting not only with creativity, but with personnel. 'Everybody Wins' sees contributions from guitarist Jeff Parker (Tortoise), saxophonist Skerik (Les Claypool, Garage A Trois), percussionist Cyro Baptista (Herbie Hancock, Trey Anastasio), and keyboardist Rob Burger (Tin Hat Trio, Laurie Anderson). Unsurprisingly, the music is as outsized as the roster of guest musicians, moving between a number of styles and moods.
The guests, of course, didn't find themselves in the studio by chance. Amendola, for instance, partners with Baptista in the Nels Cline Singers, headed up by Wilco guitarist Nels Cline. And Parker appears on Blades's 2014 album 'Field Notes,' also released by Royal Potato Family, as well as Amendola solo recordings, 'Believe' and 'Lift.' These musicians have more than just shared experiences in common; the additional players are coming from the same free-flowing arena that Amendola and Blades operate in.
"Jeff, Skerik, and Cyro are all extremely broad, versatile musicians," explains Blades. "Scott and I are the same. They just fit with what we do; they straddle a lot of stylistic boundaries, all while maintaining their musical voices. We can go in so many different directions musically, and it's really fun. Everyone is really open-minded and down to go wherever the music takes us!"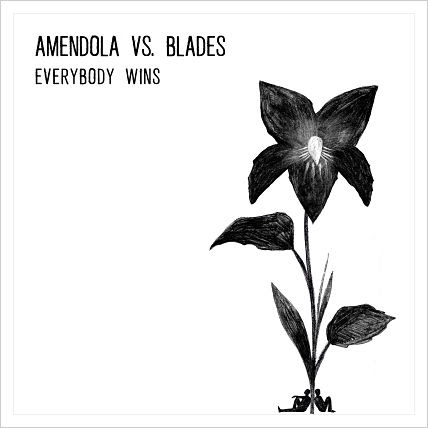 The opening "Hi-Lo" (available to stream/share here) is a thrilling, dark-hued funk piece with some odd-meter progginess thrown in. "'Fess Up (Before Ya Mess Up)" is a New Orleans groove paying tribute to NOLA piano great Professor Longhair. "Wall Town" is a laid-back but purposeful latin-jazz number featuring some shimmery soloing from Parker. And "Hambela" works with a boogaloo groove recalling Lou Donaldson's Blue Note LPs from the late '60s. "Fabulous:Stupendous" features Rob Burger adding lush synth strings, and vintage keyboard sounds to the predominantly through composed Amendola composition, which propels the track into angular aural dimensions. But the standout track might be the epic "Metropolian Hustle," which begins in an experimental vein before moving into jittery jazz and psychedelic dub. The song has a special emphasis on collectivity.
"'Metropolian Hustle' is more of a sketch of a song that's about the ensemble with open sections, and not about individual solos," says Amendola. "There's a form, but when we play it live we're not counting bars. The idea is that the band, whether the duo or with guests, can play around with the melodies. There's a particular vibe happening in the three different sections."
More than just a confluence of friends and influences, 'Everybody Wins' is a celebration of Blades and Amendola's decade-plus adventure together. The musicians first united in 2006 to perform the Duke Ellington album 'Far East Suite' and the ball hasn't stopped rolling since. Quite evidently, there is no end in sight. With 'Everybody Wins,' Amendola Vs. Blades have delivered what is arguably the tastiest, most inventive organ/drums album to be released in modern jazz this year.
AMENDOLA VS. BLADES 'EVERYBODY WINS'
Track Listing
1. Hi-Lo
2. Cyroette
3. Fess Up (Before Ya Mess Up)
4. Metropolian Hustle
5. Wall Town
6. Hambela
7. Everybody Wins
8. Fabulous:Stupendous
AMENDOLA VS. BLADES
Tour Dates
10/29 - Los Angeles, CA - Blue Whale
10/30 - Los Angeles, CA - Blue Whale
10/31 - San Francisco, CA - SFJAZZ
11/1 - San Francisco, CA - SFJAZZ
11/2 - San Francisco, CA - SFJAZZ
11/3 - San Francisco, CA - SFJAZZ
11/4 - Arcata CA - Arcata Playhouse
11/6 - Seattle, WA - Triple Door
11/7 - Portland OR - Mississippi Studios