I have a moleskine book I keep in my pocket at concerts. My wife gave it to me as a gift years ago. She always gives the best gifts. This tattered little vestige to my musical history is used solely for notes at concerts I am reviewing. Nothing could better embody who I am, not just as a writer, but as a person. Every time I write in the book, it is a process. I have to take the now stretched out elastic rope off of the book, turn to the page marked with the connected bookmark and pick up where I left off. The process is then reversed when I return the book to my pocket, until it all starts over again. Process after process after process. Of course, this progression is building towards something that will, more than likely, never happen. I see somewhere in the future this book, full of my real time notes, being part of the larger collection of priceless historical artifacts on display in the Writer's Hall of Fame. More likely, it will be discovered, long after my passing, in a cardboard box full of my personal belongings and will bring a tear of remembrance to my child's eye. But today, as I look down at this book, I cannot figure out if it is going to make it out of Grey Fox Bluegass Festival 2016 intact, with pages stuck together by rainwater and sweat.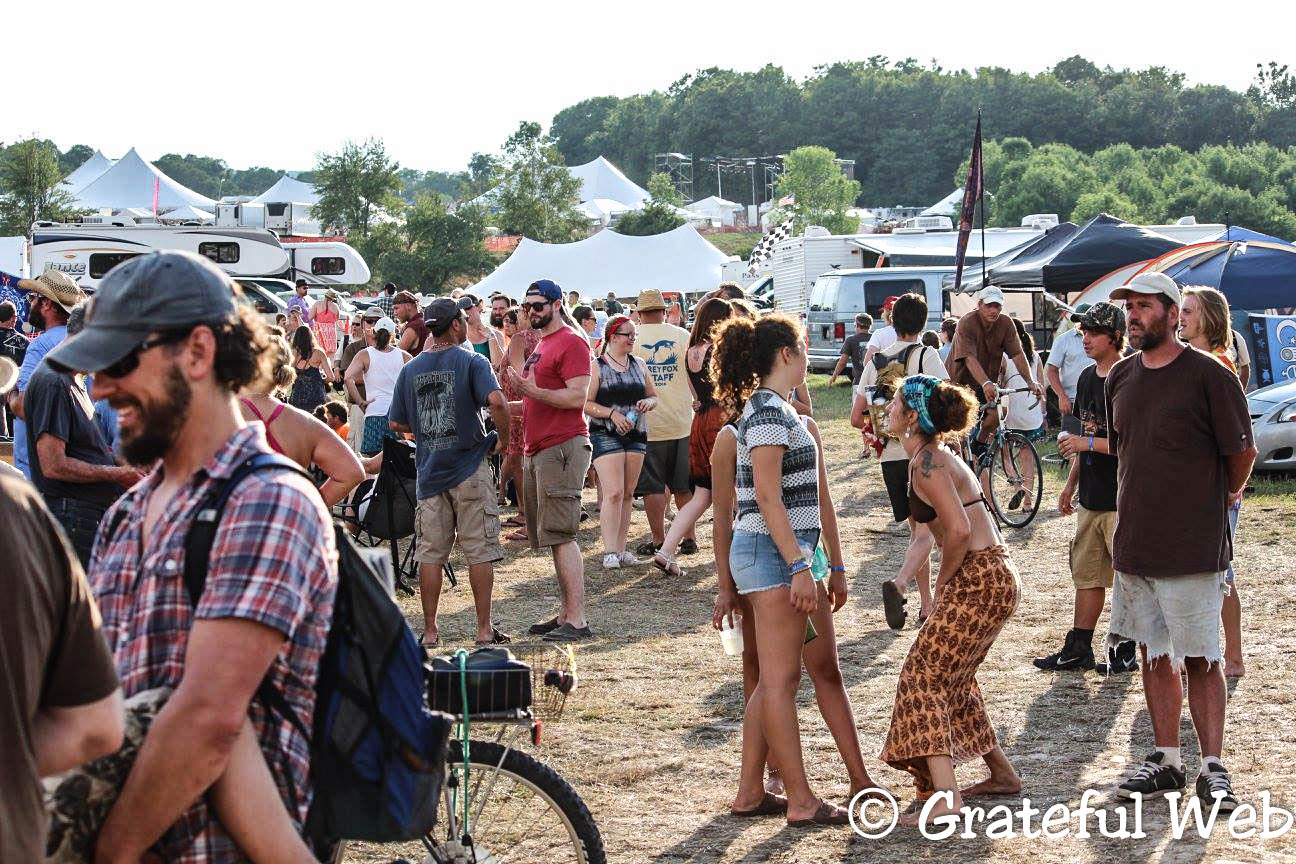 Grey Fox Bluegrass Festival, held at the perfect location on the Walsh Farm in Oak Hill, NY, no longer is solely an assignment for Laura and me. We come here because we have become part of this small, strong and loyal family that comes back every year. Such an inclusive and equitable feel starts from the top down. I begin my Grey Fox process annually by sending a copy of my preview to Mary Burdette, one of the festival's primary organizers. Like the best teacher you ever had, she sends it back with encouragement and some subtle suggestions about what can be changed. Most years, Mary and I only connect via email a few times and may get the chance to touch base once or twice face-to-face through the weekend, but I still feel a personal and deep connection with her; a connection that she is happy to maintain and cultivate year after year.
Once the preparations are completed and it is time to enjoy, I mean work- yes work, at Grey Fox, the camper gets packed and down the interstate we roll. The first thing I see when I arrive at this festival is the old family farm house at the gate. People are sitting in the shade of the porch, welcoming you to their home. We wave hello, knowing we'll see them around the festival through the long weekend. For the next four days, we'll be family. We'll set up a temporary home in their soft hay fields and shape a musical journey through the welcome and comfort shared amongst blood. What could be better?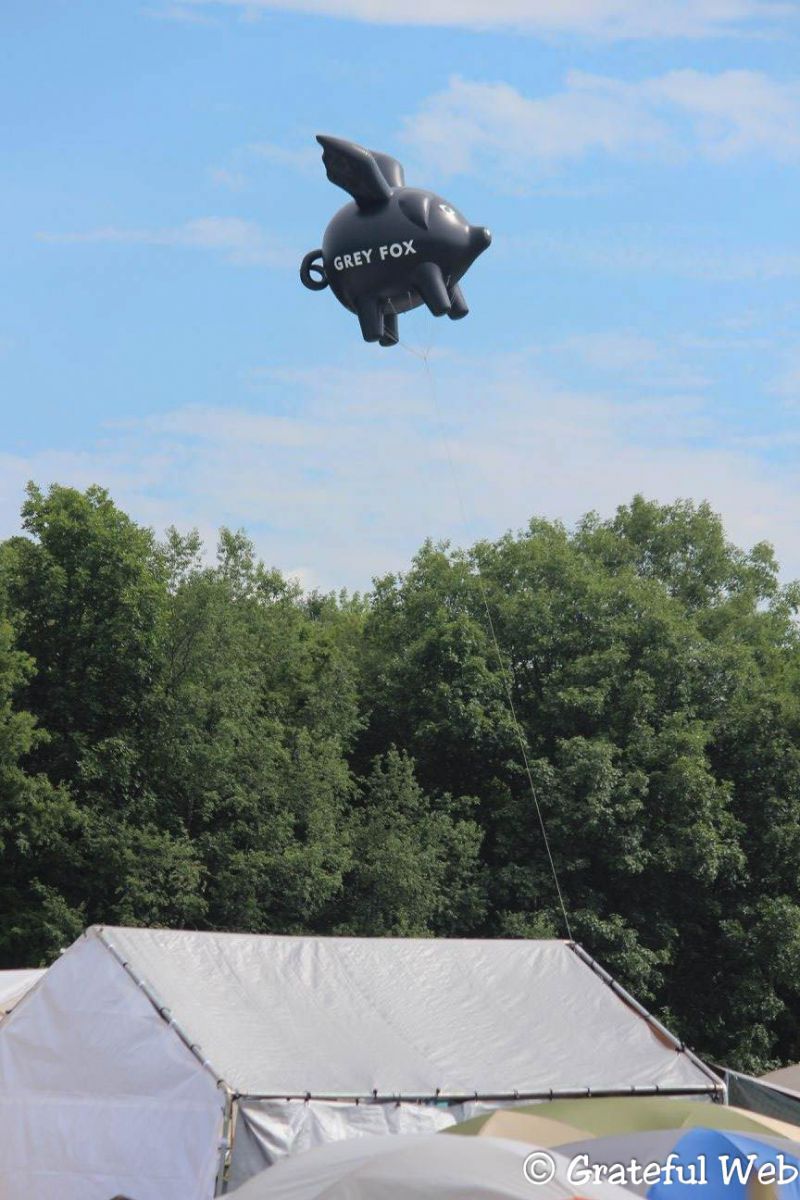 Well, this year, the weather could have been better. At least at certain times, like when my three year old and I were tasked with setting up camp. Our 1976 Apache camper is still part of our immediate family, but this year it needed a bit more than window dressing to assuredly make the three hour trip and survive the weekend in the Catskills. Despite the effort made to get the Apache ready, no amount of groundwork can change the set-up from its dependence on elbow grease and grit, two ingredients running terribly low on this humid July day. In two hours flat, I had succeeded in setting up camp, explaining every step along the way to my inquisitive son and sweated through my third shirt of the day. I had to break down the camper in our driveway before leaving, hence the multitude of garments. Once I toweled off, Jay and I packed the stroller and rolled down McReynolds Rd. and made a left on Crowe St., leading straight to the main stage, where we would set up our chairs and shade tent for the duration. There is very little to worry about at Grey Fox, including your personal belongings. I am not advocating for people to throw caution to the wind, but I did take notice of the one mention on the community information board of something that went missing this weekend. It was a family's red wagon and they were appealing to the sensibility of the perpetrator of the crime. No other piece of paper was thumb tacked up, informing the festival goers of things going missing, so you can see why hundreds of the festival's attendees feel comfortable setting up chairs in front of the main stage and sun shades at the back of the field. Sure, I may come along and find someone sitting in my chair, but a quick explanation ends amicably with me lounging in the space I have unofficially reserved.
As Jay and I set up the shade tent, the sky quickly turned from light to dark, the way it does when Mother Nature wants to be sure and catch you unprepared. The size of the first drops could fill your pocket. From there, the sky opened up. Not caught completely unprepared, I hurriedly put on my and Jay's rain coat, but not before I had become drenched again, and this time by something other than sweat. Those around me who had gotten in earlier that day or were a part of the "running of the bulls" style entrance on Wednesday when gates open, all openly invited me under their shade tents to avoid the downpour. But I trudged on and got our little shade tent up just in time to see the end of the deluge and wheel Jay back down the hill to catch the first of many sets of music that weekend.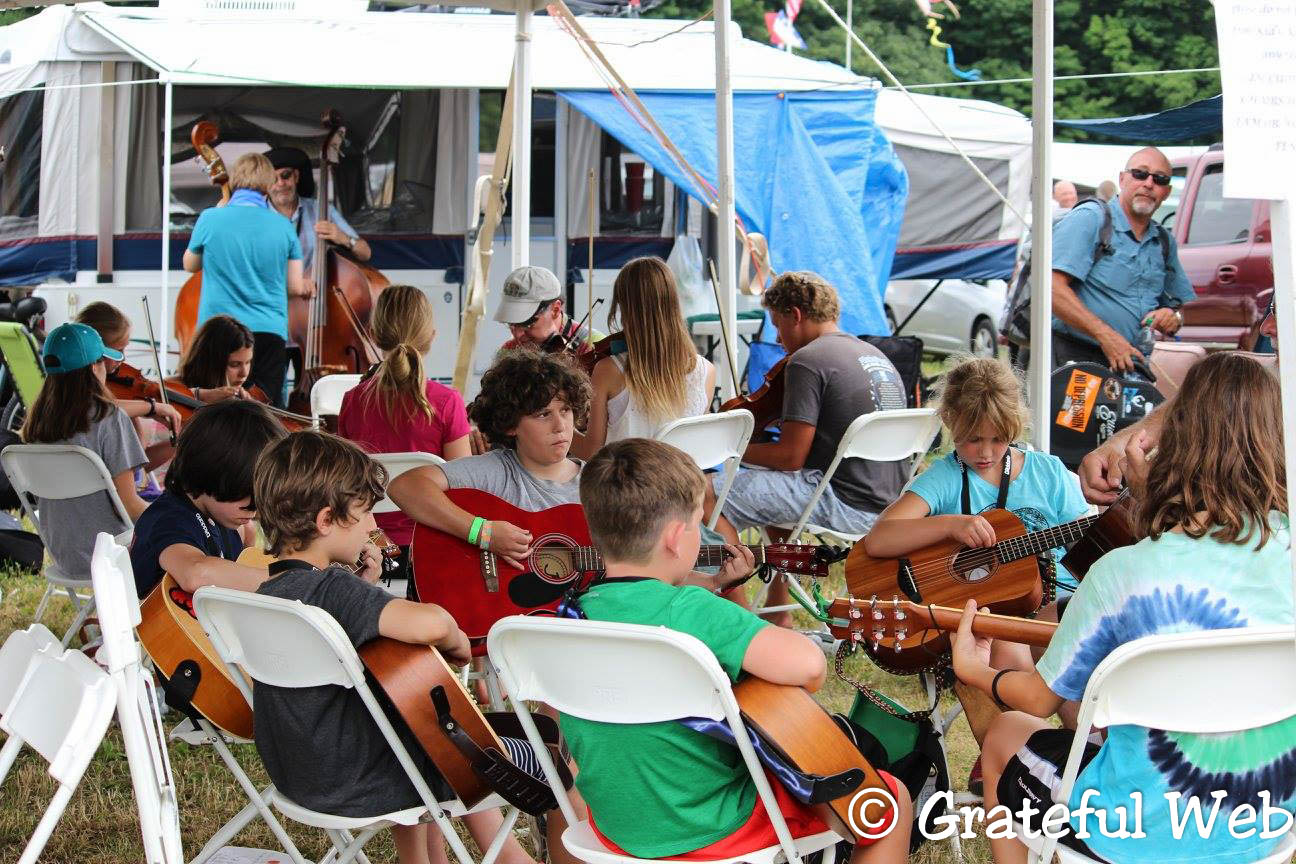 Actually, the first set we caught was not music at all. We started at the kid's tent with a set by the Chicken Pot Pirates. As I have mentioned every year, I am amazed by how kid friendly this festival is. The entertainment at the kids tent is top tier, the family camping is large and maintained so very few all night party folks set up camp when other sections get too full and, most importantly, there is no illegal vending of wares or party favors. All of this adds up to parents who are more comfortable with their surroundings for the weekend then they often are at home. Our festival friends, who we camp with every year, were excited to let their 7 year old ride his bike alone around the festival grounds, a privilege that they hadn't yet considered at their everyday home. The crowd at the Pirates set was a homogenous group of young parents ready for entertainment, perhaps hoping they could vicariously live through the mind's eye of a child at this performance. Our collective energy was palpable. I think we freaked the kids out.
But music, sweet music. It was the nectar we were all buzzing to find. How could an afternoon set by the Steep Canyon Rangers do anything except fill our minds with sweetness, giving us all a chance to roll around and laugh the laugh of satiation? The Catskill Stage, known to the attendees of Grey Fox as the Dance Tent, is the largest venue other than the High Meadow/ main stage. Many of the headliners play sets at both the High Meadow Stage and the Catskill Stage and may even do workshops or talks at some of the smaller tents throughout the weekend. There is no doubt that the music, dress and general attitude of the Catskill Stage is more relaxed than that of the High Meadow Stage. Thus under the tent, not only can you find shade from the afternoon sun, you can also see a band's more experimental side. The rain had not cooled us off, but instead had increased the humidity, so shade was a need for Jay and I and the Rangers supplied the rest. They left their straight bluegrass set for later that night. This afternoon was psychedelic. Well at least politely psychedelic. Definitely country psychedelic. The percussion within their music, both that supplied by their percussionist Mike Ashworth and the driving design of the music, was given room to roam on the Catskill Stage. Bluegrass often feels very straight in its design. Even as changes approach, they can be predicted by the upswing in the style of play. This day, the Steep Canyon Rangers came to new paths that neither they, nor the crowd was expecting. It was the furthest music from traditional bluegrass that I have heard the Steep Canyon Rangers play, yet the crowd and the band couldn't have enjoyed it more.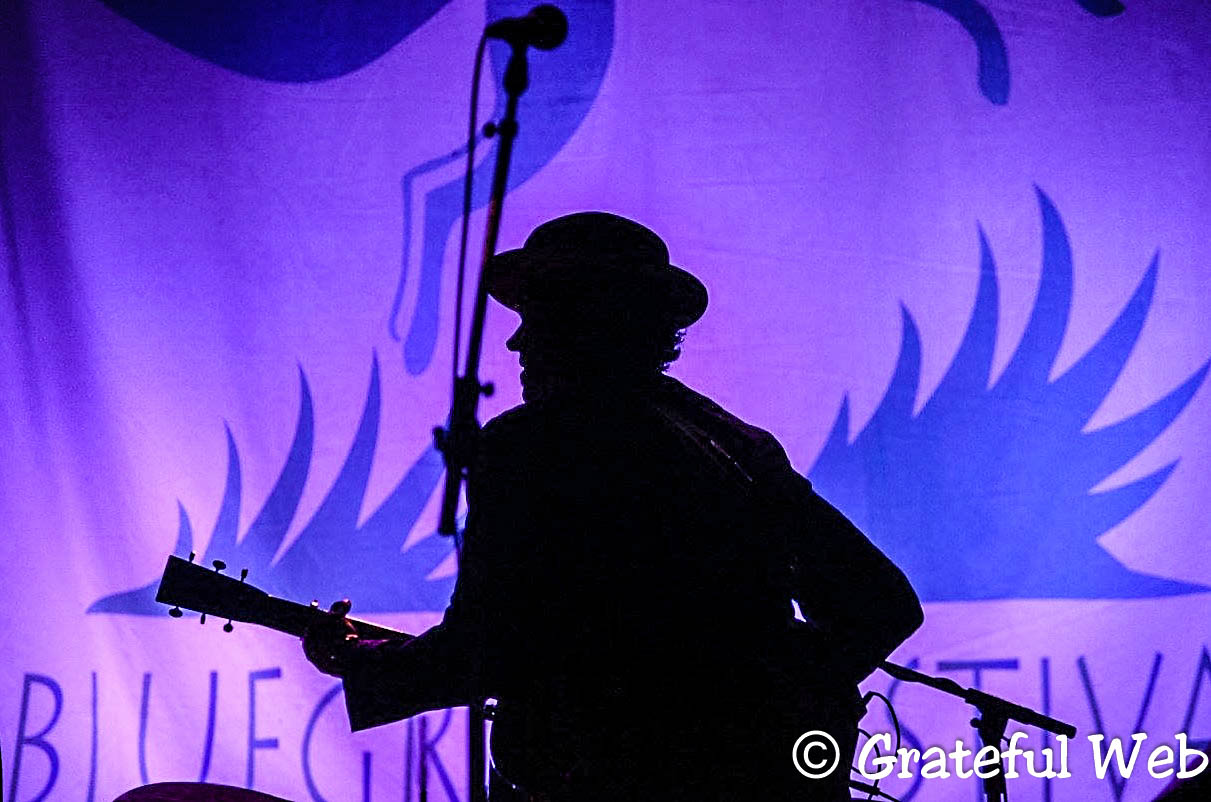 The sun began to creep behind the late afternoon clouds, enough so that I could feel the mercury retreating every so slightly. Dusk would soon be upon us. The sound of the Wood Brothers ushered in this change, just as their sound ushered in a historical change at Grey Fox. Both Laura and I have been fans of Medeski Martin and Wood for years and have been frustrated when our schedules wouldn't allow for it, yet eagerly anticipated our first chance to see this power trio. When I saw them on the lineup for the weekend I was giddy, but did not consider how their music would fit into the fabric of Grey Fox. Obviously, traditional bluegrass is at the core of the lineup year in and year out. While bands that loosely, if at all, can be connected to the bluegrass genre are at the festival year after year, they have never cracked the part of the lineup reserved for headliners. That is, until now as this groove, serenading the fast approaching dusk, was going to be complemented by a headlining slot on the main stage later that night.
Art camp had ended at home, so we were joined by my wife and daughter for the evening sets at the main stage. The line up was the same, The Steep Canyon Rangers followed by the Wood Brothers, but everything felt and sounded different. When the Rangers began their set, it sounded as if the tech and sound crew were not ready for so much sound. It took a few songs until the speakers were dialed in, a snafu that seemed to be effecting the band. The energy was low and it wasn't until Graham Sharp began the low rumbling build of "Stand and Deliver" that their evening set began to take shape. The sound of Nash's voice is incomparable, as if he was bred to sing bluegrass/ alt-country music. I imagine he came out of the wound and tipped the 10 gallon hat he was already wearing before causing nurse knees to knock with an unassuming "well howdy ya'll" seven octaves below the standard baby cry. Alone, his voice is worth the price of admission to a Steep Canyon Rangers show.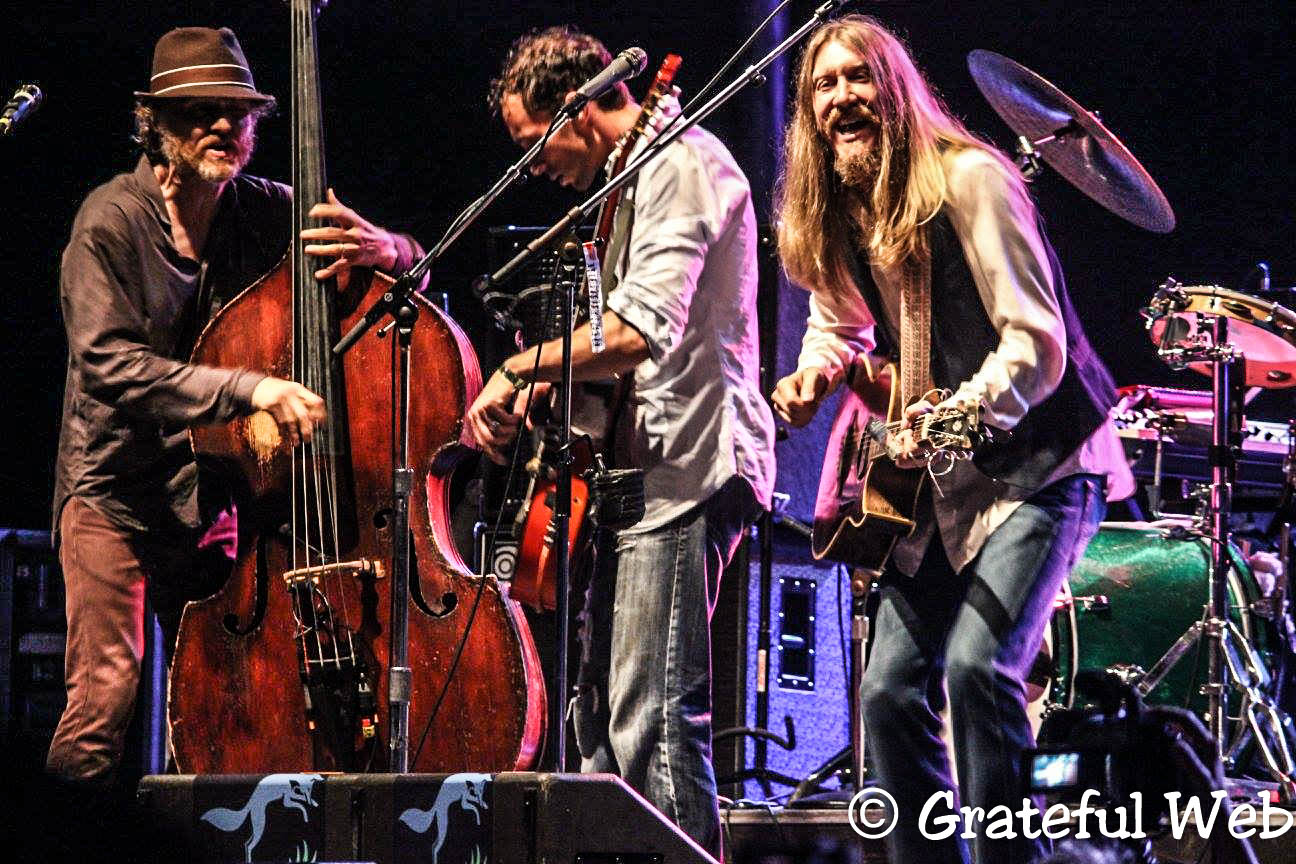 Only two songs into the next set, I wrote down these words in the center of a page on my moleskine book, so as to avoid the wet edges: The Wood Brothers are my favorite band. Mind you, this is only the second set I have ever heard them play and the first was only a few hours before. They had met and exceeded the expectations I had of them for years as I had waited to truly listen and feel their live performance. While the music has some commonalities with an acoustic version of the Chris Robinson Brotherhood, the sharp edges of MMW come through again and again in the bass playing of Chris Wood. The rotating percussive role, filled by whomever is drumming their guitar and or bass, is both simple and ethereal at the same time. Oliver Wood has no problem eclipsing the historical limelight his brother has built up for years touring with MMW by bringing unique guitar playing and vocal stylings to the music that truly represents and American upbringing- folk, jazz and rock; all these American born genres are all mixed in this amazing sound. This band pulled Grey Fox out as far as it has ever strayed from its namesake and I am happy to explore this newfound territory for years to come.
A good night's sleep and I was ready to start Friday with the energy needed for the first full day of a festival. I am aware of my age, this year turning the corner into my 40s, and I am sure it affects my outlook. But there is no denying more and more flatt brimmed, arm tattooed, young fans making their way to this festival that always caps its ticket sales around 5000. Clearly some folks are aging out, although I'd also suggest that their are more and more ways they are figuring out how to cram a few hundred more folks in each year via volunteerism or day passes. Some folks may only come for one year and avoid getting hooked. Others may only come to see one band and not see the grandeur of the festival as a whole. All of these explanations come together to help me always feel like Friday morning at Grey Fox feels more like Saturday night. Everyone hits the ground running, whether joining the hundreds for group yoga and meditation, os sitting in on lectures in the smaller tents, or simply finding their own rhythm moving through the campgrounds. All told, the energy was explosive hours before any performers were taking the stage. I was overwhelmed. And I was hot.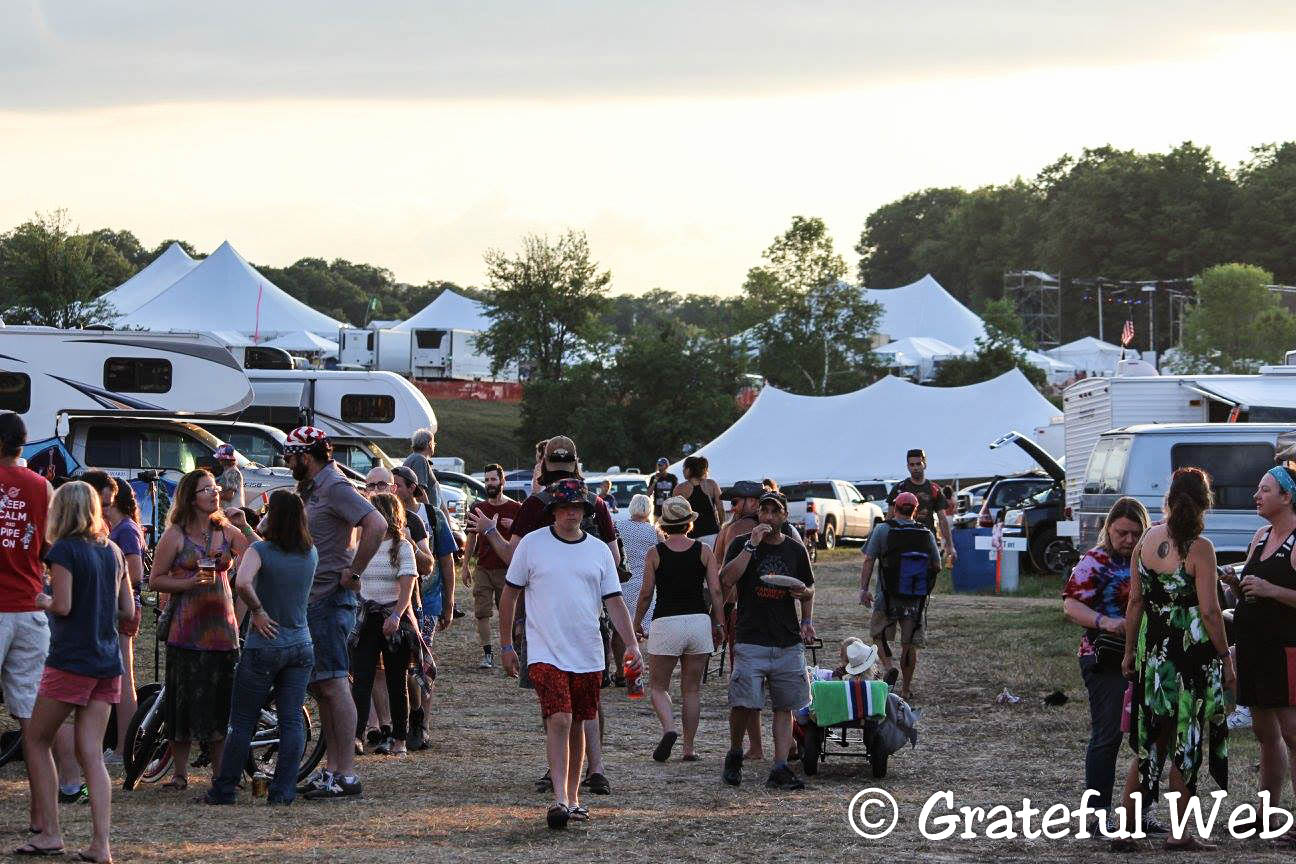 The family camping at Grey Fox is close to a large hedgerow marking the end of the Walsh Farm. Although not allowed, every year a neat and tidy pathway through the hedgerow is mowed and marked, showing the way to the greatest amenity the festival offers, a slow moving creek. This past spring, a larger than normal storm had caused an upheaval in the creek bed, creating some deeper pockets of water for the family and me to enjoy while the sun was at its highest.
A change in the schedule had moved the Lonely Heartstring Band into a mid-afternoon slot on the Catskill Stage. Nearly every year we have been at Grey Fox, this band has caught my eye when I have done my initial perusal of the weekend's haves and have nots. Of course, it has always been my recognition of the bluegrass-ification of the Beatles lyric that always gets a rise out of my puny sense of humor. The connection to the Beatles used to be much more overt, as the Fab Four's music would be sprinkled throughout their set. But like the Beatles, this band has continued to grow and continued to find their own sound, regardless of what their history seems to dictate. Nowadays, I see them as unnecessarily tethered to the past by their name, being that they have grown into a tight, well harmonized member of the bluegrass community, bringing originality to the covers they play and originals that sound like they are covering some of the greats of yesteryear.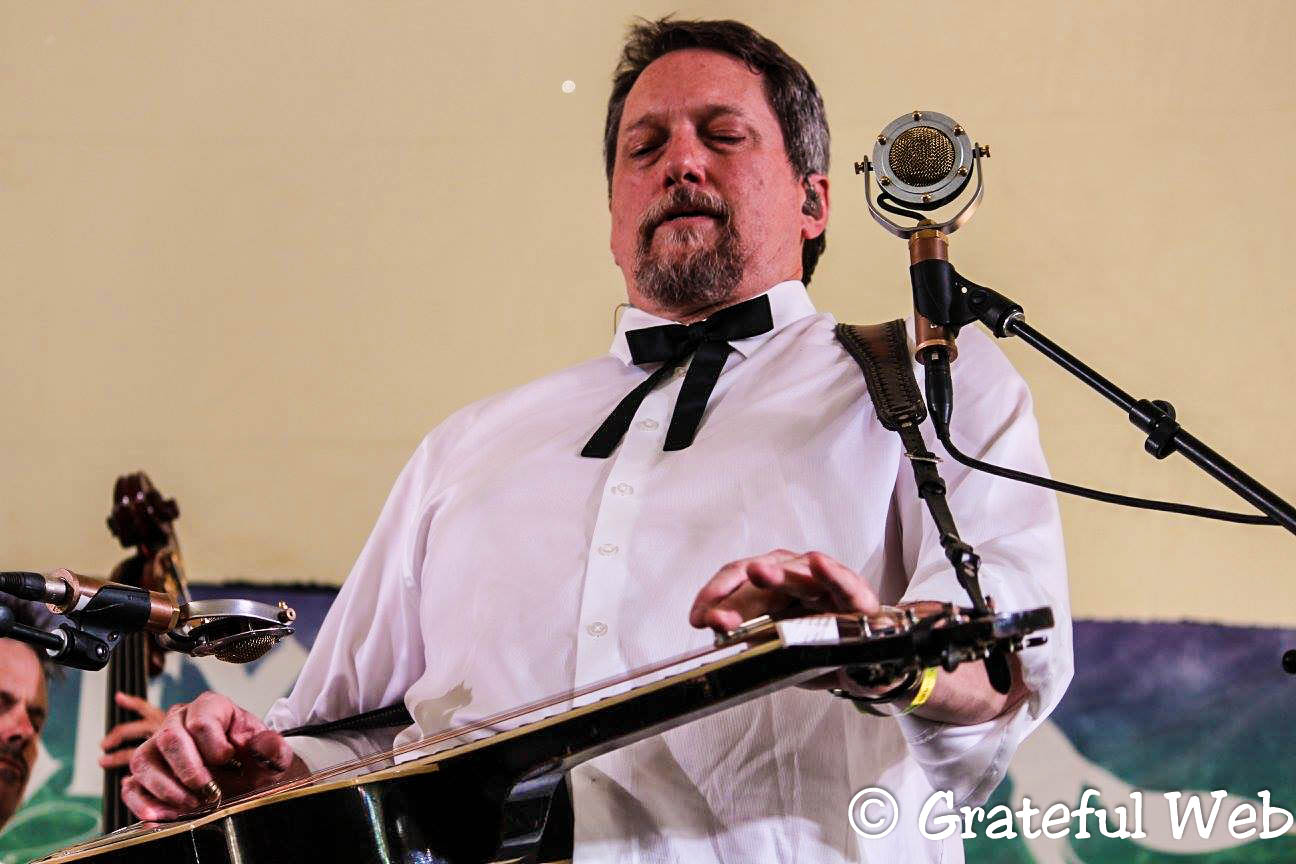 Since I will never have the opportunity to see Flatt and Scruggs perform, Grey Fox arranged for me to see the next best thing, Jerry Douglas leading the Earls of Leicester. Jerry Douglas is very much an unsung hero of the blue and new grass scenes. He is capable of sitting in with String Cheese Incident or leading a group of bolo wearing traditional players, as he was this early evening. The music was that of an earlier generation, challenging all of us to hear the foundation of what has grown into such a sprawling and, pleasantly disconnected, bluegrass scene. This was the music that left the stage and became the soundtrack for what I was seeing around me. Children were riding their bikes behind the water truck spraying the roads to keep the dust down. Grandfathers were enjoying cold beers and playing with their grandkids. Life and music were becoming one. I was part of all of this, all the while listening to "Hot Corn, Cold Corn."
Then? Rushad Eggleston. Yes, this was a quick transition out of the poetic visualization I hoped to create in the last paragraph. Why? Rushad Eggleston: a stream of consciousness cello virtuoso that has found a niche as a kid's performer. But is he a kid's performer? His songwriting could be compared to that of Frank Zappa, as it seems to have continuous and complementary chord and time changes. His themes of love, hate, fear and of course peeing on birds and God's butt are equally entertaining for the kids and the parents. Seeing him live, I was constantly in fear that he was going to offend me or scare my kids. But that's Rushad Eggleston. When he finished, I felt exhausted, but it was him that literally climbed the tent poles. I had only watched.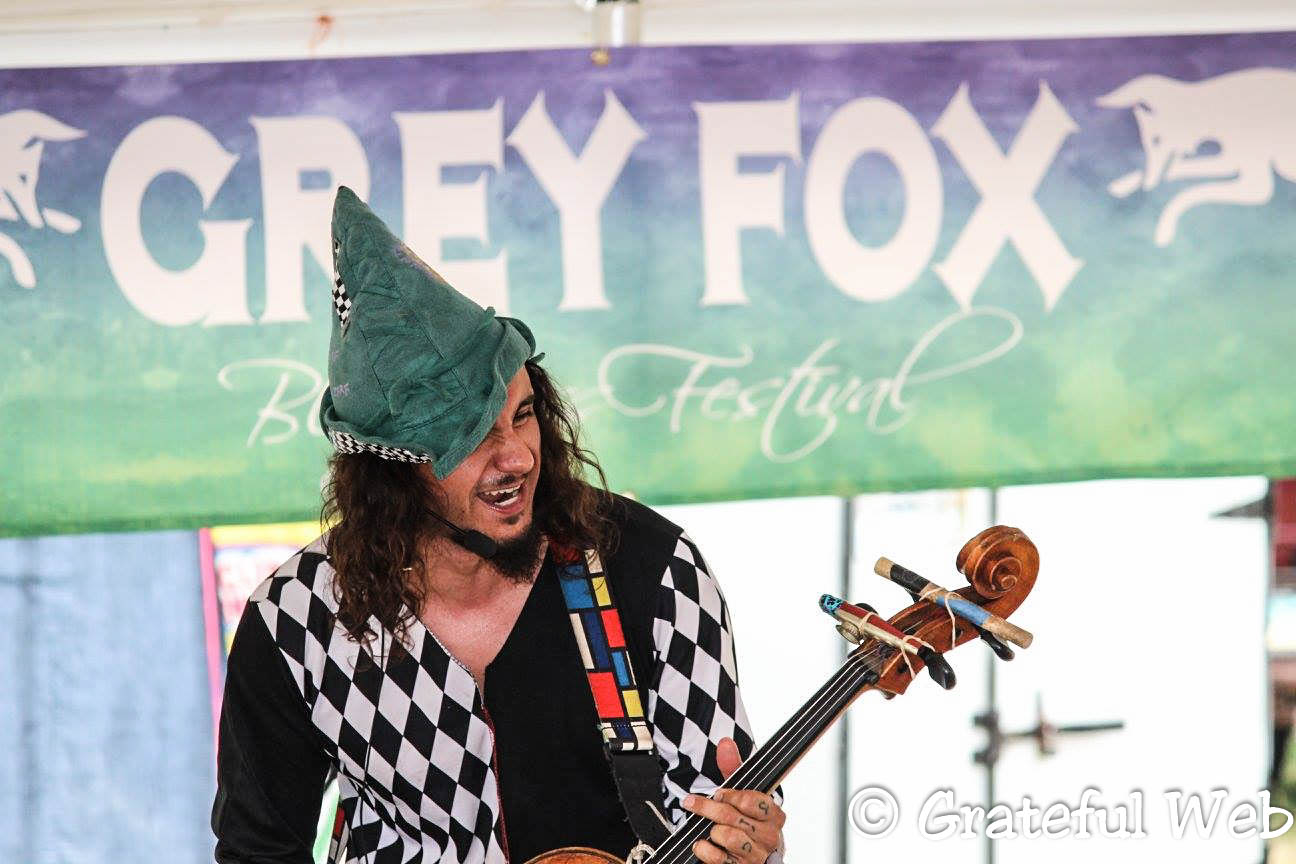 The daytime scheduling change had set up a powerful evening line-up on the Catskill and High Meadow Stages. David Grisman played first with his quintet, followed by the Del McCoury Band and capped off with an intimate two man set of Del McCoury and David Grisman playing and spinning yarns for the captivated crowd.
It was during this run of traditional bluegrass, with both David Grisman and Del McCoury able to trace their own roots to the very roots of bluegrass, that I began to think about what makes bluegrass players different from one and other. I don't want to sound condescending towards bluegrass music in general, but I often feel like the box that bluegrass is in is smaller than the jam scene, the prog-rock scene or any other music genres I am familiar with. The intertwining of what has happened with what is happening is on the surface and revered in bluegrass in a much different and intentional way then what I see anywhere else. And yet, the way that David Grisman's band plays a song is worlds away from the way the Del McCoury Band plays the same song. Taking tempo and key out of the consideration, I began to put my finger on where those differences may take root. Attitude and personality. The attitude and personality of a historically blue-collar son of a middle-American blue collar worker is much different that the attitude and personality of a long haired Californian who was at the Acid Trips and brought two worlds together in the formation of Old and In the Way. So as the night wore on, I heard the laid back California attitude in the way that David Grisman held out until he couldn't hold any longer, making notes seem to have an extra beat in their design, while hearing Del and his offspring pound each note, as if they were hitting a nail, building and working through every song. Then, as the night wound down, to hear the two off them bring their sounds, their thoughts and their attitudes together made me realize how different their combined 100 years of bluegrass have made the scene that they played such a paternal role in creating. Without Del? No lonely Heartstring Band, no Steep Canyon Rangers, no Jerry Douglas. Without Grisman? No Infamous Stringdusters, no Railroad Earth, no Yonder. Perhaps the limitation I have been putting on bluegrass music are more rigid than those of reality.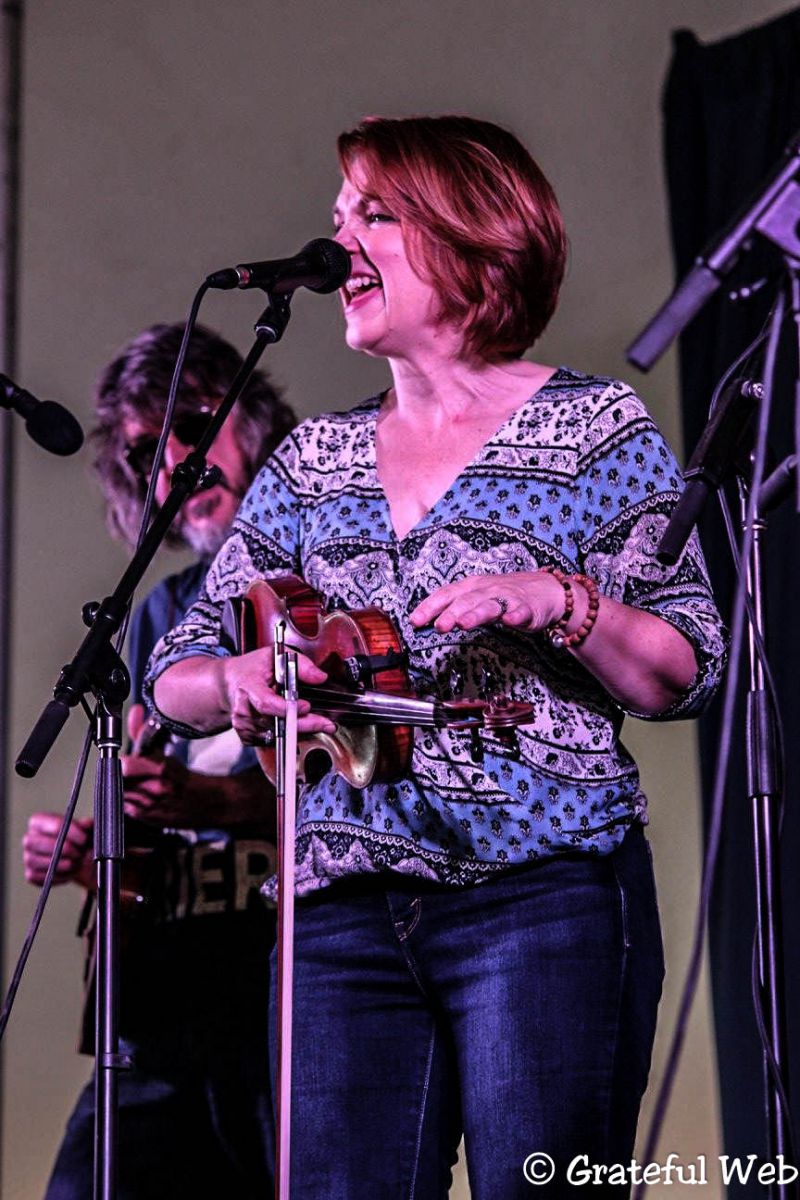 Another early night and another early morning showed me that the heat had affected many of us over the first two days of the festival. Actually, when I had arrived back at the campsite, hoping to go to sleep to the sound of the Steeldrivers playing in the distance, I was greeted by my tribe and liquor. My tribe, you see, is young (ish) parents. And when kids are in bed, that's when my tribe's freak flag flies. Of course, we are very quiet in running our flag up the flagpole, so as to avoid waking up the kids. We laughed, we smoked, we talked about bluegrass. And when I went to bed, I went to bed happy- and still got to listen to the SteelDrivers. So yes, the heat had changed my outlook on Saturday morning. But so had the booze.
Lots of folks were up early Saturday morning and enjoying the bounty of activities that happened before the lunch bell, but everyone seemed to have downshifted and I was happier for it. A little of the Astrograss set at the kids tent and a puppet show, with the sun relenting a bit, gave me the boost of energy I needed headed into the last full day of the festival.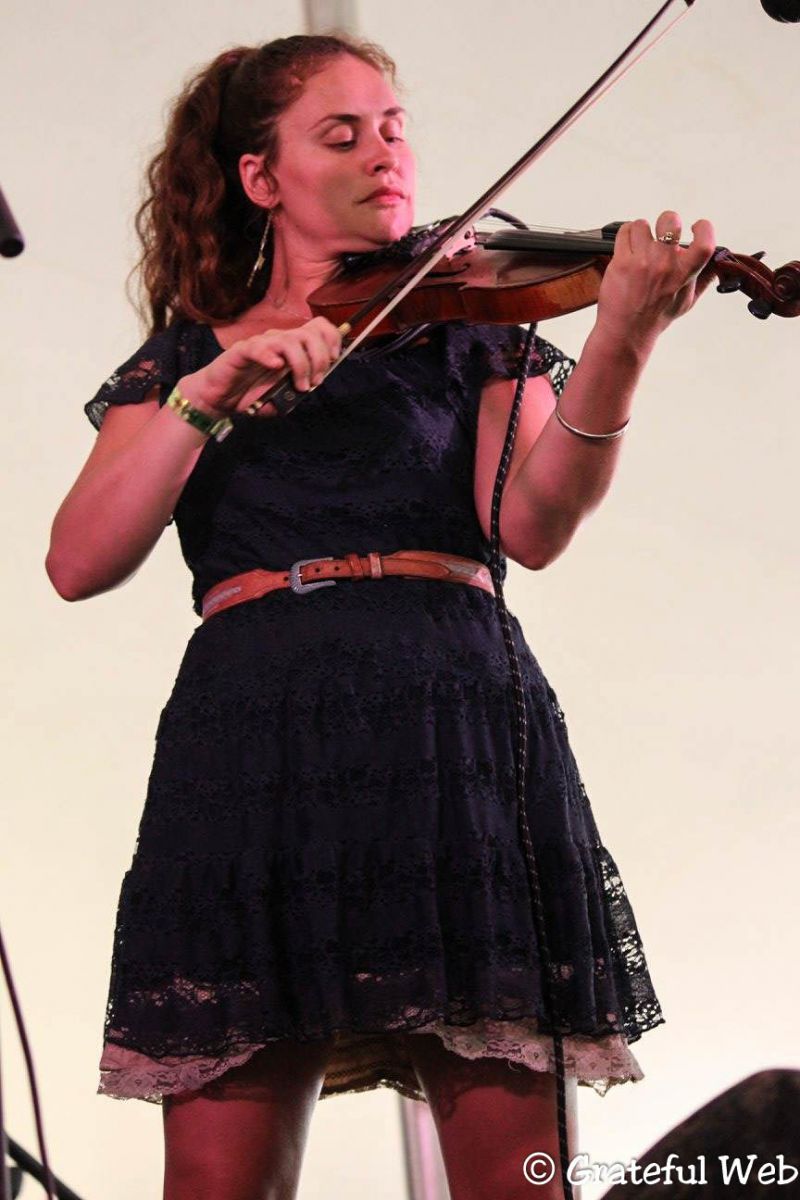 A few years ago a friend had tried to turn me onto Elephant Revival and when I initially saw them at Grey Fox, I came in with high expectations and an agenda. When they didn't fit into the incorrect box I had created for them, my expectations were not met and I was under whelmed. You can tell, I am sure, that this was an outcome and problem that had nothing to do with the music of Elephant Revival and more to do with my paradigm. This year, with contentment having filled my cup for the weekend, ER's afternoon set was a welcome change from the traditional bluegrass sound. Not to say that they are not able to play straight bluegrass. But it's how they interwove that bluegrass sound into their Rocky Mountain based originals that perked up my ears and thrust Elephant Revival into all star status at the 2016 Grey Fox Festival. I am embracing the washboard percussion. This is not limited to the actual washboard, but the bass box that Bonnie Paine is stomping on while strumming her washboard. It is accentuated by the fiddle playing of Bridget Law, as she created sound throughout her body, often rising to her toes to help the sound explode out on to the crowd. It is the sound of brushes on a snare drum made on a banjo by Charlie Rose. The collective emotion and feeling of place that comes through in their music will come as no surprise to residents of the Rocky Mountains; and to us east coasters? It is a vacation from what we know and a musical journey high above 14,000 feet.
The covert originality of the Elephant Revival's afternoon set was playfully juxtaposed by the overt originality of Della Mae. Although their sound is comparable to many of the bluegrass/ country acts that had made their way to the stages all weekend, the makeup of the band is anything but traditional. This all-female quintet, that has gone through a few iterations since we first saw them at Grey Fox years ago, initially catches your attention because of their glass-ceiling shattering make up. But once your attention is caught by their non-traditional ensemble, it is your ears that help you to realize that talent trumps tradition. So what that they are all women? Clearly Della Mae deserves to be playing amongst the big boys, and now girls.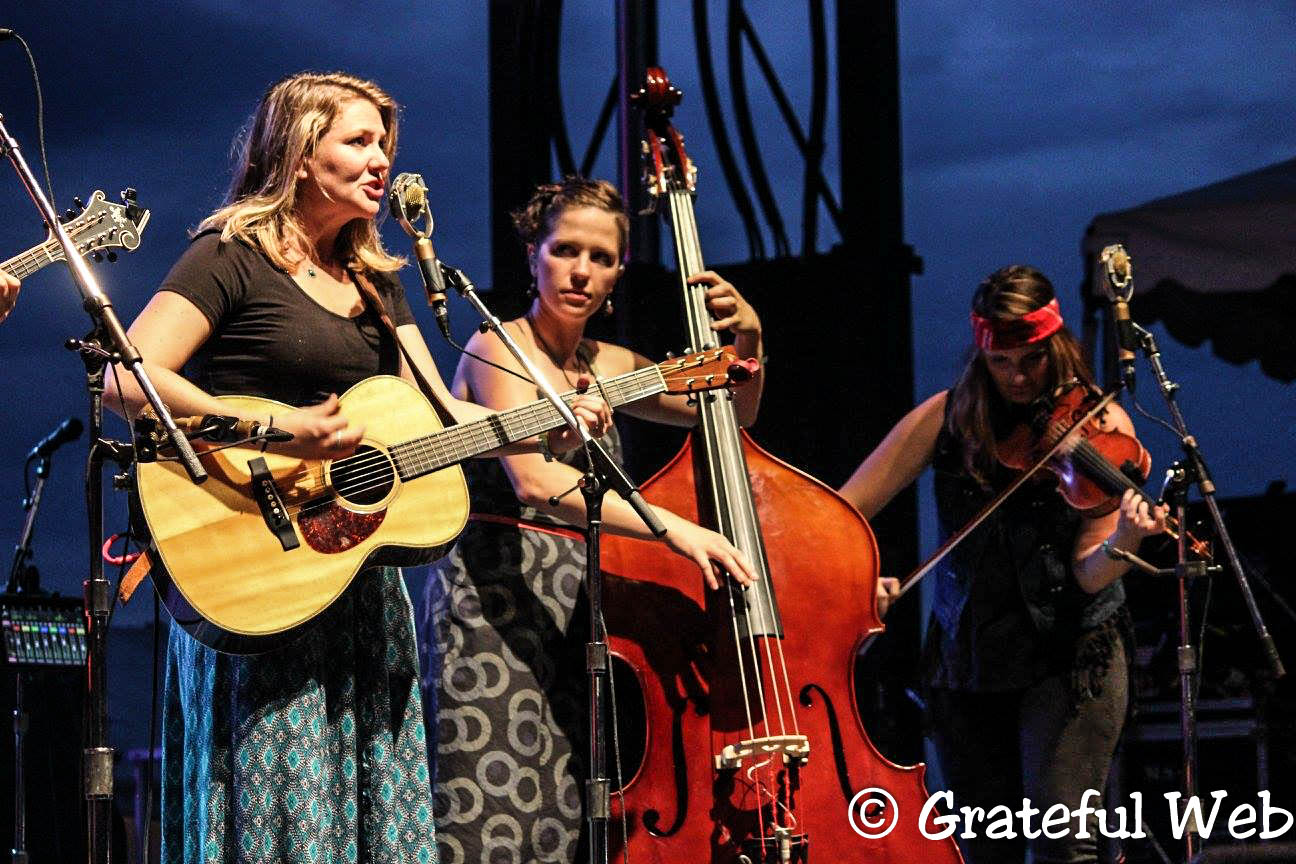 The kids needed a reprieve and thankfully, the weekends parade arrived just in time. It is an organic celebration each year, at the helm are campers and festival volunteers alike. This year the theme was Star Wars and the kids and I waved at the impromptu floats that had been created within this theme and those that chose a theme of their own, unless of course someone can tell me the direct connection between Star Wars and pirates.
Speaking of pirates (a segue that would make 1977's Grateful Dead jealous, eh?) we caught our second helping of the Chicken Pot Pirates and Rushad Eggleston on the kid's stage so our offspring would have nothing to complain about when we set-up camp at the main stage for the rest of the night. If you are the parent of a young child, you and your children be equally entertained by these two acts. When you have the opportunity, see them.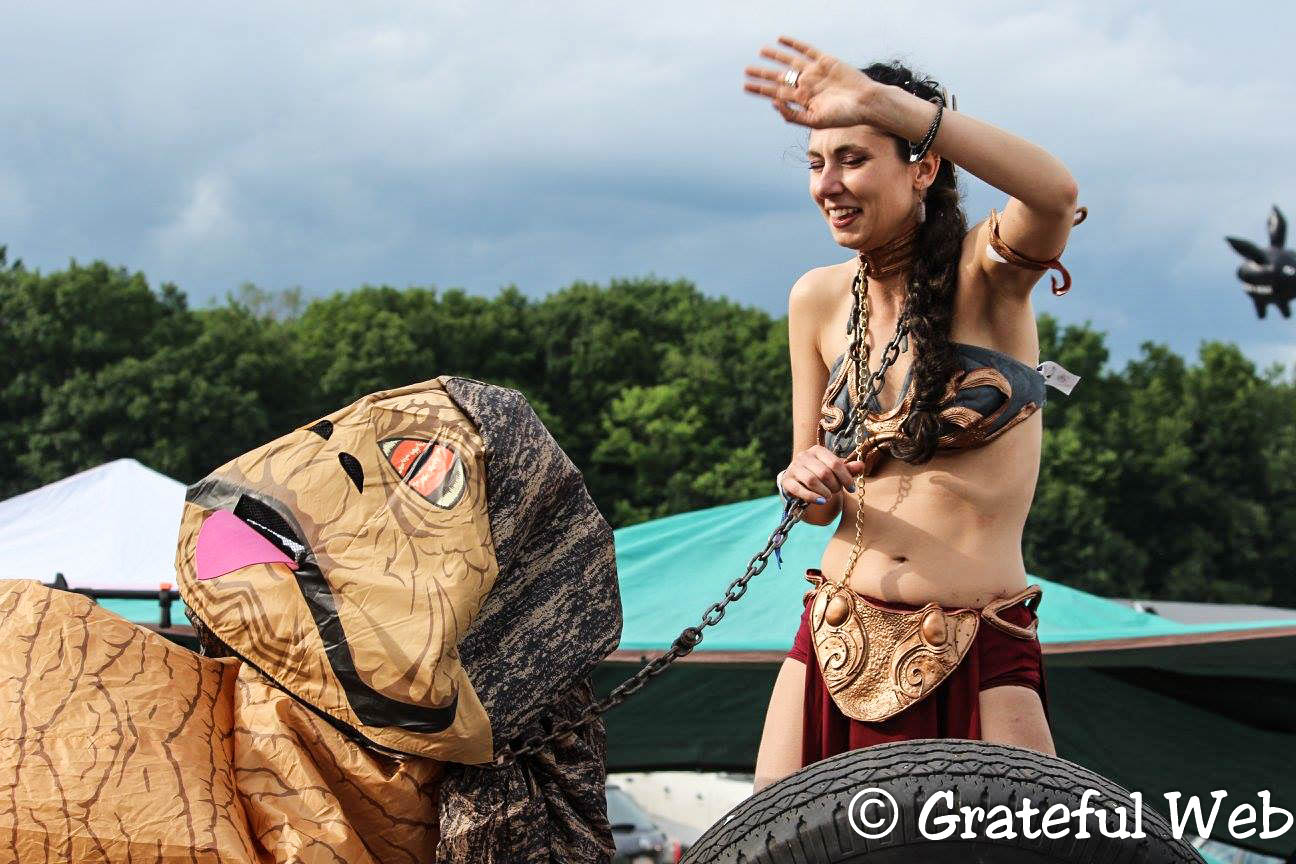 Now that I call the Champlain Valley of New York my home, I have pride in the many things that this area offers. The majesty of the Adirondack Mountains, the serenity of Lake Champlain and the steadfast strength of the farmer are all representative of the area my family calls home. The Gibson Brothers, who have roots in the area as well, embody these themes in their blend of ballad-grass and it always feels like home. Each year I have talked about their climb up the day's schedule and they now sit comfortably amongst the headliners. They have earned this place with their originality, their musicianship, their stage presence and their ability to express such thematic emotion through their sound.
Della Mae may be the exception to the rule this weekend, as their Main Stage set was head and shoulders above their daytime set on the Catskill Stage. Unfortunately, the band's prediction that the rain would hold off showed us all that their strength lies in playing bluegrass music, not meteorology. Mid-set the sky opened up and, no matter how good the music is when the rain comes, your mind goes elsewhere and this was the case Saturday night. We sought shelter and only were able to pay Della Mae half of the attention they deserved.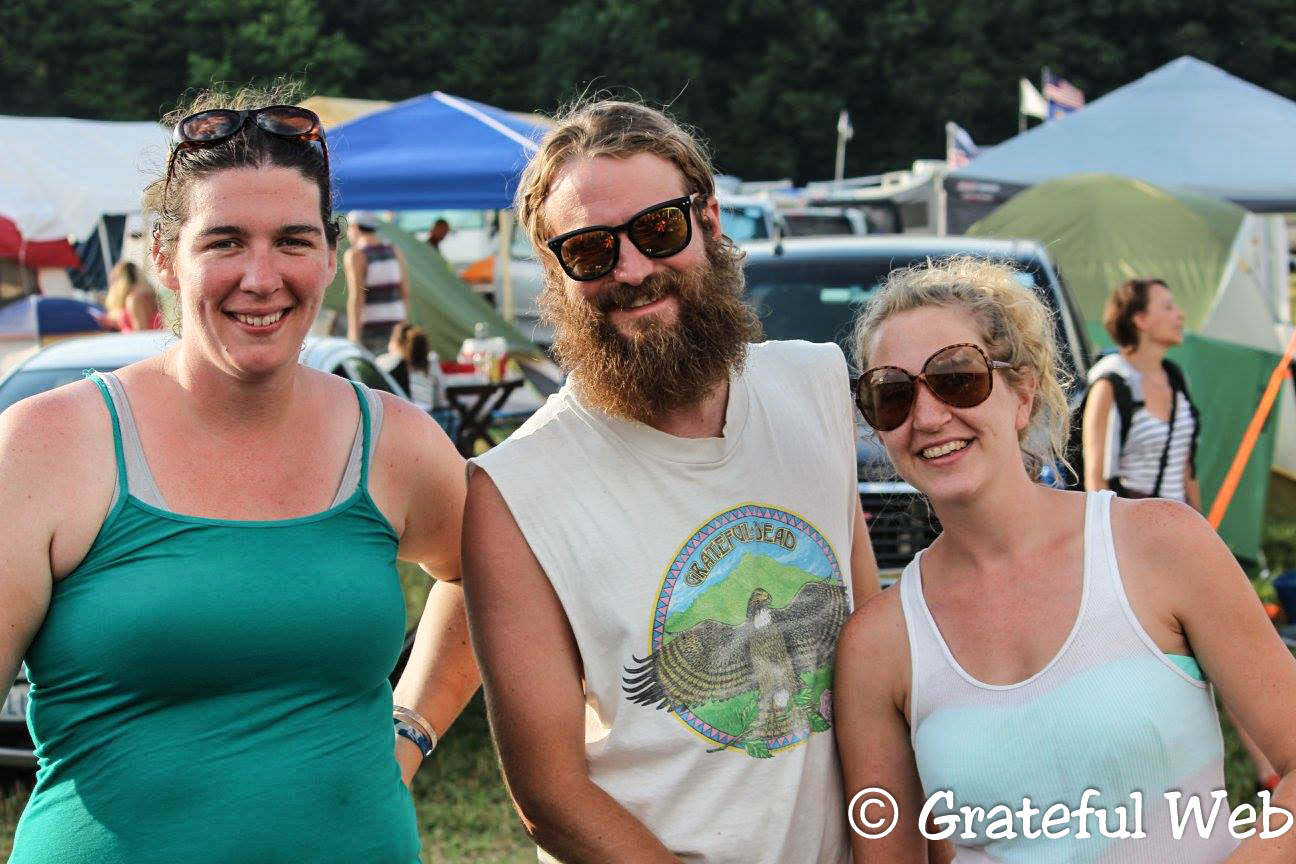 The kids were all but asleep when the rain subsided and Laura took them back to the camper. All three were worn out so I was left to enjoy the rest of the night alone. These moments of solitude at festivals are both a blessing and a curse. I no longer have a teammate to help me polish my ideas. Instead, I am left only with my moleskine book. I find myself writing much more when I am alone, as my ideas are more raw. Yet, every thought must be written down, because without written confirmation, all thoughts will be gone by Monday morning.
Chris Thile and Bela Fleck have played Grey Fox in numerous iterations, but this year they were able to link up as a duo, winding their way through new and traditional sound as only virtuosos could do. While the duo the night before, Del and Dawg, had strength through their depth within the traditional bluegrass scene, this duo showed their strength when straying beyond traditional borders. The different stage personalities of Bela Fleck and Chris Thile would make them interesting to watch, even if I couldn't hear their sound, with Bela sometimes appearing bored as he plays with skills unparalleled, and Chris showing every emotion he is trying to emit as he hits each individual note on the mandolin. Yet, it is the musical make-up that can be found in the marrow of their bones that would have me listening to their interpretation of paint drying. Fortunately, the end of their 90 minute set was not the last I would see of these two this night.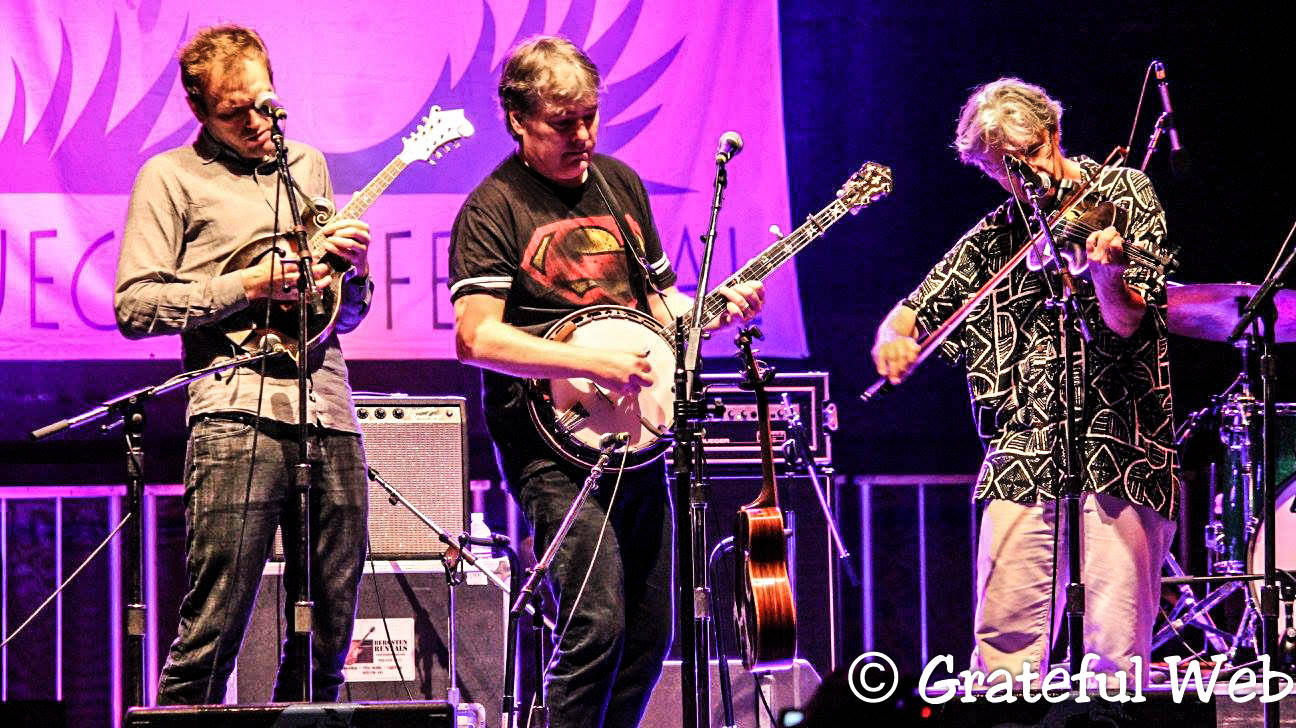 Sara Watkins was once one third of the band that brought Chris Thile to fame, namely Nickel Creek. I've been fortunate to see Nickel Creek in both their original and reunion runs, but this was the first I have seen Sara Watkins play in project she is leading. I was surprised to see the well-known fiddle player spending a lot of time playing electric guitar during her set that touched on bluegrass, folk, country and rock sounds. But I could not focus on what was happening on the main stage. Something was calling to me from down below on the High Meadow. It was the 1990's version of me. It was Donna the Buffalo.
I hadn't seen Donna the Buffalo since I was on the road with Mountain of Venus when we had played a co-bill in Asheville. Even then, they had an incredibly passionate following in each of the towns they toured. While they may not have been playing the biggest rooms in town, Donna the Buffalo always had the most passionate fans. Even this weekend, I had listened to people talking about the fans at Grey Fox who were just there to see Donna the Buffalo. The Herd was still strong and I was compelled to join them, even if only to see what had become to a band I hadn't seen in nearly 15 years.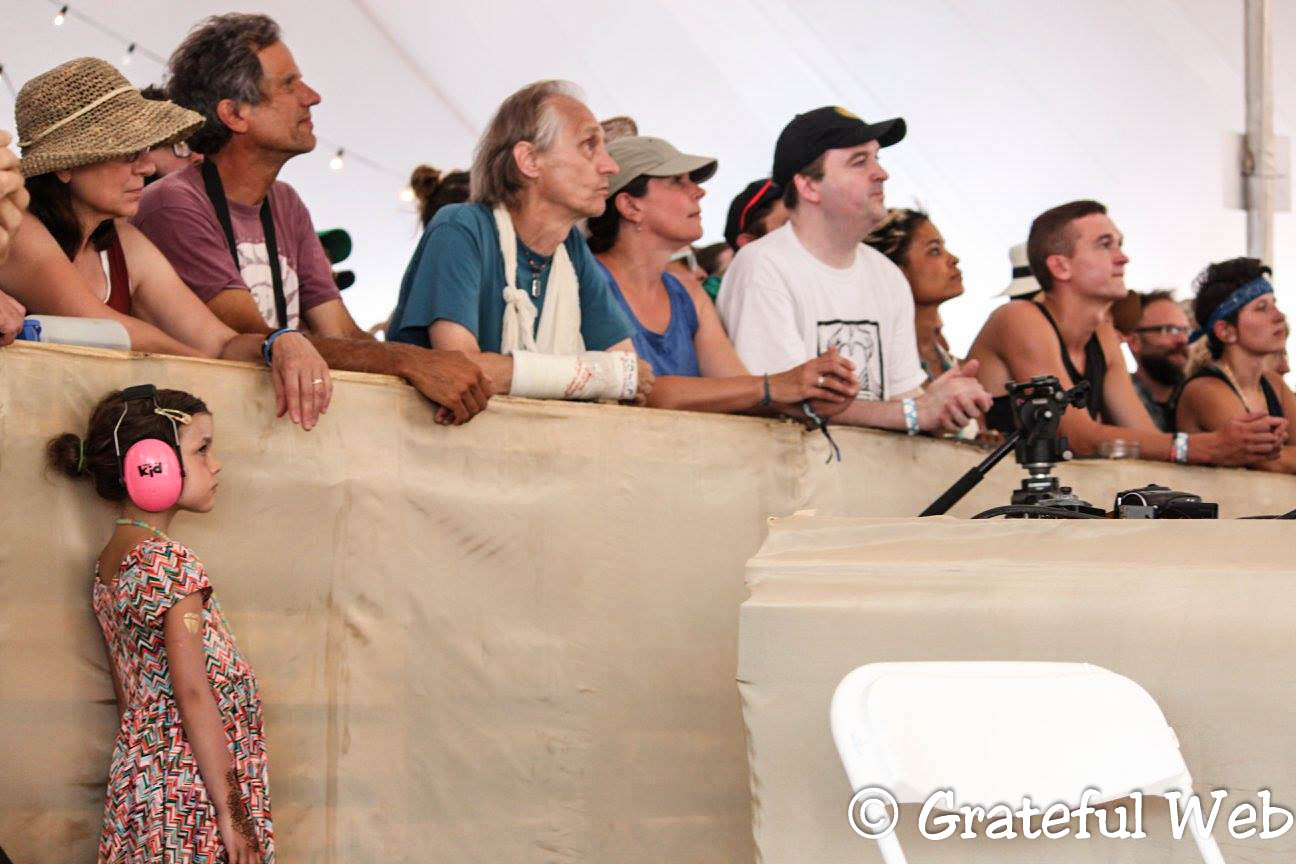 When I arrived at the Catskill Stage, the entire dance floor, surrounding area under the tent and all roads around were swollen with people who wanted to get their last few struts in for the weekend and Donna the Buffalo was happy to offer the soundtrack for this dance party. The Zydeco influence was strong, just what we all needed to expel our remaining energy. This jamband road warrior did not disappoint.
But the night was not over. After all, I was alone and able to move quickly from stage to stage, if even only to feel the vibe of what was happening. So back to the main stage I went for what was one of the most star-studded all-star sets I could ask for. Having been to many festivals over the years, when I see something listed as an "all-star band" I often crassly assume it means a group of players made up of those bands that had early to mid-afternoon slots who are hoping to get in front of the after sunset crowd. But tonight was different. Curated by Darol Anger, this tribute to Dr. Ralph Stanley had representation from all of the evening's headliners, as well as a few other bands, like Anger himself, who had not played all weekend. The jams saw Anger, Bela Fleck, Chris Thile, Sara Watkins, members of Della Mae, members of Elephant Revival and members of Lonely Heartstring Band seamlessly come and go, playing from the repertoire of one of bluegrass music's founders. The set was highlighted for me by a dark interpretation of one of Stanley's tunes reimagined by Thile, Anger and the bass player from Mile Twelve. Thile made the sounds of doors creaking and lightning come easily from his mandolin, appearing to have been preparing this song for months, while in reality having only agreed to play it while backstage. Since so many of the festival attendees still awake at this midnight hour were letting go with Donna the Buffalo, the crowd was a hushed few hundred, seated in front of the main stage, mesmerized by this once in a lifetime memorial to Dr. Stanley. When the stage lights came up, no one remained and the crowd quietly shuffled home to the soothing sounds of a recording of Ralph Stanley himself singing this night's lullaby, Amazing Grace. I knew that Grey Fox 2016 was complete for me.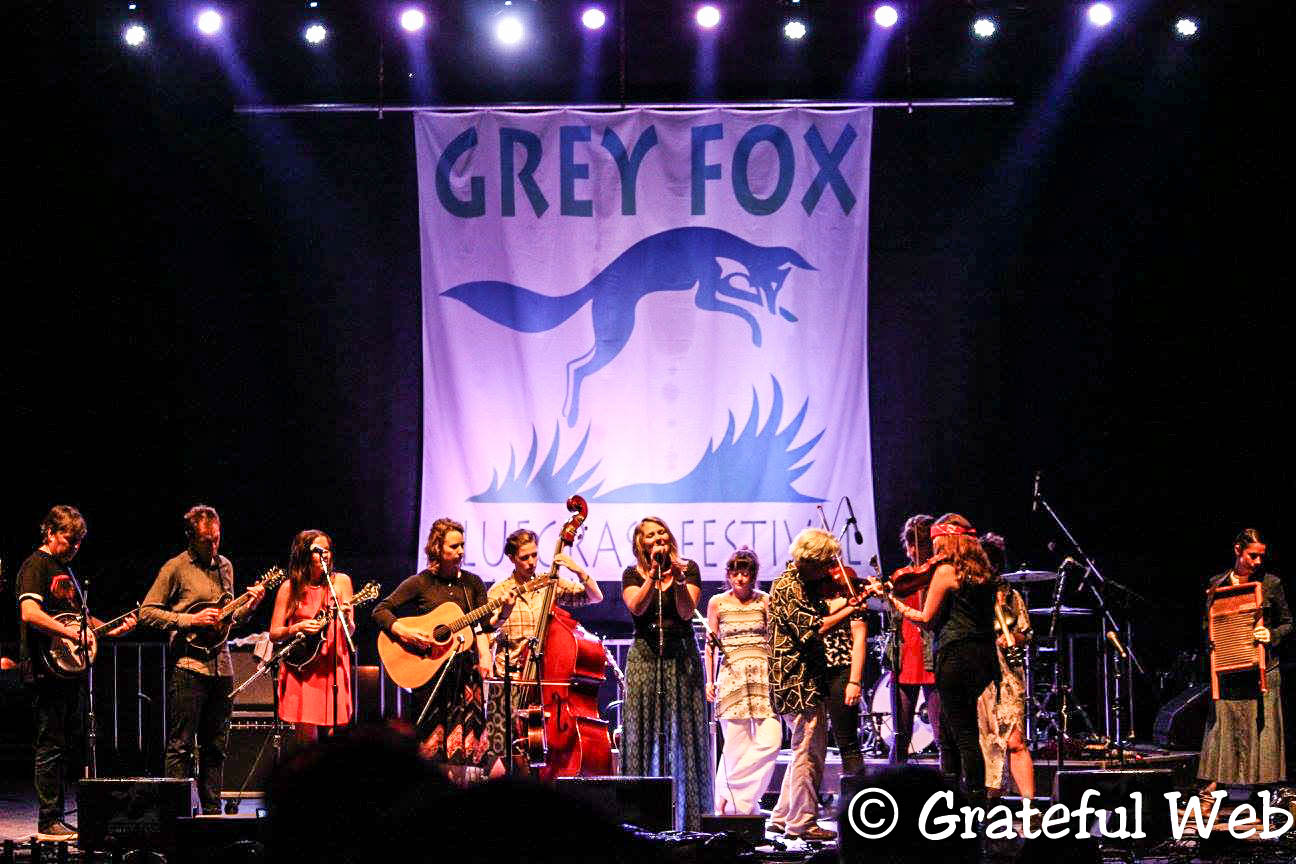 The end of Saturday night's music was not the end for everyone. We don't have kids ready for the bluegrass academy, so staying Sunday morning for their main stage appearance is not yet on our to do list. No, our Sunday at Grey Fox usually consists of breaking down camp, turning in our funny money and saying goodbye to our festival family until next year, because we'll all be back next year.
As I close my moleskine book, I am happy to see that the pages have only dried a bit worse for wear, perhaps with a bit more personality than they had before. The book tells many stories, both written and otherwise. Looking back a few pages, I realize that the last review I have in my trusty concert companion is from Grey Fox 2015. It appears that no matter how much my life fills up with other concerns, I will always make time for Grey Fox. Yet each year's reviews are becoming more and more different. I am no longer as concerned with set lists. Rest assured that every bluegrass song covered by your favorite jamband was played repeatedly in its traditional iteration throughout the weekend. Now, the words about Grey Fox are focused on the feeling this festival brings out in each and everyone who comes. It is a feeling of togetherness. A feeling of belonging. A feeling of family. See you in 2017 Grey Fox.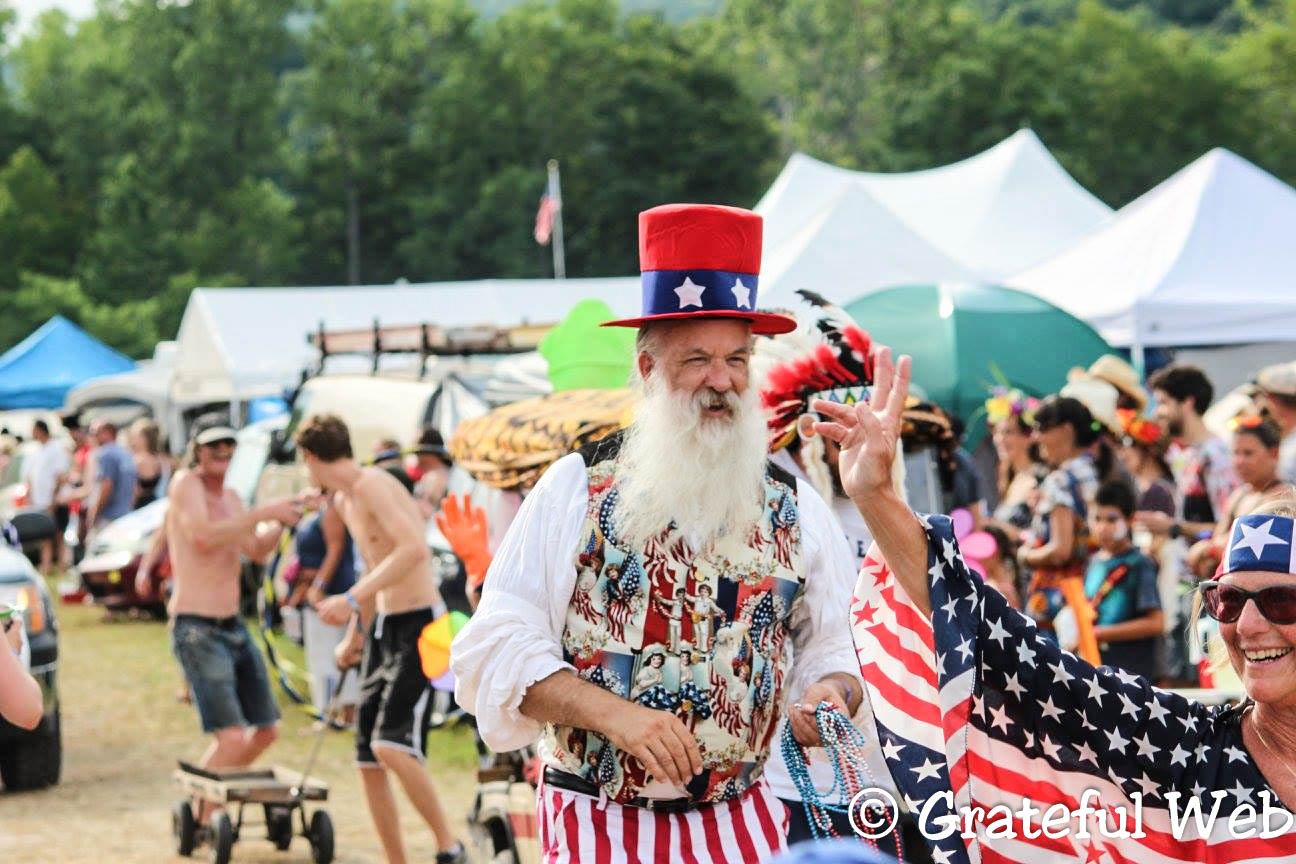 Check out more photos from Grey Fox 2016.