I must admit, it was a definite benefit to be in the Mitten beneath the starlit skies of the 10th anniversary of Hoxeyville 2012. Michigan people have manners that transmit an infinite welcome. Their wit submitted to my ultimate delight as I attended my first ever Hoxeyville Music Festival. Ten years of Hoxeyvillians got together over the August 16 – 19th weekend and threw an exquisite party to celebrate the beauty of a tight knit family in the Northern Woods of Michigan.
I arrived late Friday night. With the 8 am phone calls from bill collectors and stressful family life, I couldn't justify taking an extended weekend off. Yet, I knew I needed to relieve the stress somehow. The drive up north was beautiful with stretches of trees, fresh air, and blue skies. When we arrived it was already nightfall. Greensky Bluegrass was ripping out Bruce Springsteen's Dancing in the Dark. Then they stopped. I had missed Naïve Melodies, Abbey Road, Seth & May, and tragically 7 Walkers. If I would have known the landscape of the Manistee National Forest better, I could have dashed upon arrival to the Mitten Stage and caught UV Hippo. Dreadfully I did not. I also missed the alluring Michigan natives Dragon Wagon. This sounds like a dismal review so far, eh?
But don't cha know, this is where it gets good. The tuning of the banjo shot like an arrow in the night. I managed to catch Greensky Bluegrass's 2nd set. This is where all the disappointment, the stress fest of bill collectors and crummy days spent slaving for the man, all dissolve into the Milky Way that was very visible to us at Hoxey. Hands down, Hoxey is more like home than any other festival I have ever gone to before. I have gone to small fests, big fests, and all sizes in between, but there is a certain something that was revealed under those stars amongst those trees that I have yet to experience within a music festival before Hoxey.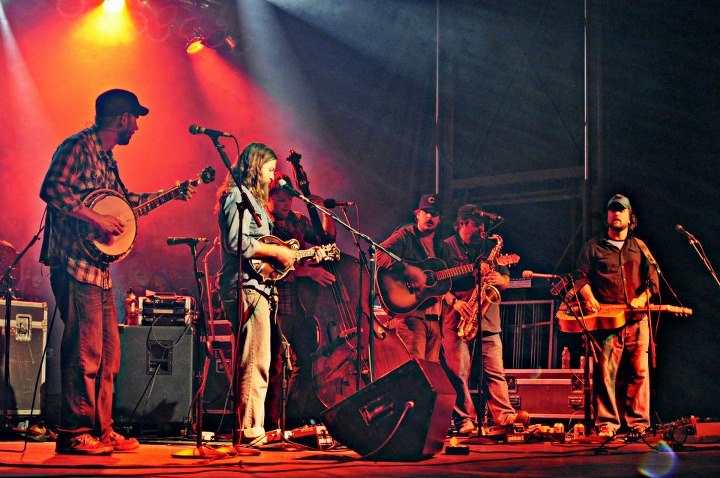 In the great words of my Dad, the simple request, "Sit down and play some Yatzee" came from Anders Beck on the microphone. That's not exactly what he said but he did make the crowd join with him in an echo of "On the count of three, everybody say Yatzee! One… Two… Three! YATZEE!" We all did exuberantly and the crowd bantered about the love of Yatzee.
My Dad was an ambassador in his own life. The creator of all things good in my life was not an invader or a conqueror. He wasn't terribly upset if you denied the game of after dinner Yatzee. He understood that I wanted to do my own thing but he always made his wishes known. He was on the exterior of my life while simultaneously knowing he was the superior man in my life. Those games of Yatzee reminded me how inferior all the rest of life's problems were. He was my troubadour, my matador, and my metaphor for all the sweetness in life.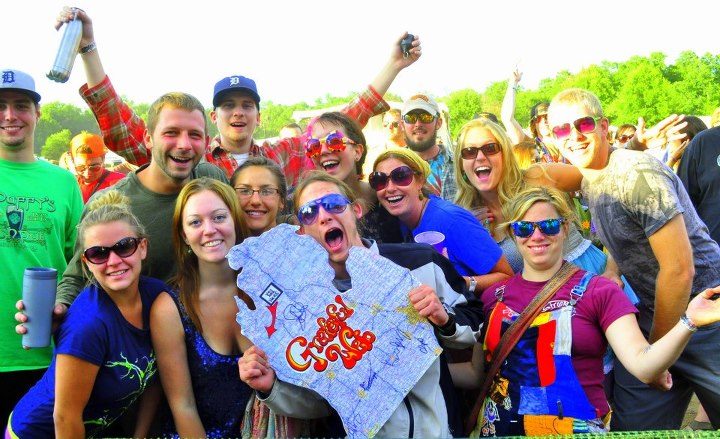 Since he passed away, Yatzee is one of my coping mechanisms. How a Milton Bradley box game can evoke such emotions in me, I may never understand. It just is. I play that game and feel he is right there laughing with us. The comfort and security of home was amplified from the microphone on that Hoxeyville Stage right from the get go. It put me in a great mood.
Sandwiched between Bill Kreutzmann and Mickey Hart, these relatively young musicians were making a whole new phamily, keeping the flame alive. They brought their own Mitten version of comfort and security. Greensky Bluegrass introduced a bearded sax man, Bob Hemenger. As he hopped up on stage, the Michigan roots revival began. He happened to be up here in the North Woods because his parents were celebrating their 50th wedding anniversary. That is the stuff worth celebrating. The celebration on stage as the Greensky boys stepped back and had Bob take control with some soulful sax was reminiscent of Lisa Simpson and all things activist and hopeful about my childhood. Anders then said that if you go out to this certain field and kiss a girl there, two years from then, you will be madly in love. They are speaking my language. I love Love. I love compassion, hope and I love me some good bluegrass. It renews my faith in life.
The best I gathered, and correct me if I'm wrong, but way back when is when Jake & Chad first put this festival together. Kristen keeps the crew in check and off they went. I had never been here before but I knew them by face and asked anyone who they were. The program when you arrive says that Hoxeyville is produced by a small community of like minded music loving people.
"We take great pride in orchestrating a fun, relaxed, earth conscious event… So the next time you are sitting at your tent enjoying the view – just remember that our own Andrew Shankland cut the giant oak tree to prevent it from falling on your tent. Thank you for joining us, be good to each other, and we hope you have a memorable Hoxeyville."
Earth conscious indeed! There are no golf carts whizzing around. There are minimal glow sticks littered throughout the open fields. There is an amazing zero landfill incentive program called High Five. The new Timber Stage looks as though it could be featured in Mother Earth News magazine. The Mitten Stage is a simple tent in the woods with enough open space to reward the early birds and accommodate everyone else with a good view and earshot. The beautiful faces of the crowd were all Earth Mammas; even the fellas were touched with the glow of Earth Consciousness.
Saturday Morning I made my way through the field to the Mitten Stage to catch Seth & Paul. This being my first Hoxeyville, I had no idea who Seth and Paul were. I felt giddy to recognize these performers and realize how special this combination of voices and strings is. This is a music lovers' delight! "Only available at Hoxeyville" makes the 6 hour drive north from Chicago worth it. Paul Hoffman appeared rather subdued and supportive to Seth Bernard. The tempo was relaxed and natural with a touch of the muse possessing Seth on lead. Seth's facial expressions drew the crowd in closer. The hunger for success in hitting the right notes and the right emotions was compelling. That creative dynamic was threaded through the entire festival and it began here with this set for me.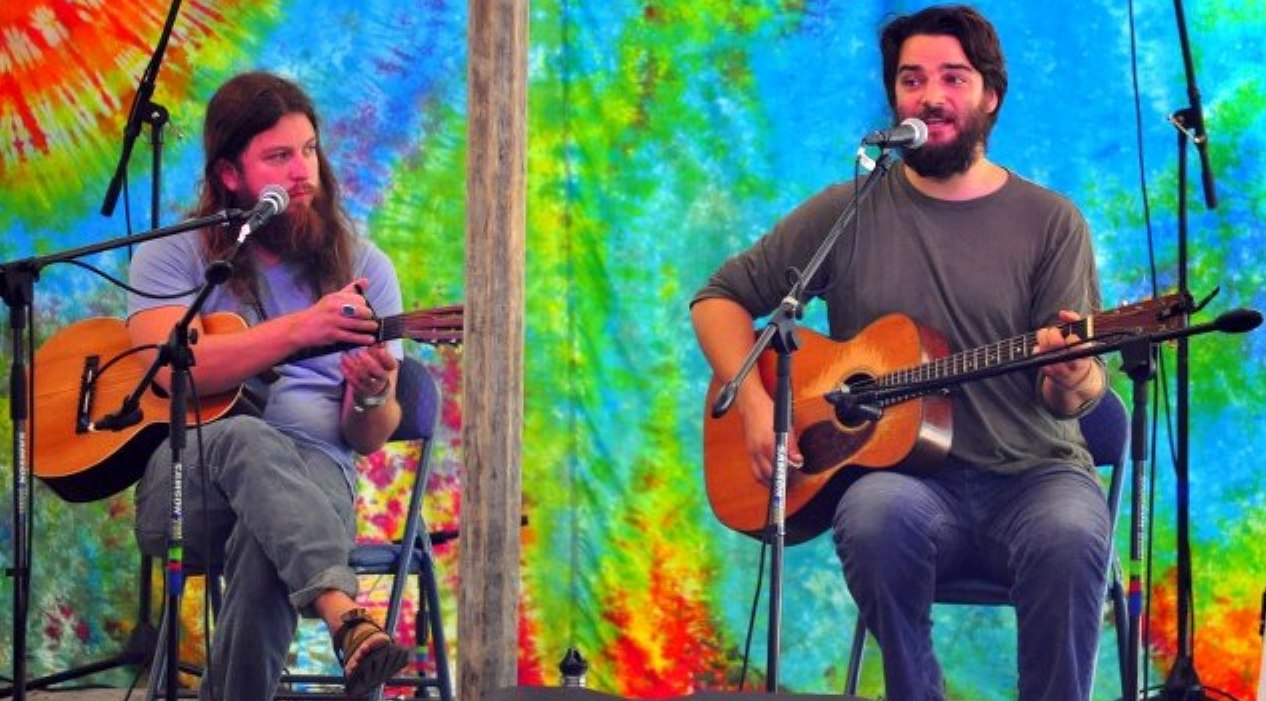 Seth & Paul's version of Gillian Welch's Miss Ohio was simply stunning. This is what I meant earlier about Earth Mammas and Conscious Fellas. The gender roles fluxed and flexed in an accepting way all weekend. Earthwork Women pulled out a Cortez the Killer that gave me goose bumps from my neck to my toes. Human Beings without any limits were everywhere at Hoxeyville 2012.
The muse was hard at work as the energy built all day Saturday. The music grew louder and funkier from my morning at the Mitten Stage. From there, I headed back to the main stage where for once, I set out a chair or two and sat and watched the show. I am habitually mobile checking out all the scenes and angles of the music. There were so many friends to catch up with and vendors to talk to that I found myself lost in the beauty while seated. That hasn't happened to me for awhile for my mind is a critical one. The thoughts stopped rushing Saturday and the fun took over at full speed. J. Davis Trio started it off with the feeling of an anthem.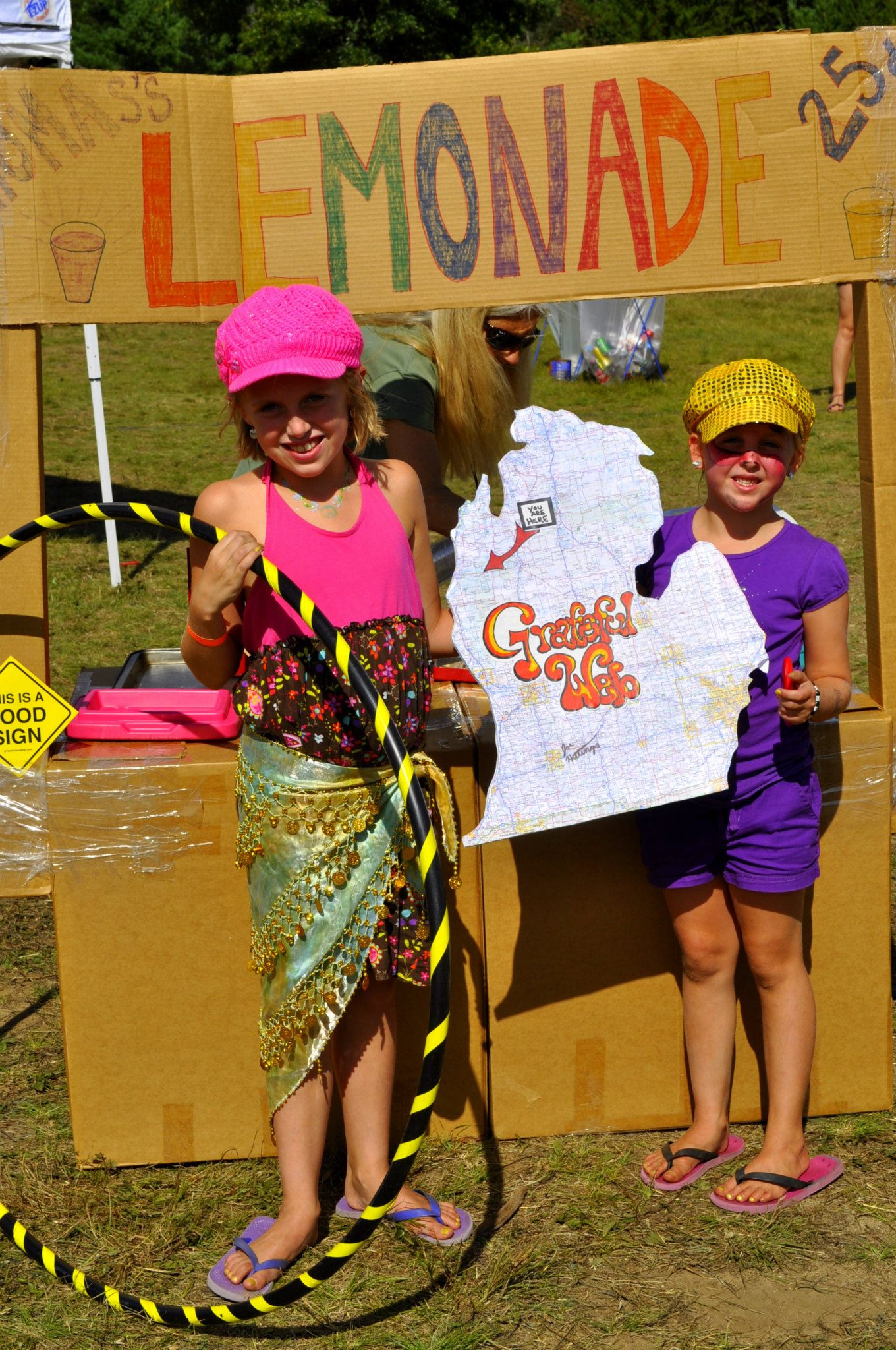 Saturday's line - up included: Lindsay Lou, Gifts/Creatures, Jake Allen Band, Jen Sygit/Sam C, The Crane Wives, Rootstand, Kung Fu Rodeo, The Twin Cats, and Red Sea Pedestrians. Unfamiliar with this group of friendly musicians, I stood in awe and ate it up. J. Davis Trio is like a fresh egg that cracked my day open. They were my pancakes and syrup to ensure a great day's energy. With the Timber Stage right next to the Hoxeyville main stage, there was no migration to the next set of music. I stood my ground and turned to the right to catch the Crane Wives up next. It was pleasing to have each stage full of musicians mirroring the crowd. There were no sausage fests and no isolated cliques.
Again, this was my first exposure to the Crane Wives. What have I been missing!? These gals jump, rattle, and roll on stage. If you didn't bounce along with them, I'm assuming it's because you have a bad ACL or some physical ailment must deter you. The Crane Wives were like The Be Good Tanyas plus bonus delicious fair trade coffee. I wondered to myself if they would be annoyed like Ani DiFranco gets if I sang along with them. It was natural, even not knowing the lyrics, to want to hum along. Their infectious rhythms have since made their way to my mp3 player because their sound is a celebration of life. They introduced Joey on stage. He was there last minute because their other member Tommy was on the road with Mumford and Sons if that is any indicator of the caliber of this band.
My friend Marie is not only a Hoxeyvillian and a Michigan native, but she has also fantastic taste in music. Her mix discs have long intrigued my musical wonderings especially when sent in beautiful bubbled packages for the past 10 years. The party was enhanced when I saw her from across the crowded field. She nudged me towards Rootstand. "We like them. Up here, we think they are pretty funky." Off to another never-heard-of-this-band adventure, they were the perfect dub style band to continue the day for their 3:20 to 4:20 slot. Yes, I said 4:20.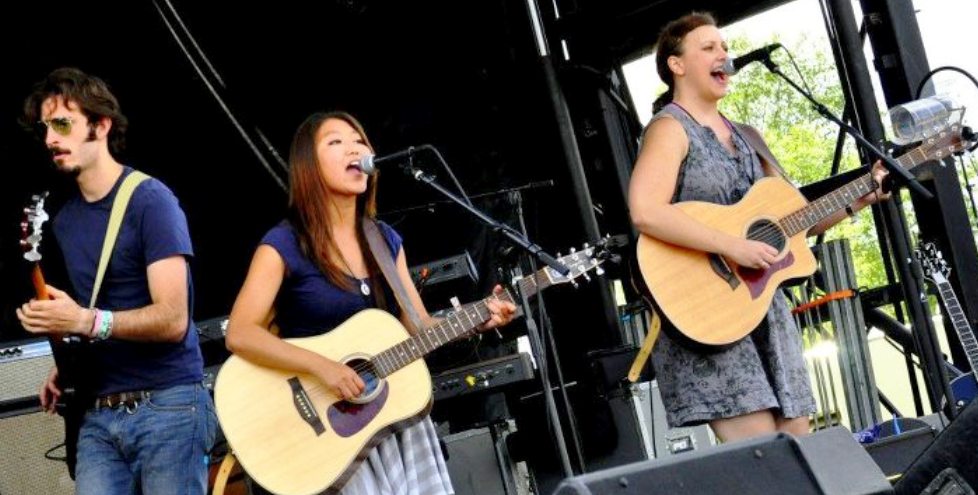 By the time Airborne or Aquatic took the stage, all the artists performing that day were front and center. This band is an ultimate collaboration as even seen through the name. They were flying high and swimming right along. For me, the pinnacle was when Wardo got goofy front and center and they played Festival Ramrod. Seth Bernard was leading the orchestra of fun with his wife May and company leading me like a rat in the story of the pied piper. I would follow that sound anywhere.
My mind was blown. At this point I was like a high functioning autistic child that found a new love, obsessively wanting to know all the details of this never before heard beautiful music. There was no time! The MacPodz took the Timber Stage. I've seen them before and they are still difficult for me to describe. Its part tribal rhythm and part Primus. It's high energy but even tempo. It's a juxtaposition of Michigan and LA. The MacPodz start off like Junior Walker with Shotgun then take it to Thelonious Monk moments riding with lyrics like Galactic used to spit.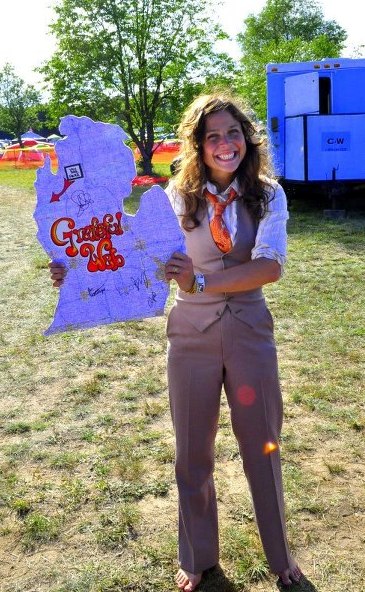 Spread and stretch and groove. The sweet sunshine of the day was hitting the western lake-facing horizon as Strange Arrangement took the stage. Strange Arrangement began shredding. The thing that I like about Strange Arrangement is that they can get mean. Typical jam bands go G, D, and B for practically EVER as to fill out the necessary 20 minute song. Strange will give it to you in 9 minutes and they take you up, down and all around with intensity. They opened with Move On that is a perfect example of what I'm talking about. It opens with Jim Conry on guitar just giving it to the audience. Their album Polygraph is due for a refresher but everybody knows that album so well. In order to showcase the bass and the permanent fixture that Polygraph has become, mid-set they raged Bed Bugs into The Route while bringing Paul Hoffman up onto stage for yet another guest appearance by the Greensky Mandolinist. Keys man Joe Hettinga was playing alongside Bruce Honsby's baby grand and announced to the crowd that Paul was gonna make the mando look sexier than we had ever seen it before. While I'm not sure all that was true, I have been lucky enough to see Chris Thile a couple of times, it was the show stopper that went back into Bed Bugs and then into Polygraph that brought the Strangers out in full force.
Two years ago, Strange Arrangement got a rearrangement with the addition of Steve on drums. Bob stepped down to continue on with his education and skip the long Strange trip that is their grueling touring schedule these days. Steve's beats have brought the use of toms to alarm the troops and sound like none other. It's the feeling of the universal heartbeat when he speeds it up and brings it down all the while complimenting Kevin on bass. The combination of the percussion and gushing bass that can match the geniuses' Jim and Joe on treble makes me love this band a little more, defying what I thought was possible in the jam scene today.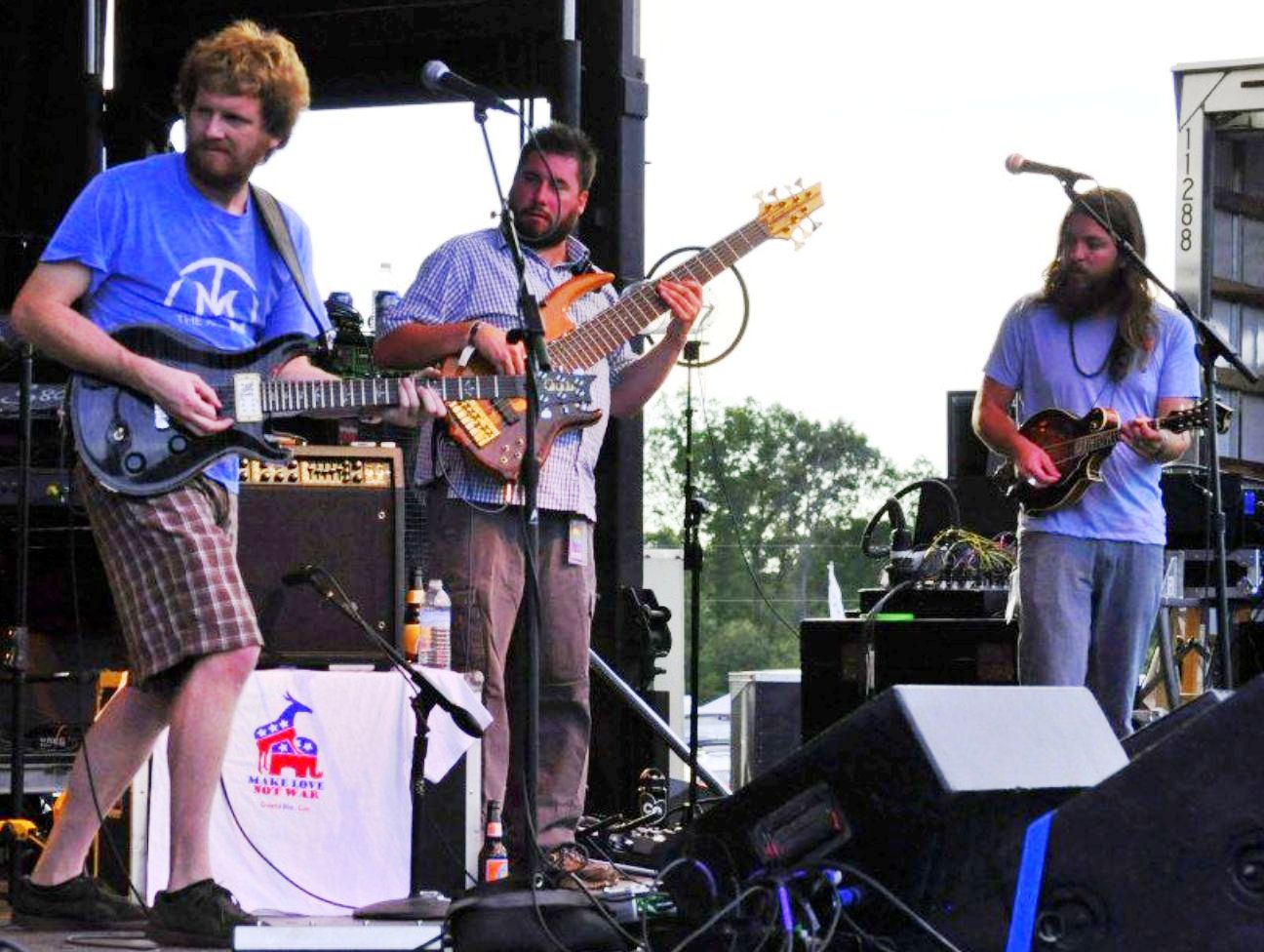 As a consummate show goer, I try to be ahead of the trends. With amazing acts still in store and without taking away the stripes of their hard earned miles, I must say Strange Arrangement was my highlight of Hoxeyville. Strangers are not the type of friends that rely on each other; they are the type of friends that build each other up. They went into a few new songs, refreshing the intensity of Strange and down the sun went.
BoomBox's unorthodox Hoxey set rocked the block like Electric Mayhem from the Muppets. The peacocks and hollyhocks got crocked on the dance floor. It was the perfect 'tweener set to tide over the fans until Bruce Hornsby. They are that instant dance party that plays to the crowd at the moment and I for one didn't think the Hoxey crowd would go for it. I was wrong. Their new age version of Shakedown Street brought the house down. BoomBox kept the kids dancing and no one left the dance floor until Bruce came up and the crowd doubled in size. All the family danced together happily.
Bruce Hornsby tied Saturday together when he played a version of Rick James' Super Freak. This man is ageless. Was he intending to play that all along or did he respond to the BoomBox funk? He started his well defined set with the classic Big Rock Candy Mountain and then went into his own original Candy Mountain Run. He played his top 10 hits, End of the Innocence and Just the Way it is. It was a very "VH1 Storytellers" set as he closed out his encore going into Cadillac Ranch, seemingly pointed for the neighboring town Cadillac Michigan, when part of the family yelled out "Fortunate Son!" Bruce obliged and did a double encore. After that beautiful song that honestly brought me to tears, he fulfilled his original set list and brought out Paul Hoffman on mandolin to help him finish up Saturday's live entertainment with Cadillac Ranch.
That may not be entirely true because the silent disco was after Bruce. It is live, just not loud. Unique to Hoxeyville, I have never seen this before. We lined up for headphones and Cosby Sweater went to town with their new single that is ripping it up in the scene, Huxtable Hustle. It was quite the crowd dancing around with their headphones on all together listening to the trio on stage that was entirely silent without the aid of technology. It was a win-win for both the kids and the quiet camp.
Often heard over the course of the festival was how many years that folks had been coming. Seems like a fisherman's dream. Once they come up north they get hooked and just keep coming back. I can see why. Hoxey has something for everyone. Sunday morning had that Telluride Bluegrass Festival Gospel feel when Rachel Davis opened up the day with her simple beautiful song styling accompanied by her banjo. The family friendly affair had more appeal than a far off family reunion but less intimidation than the Bonnaroo type crowd of livestock in a cattle gate. When Mickey Hart took over the Mini Mitten's drum workshop and said, "It's not the drum, it's the player," something to that effect, the family vibe was full circle for me.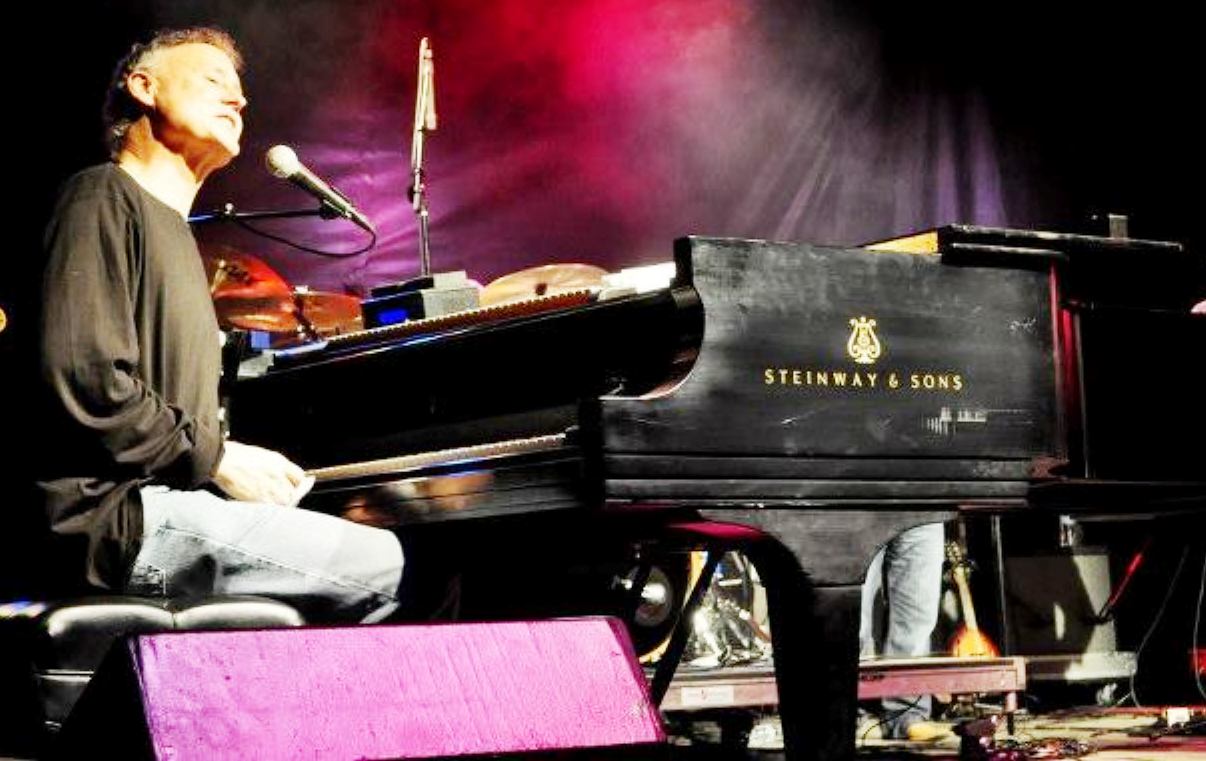 Turn on that Lovelight. Hoxeyville been shining for all these years. The warm hearted people, the perfect weather, the talented musicians with kindhearted eyes are mirrored in the skies of the mitten. Would it be cliché to say I am smitten with the Mitten? It's like falling in love all over again. I was like a kid leaving the candy store, "I don't wanna GOOOOOOO!!!!" Hoxeyville brings the freshest talent to the forefront and leaves me as a music lover wanting more. The Lake Michigan vibe is alive within this festival as the talent hits my ears shore and then recedes as nothing can last forever. Alas, the bill collectors' call and I can't escape reality forever. As Sunday grew closer to my 6 hour drive home, my understanding deepened as to why I follow live music. Hoxeyville 2012 had great old favorite sets, great new favorite sets, and more of the bands that catch my eye when deciding what is worth paying for: cable or a phone bill? I look forward to next year. I will be back to benefit all the mitten has to offer. Until then I have tons of musicians to drool over and figure out how I've gone this long and missed this bliss that is the Earthwork Music Collective.