It was easy to see that Jake Stockburger of Point Pleasant, NJ was in town to see Mike Gordon at The Jefferson Theatre.. He was wearing his thoughts on his sleeve.
Or more accurately, they were on his shirt. Jake may have been the first or maybe second ticketed person to walk through the doors of The Jefferson Theatre on this night. And wearing a white shirt with lyrics from Phish's song Sugar Shack emblazoned across his chest in large text, one couldn't help but notice. So of course I had to ask him why.
The 29 year old security system designer and installer who recently started a donation-funded site surprised me with the immediate depth his response. ."The song "Sugar Shack" is important enough for me to have made a shirt with its lyrics on it because it is mine and my daughter's favorite song," he began. Ok, not so earth shattering, lots of kids like music., I thought to myself. But then Jake continued, "My daughter was born premature. And as a complication [of this,] she is blind, [despite two surgeries to try to prevent it,] and she also suffers from autism," Jake said. "When I see the look on her face as she listens to the song or sings along with it, it melts my heart and gives me the greatest joy in life," Jake said.
Stockburger said he couldn't do the first three Gordon shows of the tour, because they coincided with his custody weekend with his daughter. But added that, "after attending the Baltimore show there was no way I could pass on any of the rest of the tour!" Attending his first Phish show at Big Cypress, Jake has been following the band, and the individual musician's solo efforts, ever since. And he and his daughter spend hours listening to music together, during visits. ""We listen to music together on our rides to and from MD & NJ. Music is her life; she loves music as much or even more than me, if possible," he said. And, "She needs music... I imagine her world to be dark and frightening sometimes in the unknowingness of it all -- And music brings in that light and gives her that gentle comforting hand that shows her the way," he added, eloquently.
Music does do that, doesn't it? I think the great quote 'When words fail, music speaks,' from Hans Christian Anderson would apply here. It's a very democratic medium, when you think about it. One need not be required to read music, or even the lyrics. Nor is one truly tasked with understanding the language sung. Think Opera. So I could easily see how valuable this child's ability to hear and connect and 'feel' though music would be, to a parent. I smiled, thinking how through music, this father and daughter experience the fullest possible connection to each other. Hell, I'd be wearing a shirt with Sugar Shack lyrics to shows, too.
While music is surely the most democratic of mediums, Phish hasn't always been the most creatively democratic of bands. Not that it's a bad thing, but we all know how weighted compositions are in the Anastasio/Marshall realm. And for a long time, I as a Phish fan, never noticed. Yep. I admit it.
But if that first hiatus accomplished one positive thing for me, it was to allow me to take the time to notice the abilities and talents of each member of Phish, individually, and away from the collective. And my more focused appreciation of Mike Gordon as a solo artist began, one fall afternoon, while standing in my driveway hearing tracks from "Clone" for the first time.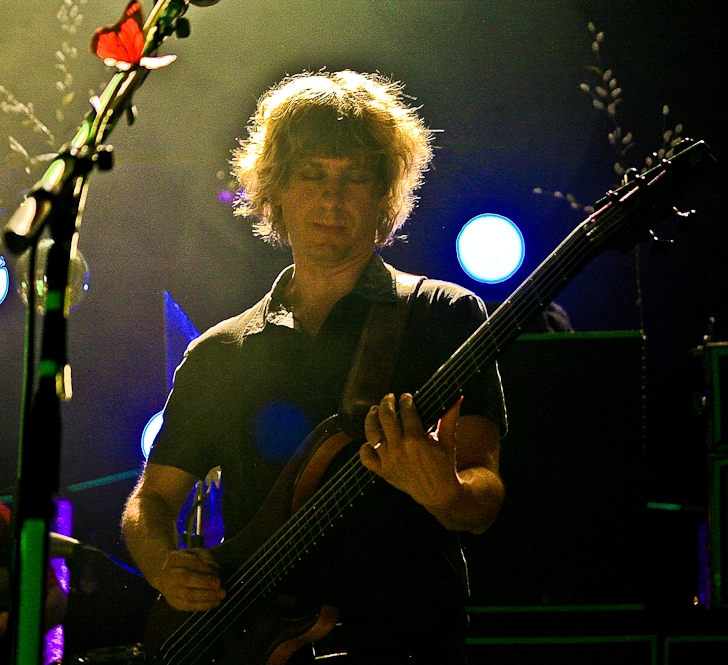 I still maintain that Mike Gordon and Leo Kottke's collaboration on 'Clone,' was the best music to come from any of the four members of Phish, during that hiatus. And considering the playing styles and personalities of the musicians, the collaboration becomes all the more surprising to have ever happened to begin with.
But yet, given the duality that is Mike Gordon, perhaps I shouldn't still profess such surprise? Writer Parke Puterbaugh described this duality very well. "Mike Gordon is the X factor in Phish. He is a maze of seeming contradictions. For everything you can think of to say about him, the opposite is true, too. He is introverted and outgoing. He is warm and congenial, wary and reserved. He is spontaneous and process-oriented. He is low-key and high-strung. He is an utterly unique individual who willingly submerges himself within a group dynamic," Puterbaugh wrote.
The sum total of this is a person manifested into an artist who can easily slip into a group and work well within that construction, as well as lead an ensemble, as was equally evident, at Charlottesville's Jefferson Theatre on Thursday night.
The duality of Mike Gordon is easy to understand, when you consider his background. Massachusetts born and raised, Gordon was exposed to business through his father, and the arts – via his mother. Gordon's father Bob founded a chain of convenience stores (Store 24) in New England. And his mother Marjorie, is a renowned artist who well into the 1990's painted Phish's backdrops. Her work explores the interplay of light and color.. And I couldn't help but think of that, as I noted Gordon's use of lasers, fluorescent tape, and bubbles on stage, and the textures they successfully added to the overall experience.
Tonight's show coincided with the second birthday, of sorts – for the current band lineup. Gordon thanked the audience for making them feel welcome at their own birthday show early into the first set. And before launching into a cover of Maria Muldaur's Midnight at the Oasis, he described the song with a predictable duality as 'weird.. "But only because it's not weird at all," he added with a smile.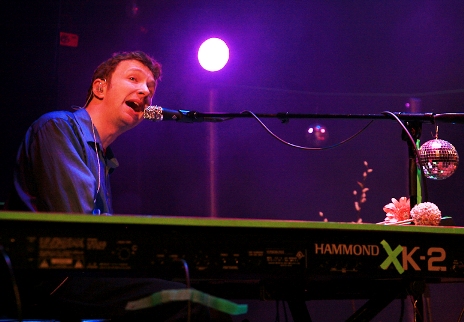 Gordon's ability and willingness to don the hat of band leader, or member of an ensemble serves him well, and results in a very palpable sense of democracy in his band's overall sound.. Individual band members do take turns 'out front,' with Mike's bass leading that pack. However, there is an overwhelming feeling of balance, to my ears, of the instrumentation and the arrangements. It stands to reason, as studio work and band rehearsals for this ensemble often include deliberate exercises to manifest such musical muscle memory.
In a recent interview, Mike Gordon described a band rehearsal exercise. "On the first day of practices, we decided to come to the studio and invite the muse to control us for a day. I led a guided meditation in which we imagined tapping into universal energy that connects from the spheres, through us, and into the center of the Earth, and then we imagined being on stage as the music played the band and the coolest sound we could imagine came out. Each band member then described his aural vision, directing the others to create it," Gordon said.
Creating or rehearsing their sound 'shoulder to shoulder' seems to work for this band with no name. And no, the band's name isn't The Mike Gordon Band. Mike Gordon told Honest Tune Magazine, "We don't have a band name yet, but I want to have one. I have a list of a thousand; I just don't have any I like enough yet. I haven't decided yet so we're just using my name. But I really like there to be a band sensibility. I have so many ideas; it's nice to feel like I'm going to have a forum for these ideas. If other people in the band have ideas too, hopefully we'll be able to run with them. People I've played with have said that they like working with me because I'm not a dictator type. If I have an idea I don't see it set in stone. Because it is just an idea and it would need to be tried and tapered by what works and what other people's ideas are," Gordon added.
Gordon didn't have to look too far to assemble his band. Gordon continued with Honest Tune. "With the keyboards, there were just a few people I played with but Tom [Cleary,] I really clicked with. I had been in on these different jam sessions — some honky tonk stuff. He's very well-rounded. He plays a lot of jazz, but he can rock out. He is a very deep musician. It always felt good in these jam sessions, to play with him. He's kind of quirky in a way that relates with my quirkiness," Gordon said.
Cleary, is also a member of the faculty at University of Vermont, where he teaches jazz piano, and was probably my biggest pleasant surprise of the evening, in Charlottesville.. A fabulous player, whose jazz sensibilities kept his playing in the pocket all night long.. He's also a great singer, who I'd have like to heard even more from, on this night. Gordon continued describing how he came to his band's lineup.
"Craig Myers. It was just a good feeling. I would have so much fun going down and hearing Rubble Bucket that he plays with or some of his other bands. I just like his energy and his sound, his sensibility and his rhythm. They both lived around town and it just felt right," said Gordon.
Gordon's choice for drums, however, came from a little further down the road. Drummer, teacher and author Craig Myers is based in New York City, where he has been active in the jazz and world music scenes for over 20 years.
"I had had a jam session with him and Scott. There was something magical that happened. Even the first time we played together -- I think I could go back and write three songs from that. He was listening so hard. He's mesmerizing. But he's funky. He can rock out," Gordon told Honest Tune.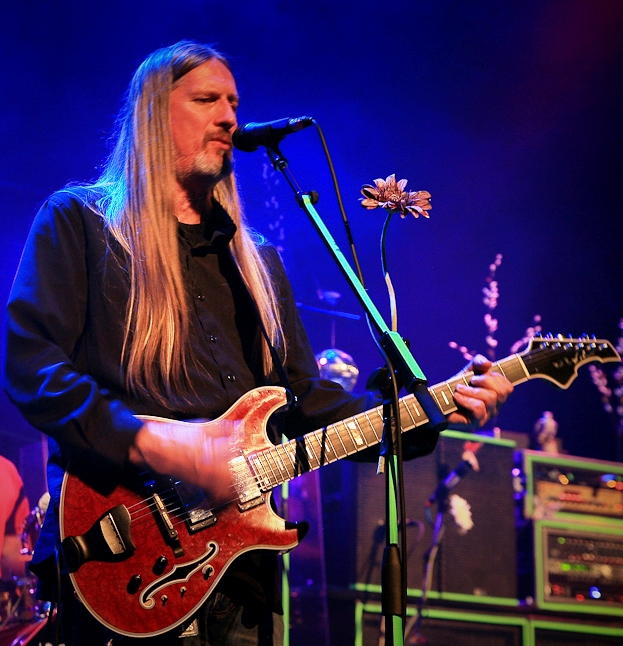 His affiliation with guitarist Scott Murawski is long-lived. Gordon, who has often called Murawski's group -- Max Creek, 'one of my favorite bands,' also teamed up with the guitarist in a project called Ramble Dove. The men also share an affinity for high-end guitars. Mike, a TMX bass and interestingly, Scott plays a Languedoc G2, an instrument very much like the one played by the guitarist at Gordon's other job.
I wondered how I'd feel about a Mike Gordon solo band where the guitarist played an instrument that was destined to have a tone not unlike that heard from Trey Anastasio's guitar. And yes, there were moments that gave me pause, for that very reason. But the playing was completely different, I'm happy to say.. I wondered for nothing, in reality. I don't have a lot of personal experience with Murawski's band Max Creek, aside from audience tapes, and the occasional cd. Listening to Murawski's fluid interplay with the rest of the band, I was incredibly impressed. I remember just standing there, transfixed, especially during the second set.
I think he noticed my stillness.
In his blog entry for this night's show, Murawski notes that "I loved the sound check yesterday, way more than the show." He then described soundcheck as a sort of surprisingly special creative experience, far presumably, from the usual meat and potatoes kind of rehearsal experience. Then Murawski went on to describe how when the actual show started it felt for him 'forced,' and that, "The crowd seemed tougher than usual. They were paying such close attention and seemed to be into it, but when we'd finish a song, there was very little response," he wrote.
I've been listening to my husband's audience tape and can also hear moments when the crowd isn't quite as loud as they could have been. However, I think that may have been a function of exhaustion, with many of that audience having also attended a very late moe. performance, in the same venue, the night before.. In fact, Gordon also attended the show, hanging out in the bar area for a large part of the evening.
Murawski then moved on in his posting to discuss this night's music, specifically. "There were definitely some nuggets in there. 15 Steps, our Radiohead cover, came out very well and had a great jam at the end, and we inserted my Emotional Railroad into a Traveled Too Far sandwich and that was really good," he concluded. And I agree about Emotional Railroad.. It was one of the highlights for me, of the second set. I think people can have a variety of reasons for not 'feelin' it' on a given night.. I've been to shows where somehow it just was preordained not to flow. And I appreciate his honesty, in fact.. Hopefully the next time we see the band locally, Murawski will enjoy the evening's events as much as those at rehearsal. And you are right, we were listening closely. And we were diggin' it for sure, I feel safe to say.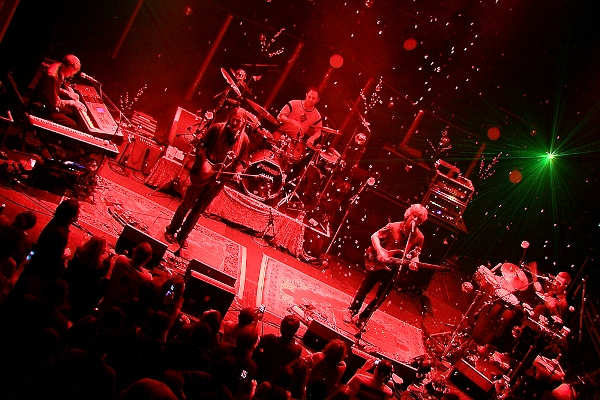 As for our young father from New Jersey, I think it's safe to say he also was diggin' it. Jake didn't get a 'Sugar Shack' on this night. He and the rest of us at The Jeff did, get a smoky and funky version of Phish's Meat to take us home for the night. It was excellent, in fact. And despite his not getting 'the song' he wanted, Jake still looked satisfied. At the end of the night, I could see that he was raring to head to Philly and whatever Gordon and his fellow musicians had in store for him, at that show. And with a band like this, there would be a lot to anticipate. And it's not just Gordon, or any single member. It's far more democratic than that. Gordon explained this well, to Honest Tune Magazine, "I'm just one person. And when the whole is greater than the sum of the parts it's a magical feeling. That's when The Muse, herself, takes over. I want that. So that's why I'm looking for the band sound."
And sometimes when that muse takes over, a cactus-obsessed little girl and her father connect emotionally, in ways not possible otherwise..