I wanna portray Whippersnap Arts & Music Festival 2013 as that scene from the Lion King where Rafiki holds Simba up over the African Pride Lands. Alas, much like Scar and Mufasa there is an obscured version of the truth. If I was to sing the praises of this festival, I would be naïve to the dark side that it did have. Albeit the sleeper festival, the musical acts outshine the production which are the real pride of Whippersnappin to it.
Once billed as the most family friendly festival around, I must ask, what kind of family friendly festival throws down on Thursday Friday and Saturday? This hakuna matata kind of attitude does not allow me to teach my child the valuable lesson of time accountability. If I want to play hard, I must work hard all week first. I must preface my harsh critiques with glowing praise for the festival that it was, however by the time we got there we had missed so much of the fantastic musical line up. Upon our arrival, I was given a single sheet map but nowhere was a schedule to be found. While that may represent the going green concept, they did hand out a map of the grounds with the rules of the park printed on the back. If only they had printed the schedule on that single page map… If only there was merchandise, even a poster. It's the little things that weren't adding up. Family friendly festivals should take into account that we are here to leave a better world to our kids and that usually includes being on time for and knowing what your plan is as the day unfolds. At least, I think so.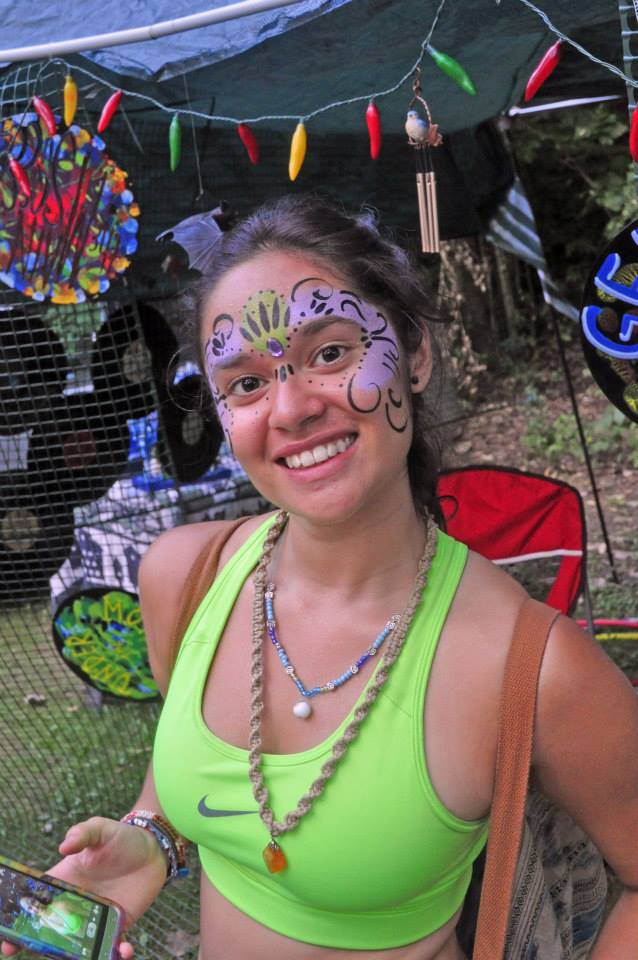 Hide-A-Way Lakes was the playground of my childhood. While this place is dear to my heart, I fear it may not be the right place to root this wonderful festival. It's been difficult to write a review of Whippersnap Arts & Music Festival 2013. What do you want to hear from me? I sometimes wonder if I am a glorified promotions person, some sort of shrink that soothes the scene to all its ailments. I pet the kitty and keep it calm as we can sometimes blindly believe that everything is alright. It came and went like a magical journey through the playground of my past that turned from an excited adventure into a series of unexpected calamities.
Thursday's line up was some of the best acts that are local to where we live with our budding young man. I was super disappointed to have missed Under the Willow that played from 4-5 pm. Even if we could have hit up the fest for just a show or two that Thursday night, I wouldn't have been able to make it in before 4pm. I'm pretty sure my lil man would have fallen in love with Erin Donovan and Hayley Hasegawa-Skreens from Under the Willow. The Newgrass band plays often at our local watering hole but this was a chance for Elijah to see them at a place where you don't have to be 21 to hang out. Not only would my 14 year old love the eye candy that is Erin Donovan and Hayley Hasegawa-Skreens, but I love the soul wrenching vocals of Sinead like revolution leading lyrics and new grass funk that Elijah was raised with. It would have made him smile, such a shame it was on Thursday night. Thankfully there is YouTube videos of that Thursday night late night Todd Hazelrig and Friends performance. It's envy worthy to see and know that it was so close, yet too far to go and experience.
Friday the whole family jammed as fast as we could to get packed up and out the door. There were dogs to care for, the house to lock up, camping gear to check and double check and fuel to be gassed up. We arrived at Whippersnap just after the good Goose Doctor finished their set. Dam it! We made the best of the fact that we had already missed a day and a half of music, knowing that we still had a fantastic lineup of music to enjoy. I gathered up the good will of Friday at 2pm and got down to Genome. This is a far cry from the last set of theirs I saw at Blottopia 2011. The pasty drummer, Drew Littell who was sweating it all out and giving it the good think is now a confident jazzy groove machine that lays it down brilliantly for the horns to dance on top of. He had the Stevie Wonder-esque head nod rolling as he let out the break beats that spread out the trance style keys and smooth jazz of Genome. Drew has since joined bluegrass bigger than just the Midwest band Cornmeal. All of the Genome boys have matured with their various side projects and I am so happy to see that Genome hasn't gotten lost in the shuffle. This got my groove snappin off and the sun shined away as I pined for a CD to listen to this Genome music for my next week's drives to and fro. This kind of music whizzes me in and out of a couple of hours without road rage but in a funky haze of happiness.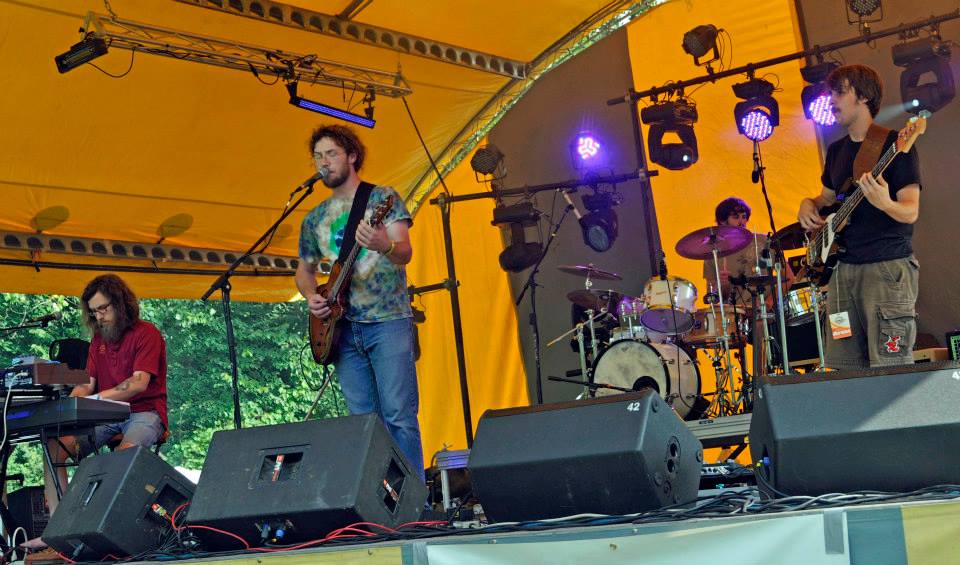 Afternoon Moon then opened up with homage to Jerry with Dupree's Diamond Blues, followed by "RIP Jerry." The next song ranged from mellow groove to a chaotic instrumental blast back into mellow, then jammed into a harmonic future full of bliss. They are maturing at a rapid rate as I foresee a widespread future as their sound continues to progress. I was glad to be there and see the bands of my homeland grow and give it their all. It melted away my funk of the feeling that I had already missed so much.
Next, I had a chance to chat with Yo Mamma's Big Fat Booty Band. YMBFBB has been around since 2002, adding Mary Frances and Lee to the lineup in 2009. They inherited the name as the universal Mother has blessed them with the booty funk. The booty mother has been urging them to spread the funk to the world. So far in their travels around the nation they have seen the world's largest prairie dog, the world's largest dairy pig and the sights keep getting bigger. They are led by Bobbles who answers every question with yes that puts them on a positive trail to creating not only the funk for your ears but they are also on the trail to creating bacon flavored milk. This band is out to do great things! They almost seemed other worldly at Whippersnap with no other bands on the playlist to compare.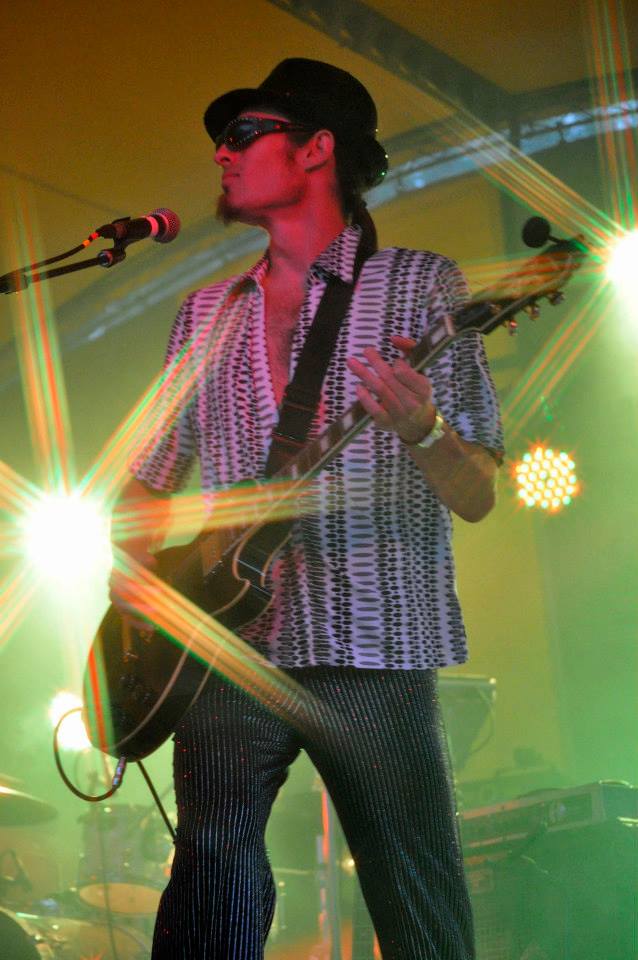 Yo Mamma's Big Fat Booty Band is releasing ONWARD! on Sept 24th of this year with a digital release, CD, and vinyl. (yes! Vinyl!) Nothing this band does is limited. The juice is worth the squeeze. They remind me of concentrated juice that when spread out on stage squirt their sticky sweetness everywhere. I asked them, "Who exactly is Yo Mamma? My mamma or your mamma?" They responded in a way I can get behind. It is the universal Mamma! Booty Band is taking over the world. They want to take us somewhere we'll never forget but it is so psychedelically funky that we all just did. I like their ironic lyrics and sarcastic twists. It was like walking the creeks of Hide-A-Way Lakes as a kid. I got lost in the muddy tracks of my toes but it was the most fun of the trip. They blend soul and funk with a keytar and kick booty vocals. Like Hollywood in the middle of a forest, the universal vibes for Booty Band brought us to outer world space and back. After their set, they concentrated back into their container of their van and drove off with Bobbles as their positive guide to bee bop down the road and bring the funk to other lands.
It was during their set that I realized, trombones are the new banjo. The buzz of the banjo while always sweet to my soul is gone. It's that instrument that seemingly everyone has picked up lately leaving the trombones to the few rare sightings that excite the soul to new funk space cosmos. I wonder how we at Whippersnap got so lucky as to hear the club poppin (or snappin as it were) sounds of this band. There is nothing like it as fresh on the scene these days. It was bass man Al's birthday which made it even more boisterous to bop to, he was on fire!
Indigo Sun started slow with a trance haze but the anticipation quickly caught up into an electric firestorm. The dueling keyboards and sax sped up with the fast drumming and the acid beat was in full motion. Although I did write a note that says, "Making your sax sound like a kazoo is never a good thing." I guess it hit a sour note for me, but everyone has their own opinions on kazoos.
Ekoostic Hookah let out a huge "Hookah!" to their family gathered devout and The Main Squeeze was a band I will have to check out again. While Whippersnap is awesome enough to not compete music of different stages, it also makes for an incredibly long day. My body was still banging but my brain had to shut off enough that I have no good details on these fantastic bands. The fella, the kid and his dirty feet, and I headed home to camp.
I awoke to the smell of bacon and merry making from the Teradactyls. This relatively new band has the chops to pound down the foundation for a great last festival day. The second coming of all things jam, they served bacon and Jameson to start off the day. In the end it was the reason I had to take a mid day nap, but that is another story. Their original music had teasers of Tetris and Tweezer and it made for an interesting set from start to finish. They covered Tela, Cities, and a great version of Get Back on the Train. I haven't heard that for a while and the original spins of favorite bands in between the new sounds of the Teradactyls was a welcome start to the day.
Sometimes you come to the realization that you can't please everyone. Simba has a long journey in the Lion King to reach this realization. Whippersnap has a pride about it, now to find its own accountability. This festival needs a strong location to give the family its roots. Once a foundation is in place, there will be no doubt that this family tree will grow high from there.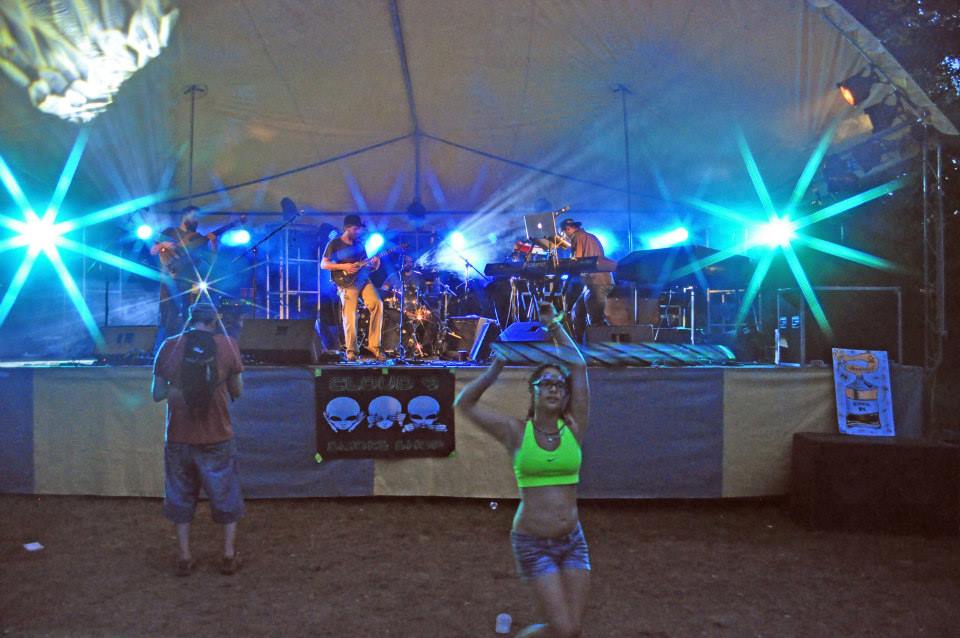 On a funny side note, my kid discovered dancing with glow sticks this year. He was working so hard to give "good light shows" and at one point I had to remind him to just have fun. Guess I have to remind myself of the same. Even if I didn't make it to all the excellent music that was available, the main goal is to have fun. I felt this sense of motherhood as a job, when really it is fun if you let it be. I tried to introduce him to all the good that our scene does. I especially had my hackles up when I saw a dude selling drugs with his maybe 6 year old son that chimed in, "it's really pure." Too many thoughts rushed through my over analytical mind and I almost got sick. I try not to judge and just do what is right so I involved my kid in my own scheme. I have become an official money stamper this year. Check out www.stampstampede.org.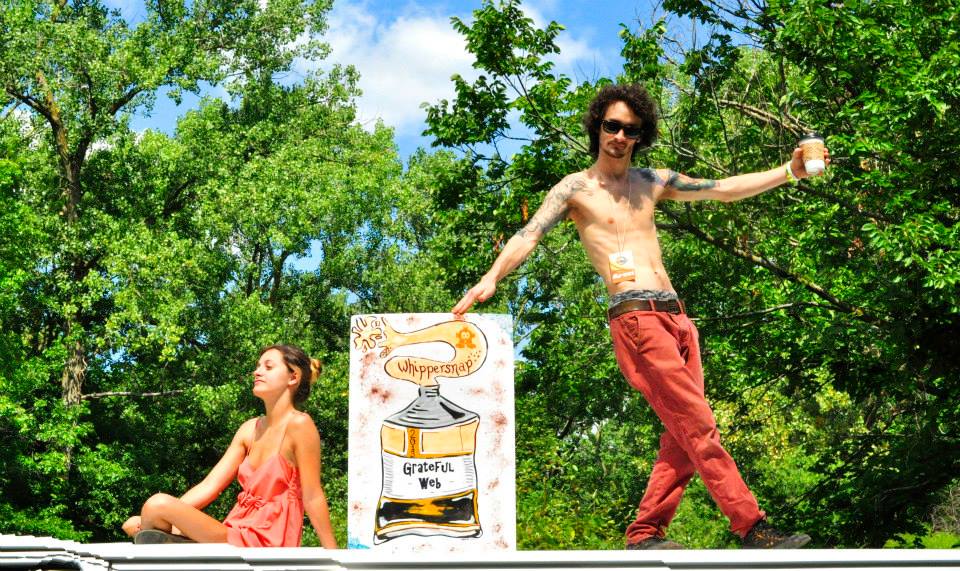 I bust out my stamp and we tried to stamp as many people's money as we could. It's great to have like minded folks that want to do good in the world. We stamped as many dollar bills as we could with a stamp that reads, "Stamp money out of politics." It's all in an effort to eliminate the popularity contest that seems to go on in the presidential elections. Whoever can raise the most money will be our next president. Whatever happened to the most qualified getting the job?
We made a run to the store to restock supplies and get lil' man more glow sticks. Every year he begs to go to Electric Forest, so I was excited for him to have a great late night with Future Rock and The Coop that have both played that gigantic festival in the past. First however, mommy lost her mind when Strange Arrangement took the stage.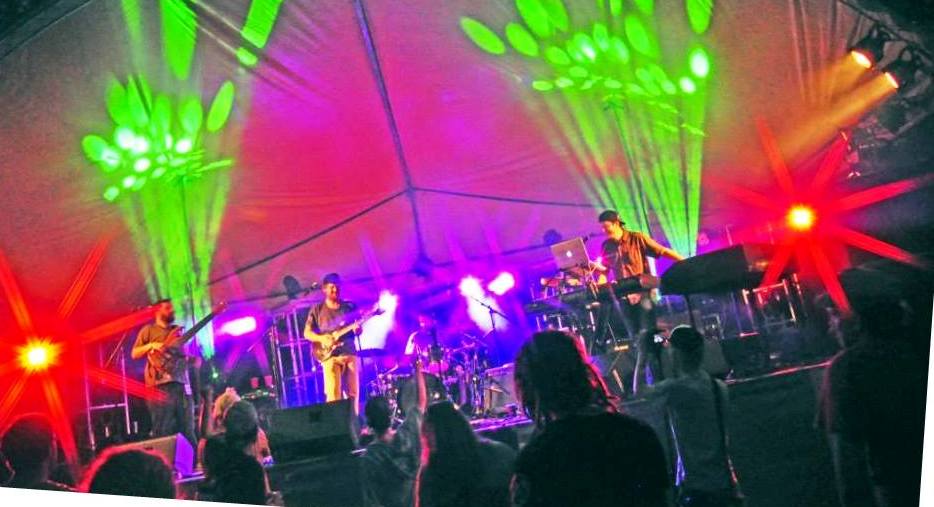 Strange Arrangement started off with Polygraph classics. It was as if 37 weeks hadn't passed since their last show. They seemed satisfied as they started off their set playing to a small group of strangers, the die-hard fans that had traveled far and wide to see Strange Arrangement play. It was so good to be reunited with the friendly faces that were just as pumped as I was. It is that kindred bond of knowing every word to every song and if not, mouths were agape and faces were glued to what the heck it is that they are playing. We were all so happy to hear Strange live, even if they didn't play anything new and unique. That shared vibe of the love of this band's music is what I love about the scene. The love elevates you higher than the stage and we all go there together. I think this show was pivotal as we were all nervous that the band members wouldn't sync. What if they took the stage all awkwardly and couldn't catch a rhythm? Maybe Strange Arrangement wouldn't be the jamsters we remembered. They began the set with Seite. Kevin's bass was bold and crisp…
Next up they played Bed Bugs then my favorite Highway with plenty of room for off the cuff improvisation. By the time Steam Roller started, we all knew Strange loved playing together again, almost as much as we love hearing em. The crowd had quadrupled in size and the evening was amplified. I threw down my notebook and just enjoyed. No more note taking for me as this is how I get paid. I do it for the love of the music and this is the music I love. Elijah was no longer worried about "giving good light shows" as he finally relaxed into his rhythm and just enjoyed dancing with his light sticks. He was an animal! I looked proudly at my lil Simba and felt my family's joy as we all settled into a fantastic Saturday night. The momentum has just gotten going for my family and there was only 7 more hours to enjoy it.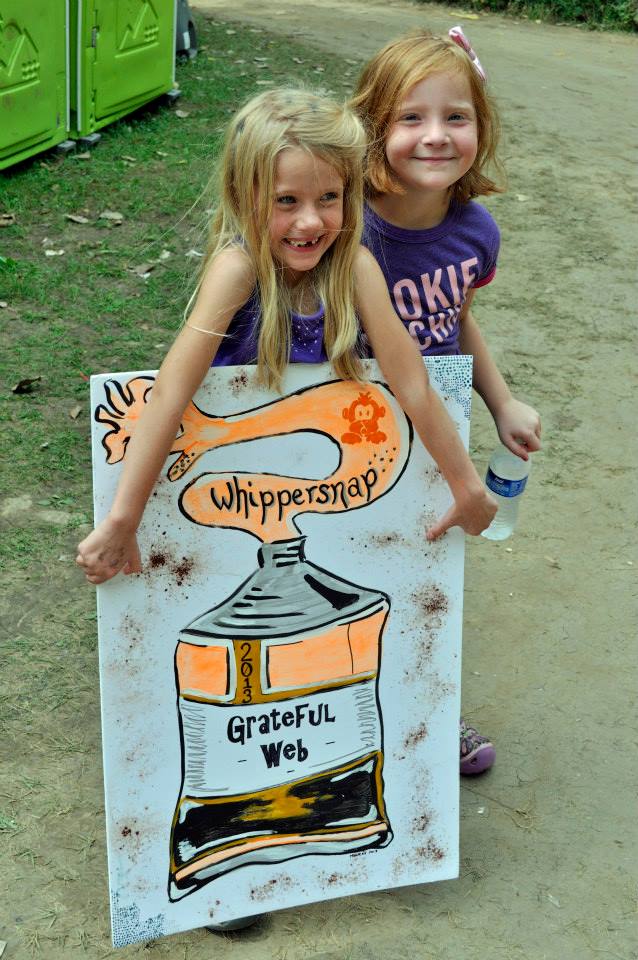 The true treat was learning that Strange Arrangement plans on playing at least one show a month and return to the Chicago jam band scene. AMEN! HALLULUJAH! It feels so good to be a stranger. The next show will be October 26th at Martyr's in Chicago. Hakuna Matata J
Next up was Future Rock, which I was sure my lil man would enjoy. The Chi town veterans of glorious light shows and ripping electronica proved to dazzle the whole crowd. While the crowd didn't seem to be that big, if you looked across the pond, you could see folks enjoying the set from their campground and quite the reflection of lights coming off the water. Elijah took his skills from the Strange set and began giving good light shows again. The music was perfect for heart thumping trance dance. I wonder if some of these folks realized how young he was as he tripped them out pretty good. Heh.
I danced my heart out earlier so by the time we hit up local heroes The Coop over at the other end of the park, I was exhausted. I sent my older nephew over to do his thing and told him to update me with all I missed. I was used to missing things so I followed my worn out body to the tent halfway through The Coop. This is to say that The Coop was rocking so hard; there was no way to marathon all my energies and capture all that love.
I loved sharing in such a small venue with trustworthy folk. I last spent summers there with my dad in 1992. My neighbors from that time STILL live here. I met a fella that has lived at Hide-a-Way Lakes since the 80's. That felt like family beyond just the cliché hippy version of phamily. With a little more organization this festival could be the yearly retreat that I bring my family to forever. Like I said, little things didn't add up, but the musical talent far outshined the faults of production. They have the talent that is some of 2013's top summer hits. They have great people. They have a great place. They just need to tailor and cater to the mission they set out to achieve 3 years ago.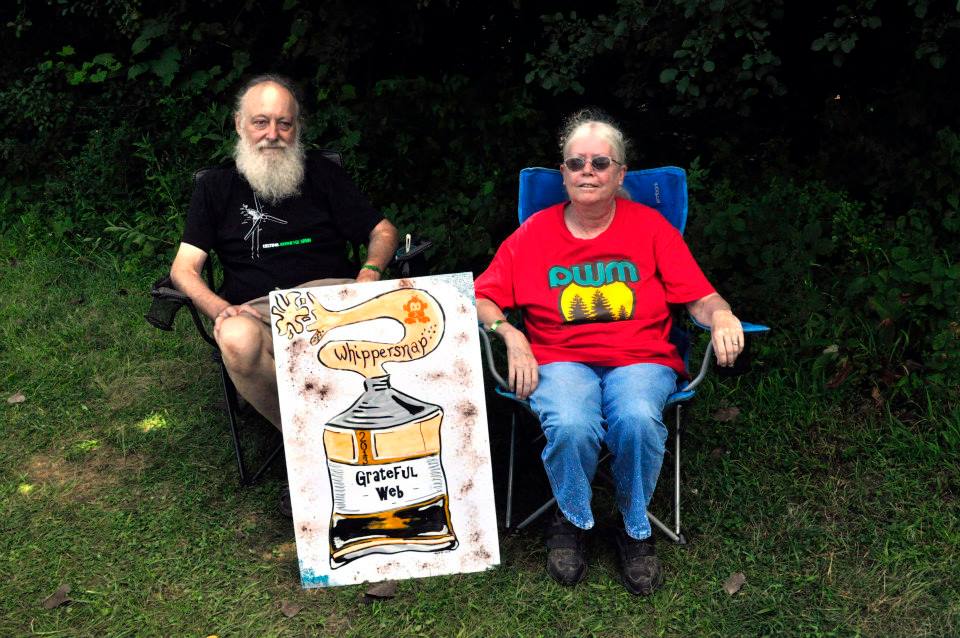 With Scar and the hyenas gone, Simba descends Pride Rock and takes his rightful place as ruler of the pride. Not that I wish to exile the hyena like laughter, but the naughty neglect can go far far away and make room for the families that make Whippersnap Arts & Music Festival the foremost family friendly festival of the Midwest. The circle of life turn will again as I look forward to what this festival produces next year.
Check out more photos from Whippersnap Festival.