The eight-time GRAMMY® award-winning musician and philanthropist Ziggy Marley teamed up with Gibson for a livestream Q&A across the globe. In the intimate and inspiring Q&A and performance, Ziggy takes a deep dive revealing his past and present musical influences, receiving his first GRAMMY Award, parenting during the pandemic and his home life, as well as, bringing his friends Ben Harper, Sheryl Crow and more together to create his heartfelt new album More Family Time.
Ziggy takes on thoughtful questions worldwide from members of the Gibson Generation Group (G3)--a global collective of talented young guitar players who receive one-on-one career mentoring the Gibson team--as well as, music students from Glenthorne High School in the U.K., A'DAM Music School in Amsterdam, Netherlands, and Park Slope Rock School in Paris. The interview ends as the G3 members--Marina Paz Otero (G3, Spain), Jayden Tatsciore (G3, Australia), Asher Belsky (G3, USA), Jack Goodacre (G3, U.K.), Noah Eckstein (G3, USA), Carter Wilkinson (G3, USA)--and the students from three music schools perform Ziggy's new song "Play With Sky" live in front of him.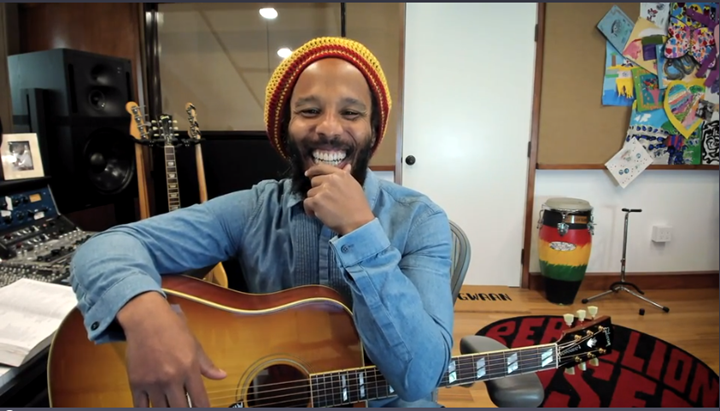 Watch and share the Ziggy Marley Q&A and a live performance from the Gibson Generation Group (G3) and music students from around the globe below, Here.
When quarantine launched and everyone was at home, Ziggy brought together his friends to create his new album More Family Time. Ziggy's new album features 10 uplifting songs and collaborations with Ben Harper, Sheryl Crow, Lisa Loeb, Tom Morello, Busta Rhymes, Angelique Kidjo, Alanis Morissette, Stephen Marley, as well as appearances from his children Judah, Gideon, Abraham and Isaiah. Ziggy says "Even though we weren't in the same place doing the songs, music is such a strong connection between us as artists and musicians that we can still feel connected even though we aren't in the same place because of music. It brought it back to me that music is a strong connective tissue to us that we can still feel a sense of togetherness through the music."
Listen and share Ziggy Marley's new album More Family Time, available now: https://www.ziggymarley.com/morefamilytime