Afor-Zep & 56 Hope Road @ the Fox Theatre
Submitted by mike on Wed, 01/19/2011 - 04:51
Z2 Entertainment is proud to present Afro-Zep & 56 Hope Road at the Fox Theatre on Friday, February 11th.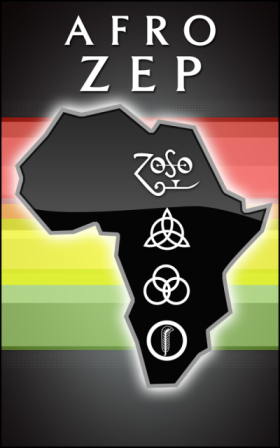 AfroZep is a collective of Chicago musicians that assemble a few times a year to tour- performing a set of all Led Zeppelin tunes but re-done in the style of Afrobeat and Afropop. Some tunes are straight mash-ups of Fela Kuti and Zeppelin; others are Zep tunes but set to original grooves based off the music of artists such as Tinariwen, Thomas Mapfumo and Franco; and others are stripped down arrangements with tons of added traditional African drumming, like their take on 'When the Levee Breaks' which incorporates a rhythm of Malinke decent, called Soli. Arrangements such as this show how the roots of Plant and Page's songwriting can be traced even further back to the roots of blues music itself. The members of AfroZep have toured and recorded with various artists, such as: Chicago Afrobeat Project, 56 Hope Road, Starrunner, 1000 Vertical Feet, the Motet, Seneke West African Drum and Dance Ensemble, among many other of gospel, big band, jazz, rock and drumming ensembles based out of Chicago. Due to the rigorous schedules of its performers, the Afro-Zep is not a full time project and the band only tours a few times a year.  With their first tour taking place in Nov 2009 the band has already traveled to Illinois, Wisconsin, Michigan, Missouri, Kansas and Colorado.
--
56 Hope Road is a band bonded like a family, and as a result, their music has an unmistakable honesty and openness. Uncanny, intuitive communication creates an easy interplay on stage, making even the most layered tunes sound effortless. They allow the joy of spontaneous creativity to color their song-based arrangements - neither losing their musical center, nor restricting its growth. The music is acoustic funk at its finest with sounds reminiscent of G-Love and Special Sauce, Richie Havens, MMW, Grateful Dead, Paul Simon and Gomez. This Chicago-based "acoustic funk explosion" is known for clever songwriting, lush vocal harmonies and one of the tightest rhythm sections on the scene. Formed in 1999, 56 Hope Road is made up of vocalist/guitarist Dave Hamilton, drummer Greg Fundis, upright bassist Chad Sanders, saxophonist Casey Fitzpatrick, and often augmented by vocalist Anne Katzfey, and percussionist Matt Katzfey.
-
Tickets are on sale at Fox Theatre Box Office. Call (303) 443-3399 for tickets by phone.
Tickets are also available through our website @ www.foxtheatre.com.
$7 adv / $9 dos
Tickets On Sale – Friday January 21st!