Soulive drummer and founder Alan Evans is a musical force to be reckoned with. More than 15 years as an integral member of the jazz-fusion group wasn't enough for him. In 2011, Evans founded the Alan Evans Trio, inviting renowned organist (and frequent collaborator) Beau Sasser and longtime Soulive fan Danny Mayer into his world. The band's debut album Drop Hop was recorded in a few short days and released in April 2012. On March 19, 2013, just 11 months later, Alan Evans Trio will drop their second album Merkaba. Evans recorded and produced the entire album himself.
From the album's name to its intergalactic cover to its jazzy, dreamy sound, Merkaba is stellar. The trio delivers a funky collection of bluesily chaotic instrumental tracks that bounce so fervently it's impossible not to tap your fingers in time. While Evans' drums are easily the backbone of the album, paving the way and filling in seconds you didn't realize needed to be filled, he willingly shares the spotlight with Sasser and Mayer.
The thematically titled "Cosmic Hazel Dust" is a prime example of their teamwork. The song is largely one rhythm repeated, driven by drums but thickened by the layers of organ and guitar building up to the climax. That climax comes, surprisingly, halfway through the song—an audibly delicious mess of drums and reverb and screeching guitar. Then suddenly, with hardly a cymbal crash, the guitar picks up the melody it had left behind and takes the reins, leading the rest of the band to round off "Cosmic Hazel Dust" just as it began.
Though heavily instrumental, Merkaba showcases its creators' vocals on a few different tracks. "Life is Harder to Live" and "Givin' To You" both boast a much slower pace than the rest of the album, complemented by hushed, near-falsetto tones. "Who Dare Knock" starts out sleekly as well, easing into a mock radio show where Evans asks what the caller wants to hear. Among accelerating, dizzying guitar notes, the tweaked-out caller answers, "...sexy, intergalactic funk so I can get on my spaceship and ride..." Evans obeys, and the song fades out before serving a powerful punch and leading the track in a different direction. Evans heartily employs his full vocal range on "Who Dare Knock," but even when he's not singing, the frenetic funk of the trio ensures that you'll dig every beat.(this was originally 'that you won't miss a beat.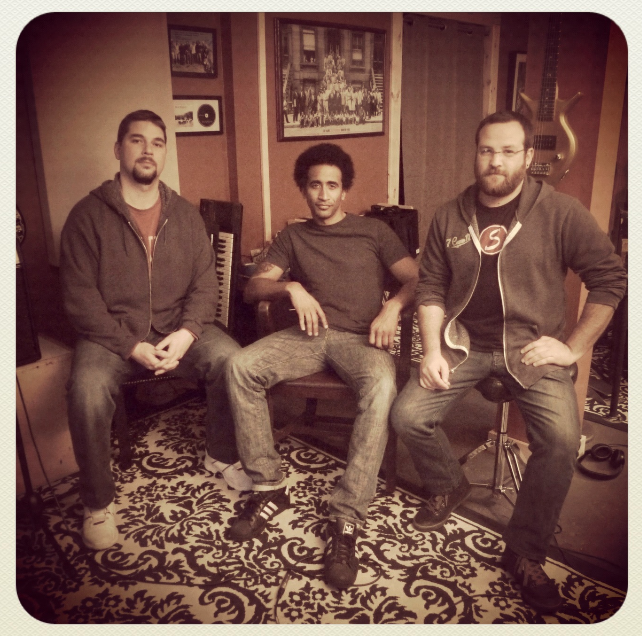 Merkaba is a spatially psychedelic album chock-full of heady licks, determined drumbeats, and organ progressions that wouldn't be allowed into your Sunday mass. Evans, Sasser, and Mayer have perfected the game of intergalactic hacky-sack, seamlessly passing the mic back and forth while hitting every note. They've incorporated decades and genres into their second album, intertwining sounds from years past and years from now. With Merkaba, Alan Evans Trio has given us some much-needed reasons to be excited about the future of music.