CSC Funk Band's new EP, Funkincense, Streets 4/20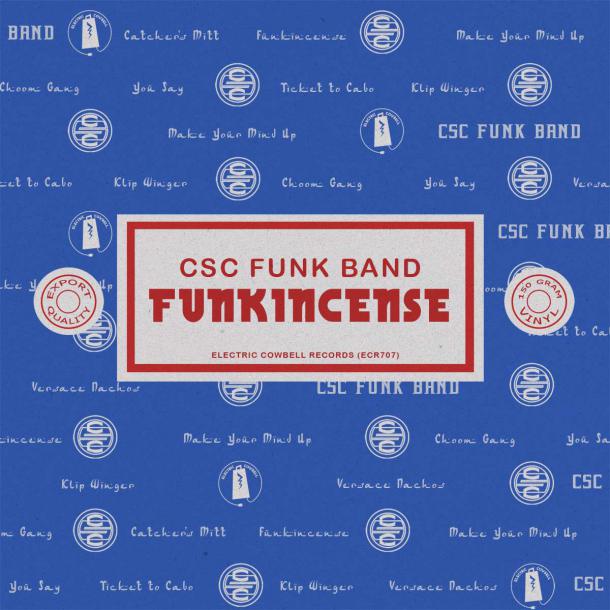 The CSC Funk Band is like a musical pinball that's been getting flipped around the Brooklyn music scene for over 5 years now bumping into just about any influence imaginable in the borough that spawns countless musical hybrids. Spearheaded by Colin Langenus of acclaimed experimental rock outfit USA Is A Monster, the group was formed as a party band within the loosely-defined parameters of funk with references pointing to Sun Ra's 70's fusion-inspired Lanquidity and the psychedelic rock leanings of Funkadelic. Players were plucked from a wide-ranging stylistic constellation and the group continued expanding beyond its party-band britches by absorbing the diverse influence of its members, including a former GWAR drummer, a keyboardist who played with the Akron Family, an Anthony Braxton collaborator, and a trombonist for ska legends Bad Manners. In 2011 the group was picked to be the house band for a full-on tribute to MC Guru of the legendary hip hop duo Gang Starr at Fat Beats warehouse in Brooklyn and backed MC Masta Ace among others invariably adding another stylistic gear to the group's colorful pedigree.
Their second full-length release, Funkincense, on Electric Cowbell Records for Record Store Day 2013, differs from their predecessor Things Are Getting Too Casual (Fat Beats 2011) in that it was recorded entirely at Fat Beats studios in Brooklyn whereas their first record was more of a collection of singles and recordings of the group's first 3 years. Around the time of the Gang Starr tribute the group was tapped by Fat Beats to work on an instrumental record of Gang Starr instrumentals in the vein of 2009's El Michael's Affair's reinterpretation of Wu-Tang music, Enter the 37th Chamber. The project was never realized however countless hours were logged in the Fat Beats studios distilling CSC Funk Band's expansive breadth into shorter bursts of tighter popping funk pockets. When the group finally convened to record their new original music the studio settings were already dialed in and Funkincense came to life. Everything that is the essence of the CSC Funk Band sound is here: the hard-boiled, cop show funk of 'Catcher's Mitt' and 'You Say,' the flirtings with Afrobeat grooves in the title track 'Funkincense,' and the heavier psychedelic explorations a la Funkadelic are evident on 'Choom Gang,' as well as a few surprises in the minimalistic 'Make Your Mind Up' and the 70's sunshine burst of 'Ticket To Cabo.'
Rocking sax, moog, guitars, trombones, drums, trumpets, a bass, and an oboe, the band is a random, diverse, and eclectic collective whose members draw from their rich histories to effortlessly entertain every flight of fancy while never once stepping out of sync or into categories.  The 'Funkincense' 12" vinyl album with scratch 'n sniff promo sticker was pressed as an exclusive Record Store Day limited-edition release and available mostly in independent record stores internationally that specialize in vinyl records on Record Store Day (April 20, 2013). The album will also be available through digital outlets worldwide Tuesday, April 23, 2013.
Record release shows for Funkincense April 2013:
Friday April 26
389 Melrose Street
Brooklyn NY 11237
with Hardbodies
Saturday April 27
Belfast, Maine
Sunday April 28
138B South Street
Boston, MA. 02130
with Aykroyd + Gangsta of Love