Eric Lambert & Friends to Perform in Historic Building at Two Brothers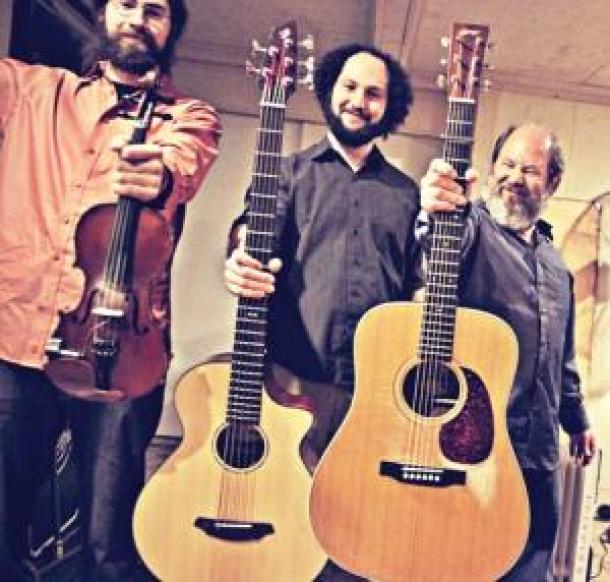 Rockin' Americana stringband, Eric Lambert & Friends (ELF), featuring acclaimed guitarist Eric Lambert, along with Dan Rogers on bass, and Pat Fiddle on mandolin and fiddle, will be performing live at a Chicago suburban historical landmark on Saturday, April 20. ELF debuts at Two Brothers Roundhouse, located at 205 N. Broadway Street in Aurora, IL, performing three hours of music, beginning at 9 pm. Two Brothers Roundhouse is conveniently located with access to CTA and Metra trains making it the perfect place to safely enjoy an evening out with family and friends.
From Chicago, IL, Eric Lambert & Friends are burning up the Americana-Rock scene and quickly becoming known for their interactive, improvisational music and high energy performances. The talented ensemble of musicians, led by world-class guitarist, singer/songwriter, and music educator, Eric Lambert, enjoy musical conversations among each other on stage, creating a unique and inspiring experience at each show. They are sweeping audiences off their feet, and bringing happiness and good times to everyone in their path. With the historic energy of the Roundhouse and ELFs original music, this show will be hard to top.
"I don't think I've ever played at a historical building like this before," said Eric Lambert. "I'm totally looking forward to it, and the opportunity to play the Roundhouse. I believe any place that old has a lot of good spirit in it, and I can't wait to get connected to it," he shared.
The Two Brothers Roundhouse, is a historic building originally constructed in 1856 as a roundhouse for the Chicago and Aurora Railroad and served in this capacity until 1974. It was abandoned until 1995, when a group of investors led by Walter Payton purchased it and converted the building into an entertainment complex. Two Brothers Brewing is the newest tenant to this building, which is the oldest limestone roundhouse in the United States and is listed on the National Register of Historic Places.
Learn more about Eric Lambert & Friends at www.ericlambert.com.