On a severely glistening snowy night in Boulder, George Winston's statement on the Boulder Theater's website stated, "The show must go on!" I was pleased to read that because on what better night could one hear George Winston alone on stage playing music from his albums December or Linus & Lucy – The Music of Vince Guaraldi, just to name a couple? The roads were pretty treacherous, but the inside of the Boulder Theater was as cozy and quiet as could be. After all, this was the best setting for this show. It was extremely peaceful, to say the least.
George Winston grew up in Montana and spent many of his other formidable years in Mississippi and Florida. He learned everything from instrumental rock and R&B to jazz and blues and even invented his own style of piano called folk piano. Winston has released thirteen solo piano albums since the early seventies including his most recent albums Gulf Coast Blues & Impressions 2 – A Louisiana Wetlands Benefit (2012) and Love Will Come – The Music of Vince Guaraldi Vol. 2 (2010).
And as of late, he has been focusing on what I love best, live performances. He mainly focuses on either the Summer Show or the Winter Show, and I was more than happy to be present for this one. I knew that it would not go late, so I made sure to get there on time. Sure enough, Winston gently walked out to his Steinway grand piano and opened with his current muse, Professor Longhair's "Baby Let Me Hold Your Hand." This New Orleans sound was the perky start that we all needed. After the short warm-up, George Winston went to his roots and said, "This next song reminds me of Montana, where I grew up, and it's featured on the album Autumn. It's called 'Tamarac Pines.'" This was a long epic adventure, and I think I caught myself with my jaw dropped and mouth opened staring into another world for quite some time. The song on the album is about six minutes, but his live version felt like an eternity with a lot of different parts.
A serious crowd-pleaser was next, and we knew it was coming by his introduction of Vince Guaraldi, who did the music for the first sixteen Charlie Brown specials. He played "Christmas is Coming," and the crowd moaned and groaned with pleasure. His next piece was inspired by late autumn, and it is called "Moon." This was another really long multi-faceted arrangement, in which many times I said to myself, "How does he remember all of this?" There was no music anywhere near the stage, and the compositions were intense and lengthy. Thank goodness that they were because I did not want this to end.
Next, was my favorite song of the night. He described that the song was in a stride piano style that stemmed from jazz greats Fats Waller and a man named Chase, who played with Benny Goodman's band. I'm pretty sure that the name of the song is "Chase," but I am not positive. This was mind-blowing as he kept amazing rhythm with one hand, while the other danced across the ivories with amazing speed and precision. It literally sounded like there were two people playing because it was hard to imagine that only two hands could do what he was doing. Then, another one of my absolute favorites was introduced as a winter piece from Ukraine. "Carol of the Bells" was composed by Mykola Leontovych and has a four-note ostinato motif that is recognizable anywhere in the world.
Winston dedicated "The Cradle" to moms everywhere, and the audience replied with an "Awwwwwwe," in unison. It was originally written by the late renowned jazz master, Larry Young. Next came a song inspired by James Baker, one of Winston's newer influences with his own version of a Baker song called "Pixie #12." This song ended with a very long harmonica solo inspired by his major influences, Sam Hinton, Rick Epping, and Curt Bouterse. Winston ripped out the Hohner Big Rivers & Cross Harps harmonica in the key of low D and wailed by himself. This man is so incredibly talented. He played the most unique harp solo that I have ever heard. His style was so unusual, muffled, but intensely clear.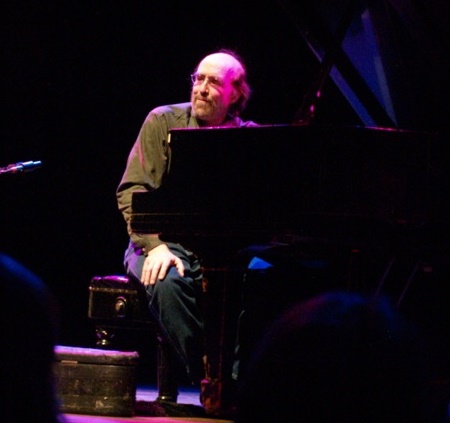 "Thanksgiving" off of December had the crowd feeling good along with Winston's song with his Martin D -35 (1966), with a low 7th string added. Of course, nothing that he does is typical or expected. His style of guitar playing is Hawaiian slack key guitar. I was not familiar with this beautiful sounding technique that I learned is "played from the heart and soul through the fingers, and flowing with vivid tropical images." A pamphlet that was on the merchandise table described slack key as "the name for the finger-picking guitar tradition which began in Hawaii in the early 1800s (and predated the steel guitar by more than 60 years). Some of the stings are apparently slacked from the standard tuning, with the thumb playing the bass while the other fingers play the melody and improvisation in a finger-picked style.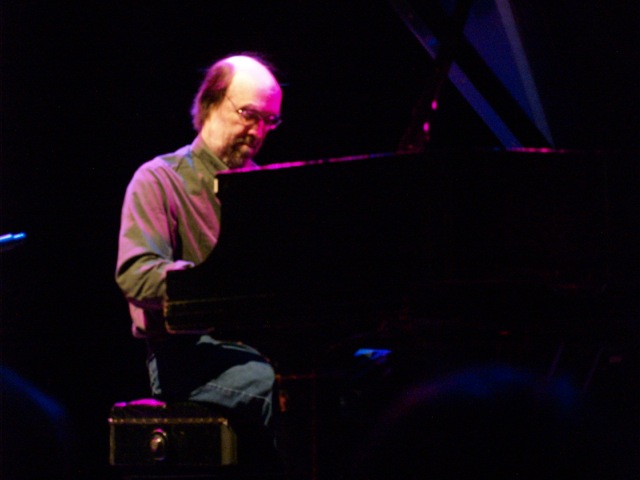 The last few songs were medleys including "The Snowman" and the popular "Silent Night." Then, the legend thanked the crowd and explained to us that he has been coming to Boulder since 1983. The crowd showed their appreciation, and the final song of the night was another guitar song that I do not think was slack key, but I could be wrong. Nonetheless, this was a spirit uplifting, quiet, and content night of music. It was very tranquil to hear the crispness of each note from a legendary musician who thrives on making music like this so attainable and acoustically omniscient.