Unlike the Martha White "self-rising" flour, it takes more than one ingredient, or individual, to lift the spirits of communities affected by natural disasters. On a brisk night in Boulder, Hot Rize brought together a closely linked ensemble of local musicians to do just that. Recognized as a bluegrass-haven, Boulder County hosts an array of talented musicians. Towns like Nederland, Lyons and Boulder have seen their music scenes blossom with nationally renowned bands such as Hot Rize, String Cheese Incident, and Yonder Mountain String Band calling them home. What better locale than the cradle of the Colorado Front Range to build upon a style of music rooted in Appalachia America?
On the Boulder Creek Path, dirt and displaced sediment from the Boulder flood lingers. Splintered trees arch across the now gentle current, and just because Boulder has returned to some sense of normalcy, the flood has yet to cease its stranglehold on those that felt its wrath. But where there is bad, there's usually good to follow. Host of eTown and bassist for Hot Rize, Nick Forster saw a way to help the community he's been a part of for decades, and with the help of some of Boulder's best, put on a show for a near-filled Macky Auditorium on the campus of the University of Colorado.
With all proceeds benefiting flood relief, and a large portion of five-dollar "Uplift" tickets made available to those directly affected by the flood, there was a congenial vibe among the crowd. Arriving just in time to catch the last licks of Sally Van Meter's resonator guitar backing a group comprised of Mollie O'Brien, Rick Moore, Eric Thorin and Caleb Roberts, I found my way to the second balcony. The house seemed full, and the crowd sat patiently, rapping their knees with their fingers. It felt like a loose-orchestra crowd, willing to hoot and holler, but little more than that. Standing, it seemed, was not an option.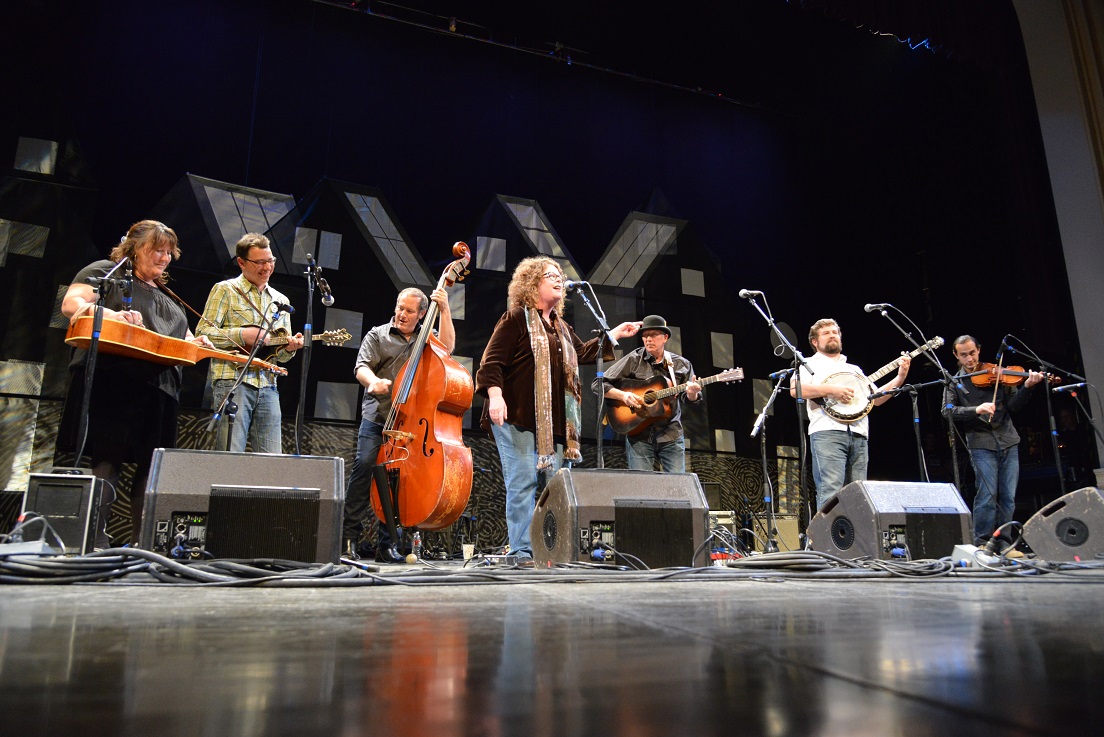 The special guests and local bluegrass all-stars, led by Bill Nershi of the String Cheese Incident and Jeff Austin of Yonder Mountain String Band, jokingly introduced themselves as the Soggy Bottom Boys, straight out of O Brother, Where Art Thou. Joined by Chris Pandolfi and Andy Hall of the Infamous Stringdusters, and also Eric Thorin, they romped through songs like My Walkin' Shoes, Deep Elem Blues, East Virginia Blues, and Don't it Make you Wanna Dance.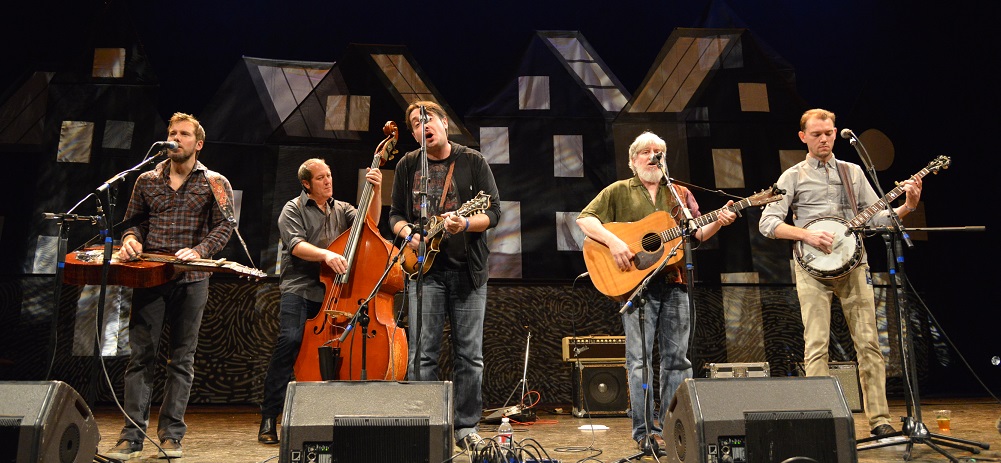 Following another donation rap by the tireless MC was a roughly twenty-five minute intermission, allowing folks to purchase a limited number of signed posters, photographs, and other memorabilia meant to boost the funds being raised. The fact that the musicians gracing the stage had witnessed some of the same devastation felt by those in attendance only strengthened the community-wide bond. While it's unfortunate it takes hard times to bring a room full of familiar faces together, it's a sight to remember, and really, to be proud of. "We're some resilient mothers," Austin called the musicians and audience alike.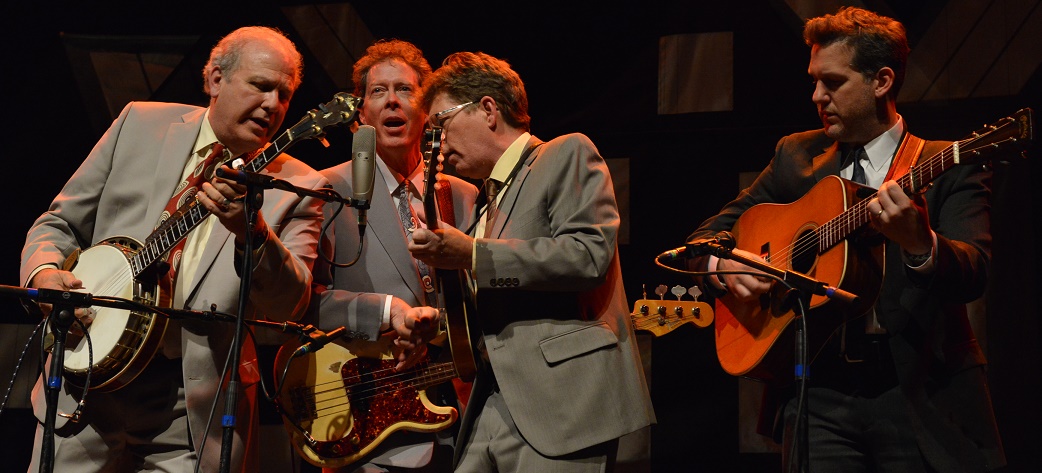 The band behind Pickin' Up the Pieces: Nick Forster, Tim O'Brien, Pete "Dr. Banjo" Wernick and Bryan Sutton, or Hot Rize, took the stage in their matching suits. Sutton was the odd man out, wearing a shade far darker than the grey the others were in. Early favorites included High on a Mountaintop, and the obligatory Radio Boogie. Forster and O'Brien thanked the many outlets involved in making the project happen, including Planet Bluegrass, and Tim made sure that Forster was recognized for putting it all together.
The mix of solemn appreciation and unabashed humor was staggering. Dr. Banjo kept the show as lighthearted as possible, telling jokes about how many banjo players it takes to screw in a light bulb. All but the doctor left the stage after an appetizer set, welcoming a "band" they discovered. Red Knuckles and the Trailblazers are Hot Rize in over the top western attire; with fringe guitar and even a pedal steel that Dr. Banjo's alter identity used as a walker when he joined the troubadours of western swing for takes on Hank Williams and Bob Will's tunes like Deep Water. For being such a small segment of the show, it was integral, turning Mackey into laughter filled rendition of the Grand Ol' Opry.
Hot Rize returned to the stage in their mortuary suits and rolled through a handful of new songs they hope to have released around this time next year. Slowly, the accumulation of bluegrass all-stars were welcomed back to the stage, with Dr. Banjo conducting the flannel coated cast of pickers on Going Across the Sea and Nine Pound Hammer, among others. With a full stage of local and nationwide bluegrass legends, it wasn't hard to leave happy, and that's just what I did when they took their final bow.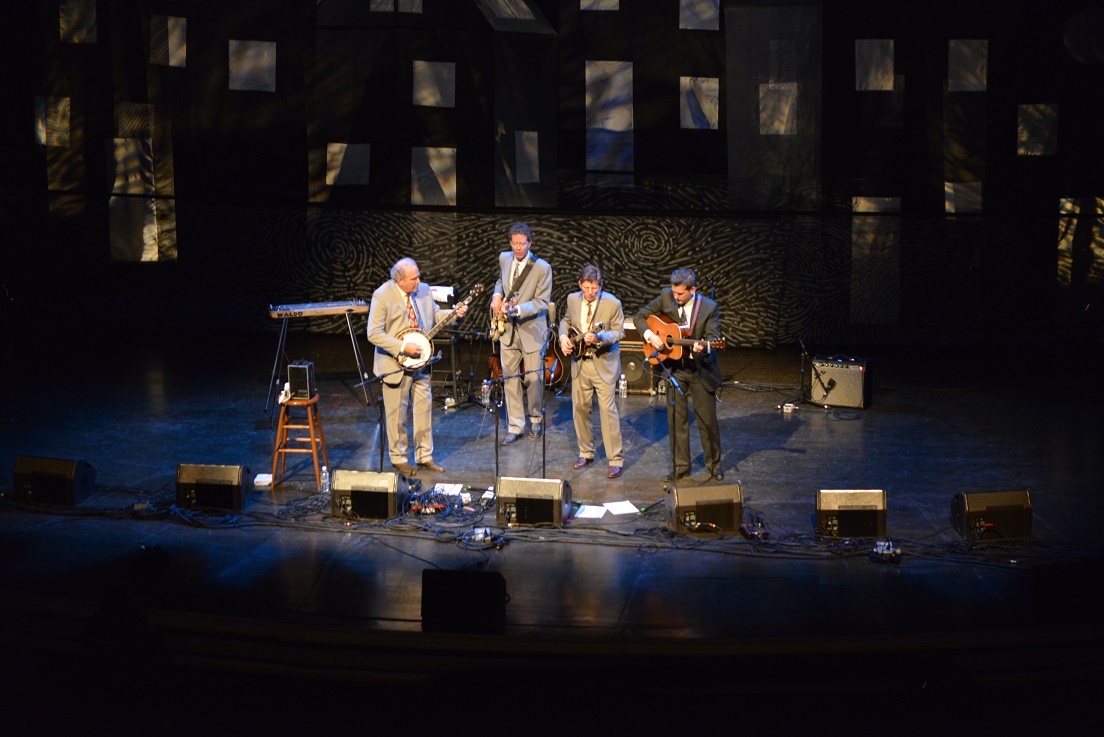 Nights like this, in a place like Boulder, Colorado, where we're already spoiled with the sights and sounds of a one of a kind community, puts everything into perspective. It's easy to take the beauty and sunshine for granted, but when such a devastating act brings complete turmoil to our loving little town, it sure is good to see the community Pickin' up the Pieces: one step, one note, one song at a time.