Today, Marco Benevento releases "Send It On A Rocket," his self-proclaimed "end of summer anthem" and third single ahead of new album Let It Slide (out September 20th on Royal Potato Family). In between references to reefer and Topo Chico, deep pockets of bass and spaced-out synths, the cascading composition reveals that behind the bandleader who covers his piano strings in gaffers tape and enjoys walking his pet goats and peacocks through the Catskill woods, there are patches of sorrow he's now ready to contemplate more seriously than ever.
Listen to "Send It On A Rocket" HERE, which Relix already calls "a laid-back tune that packs a punch with its lush, infectious chorus."
And head to Talkhouse to read Benevento's own introduction to the song, including a special thank you note to dearly departed friend Richard Swift, who was set to mix the record until his passing.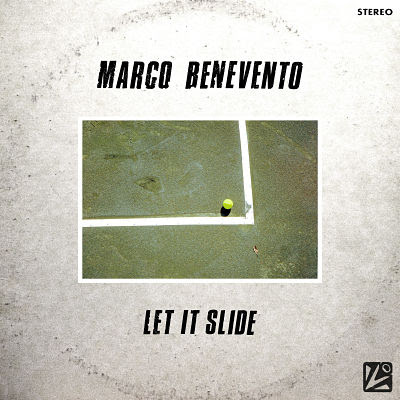 The sounds of "Send It On A Rocket" preview the new territory charted between Benevento and Let It Slide producer Leon Michels, a partnership marking the first time Benevento relinquished studio control of his own music. As evident on the new single, that surrender led to his deepest inward exploration, and spontaneous impulses like taping those piano strings.
This fall, Marco Benevento and his electrifying band bring the new music to over 30 US tour dates - find them all below, watch unreleased track "Oh Baby Can't You See" live on Adult Swim's FishCenter, and the homemade music videos for previous singles "Let It Slide" and "Say It's All The Same."
MARCO BENVENTO
Tour Dates
8/31 - Lake George, NY - Adirondack Independence Music Festival
10/10 - Buffalo, NY - Iron Works
10/11 - Ithaca, NY - The Haunt
10/12 - Albany, NY - Cohoes Music Hall **
10/13 - Woodstock, NY - The Colony *
10/17 - Portland, ME - Port City Music Hall ^
10/19 - Burlington, VT - Higher Ground ^
10/20 - Holyoke, MA - Gateway City Arts ^
10/23 - Fairfield, CT - FTC StageOne ^
10/24 - Brooklyn, NY - Music Hall of Williamsburg ^
10/25 - Philadelphia, PA - Underground Arts ^
10/26 - Washington, DC - Pearl Street Warehouse ^
11/2 - Shizuoka, Japan - Frue Festival
11/6 - Pittsburgh, PA - Club Cafe ^
11/7 - Grand Rapids, MI - Founders Brewing ^
11/8 - Chicago, IL - Lincoln Hall ^
11/9 - St. Paul, MN - Turf Club ^
11/10 - Milwaukee, WI - The Back Room @ Colectivo ^
11/11 - Davenport, IA - Raccoon Motel ^
11/12 - Indianapolis, IN - HiFi ^
11/13 - St. Louis, MO - Old Rock House ^
11/14 - Nashville, TN - Basement East ^
11/15 - Louisville, KY - Zanzabar ^
11/16 - Cleveland, OH - Beachland Tavern ^
12/5 - San Diego, CA - Casbah San Diego
12/6 - Los Angeles, CA - The Teragram Ballroom ^
12/7 - San Francisco, CA - The Independent ^
12/8 - Felton, CA - Felton Music Hall
12/9 - Mill Valley, CA - Sweetwater Music Hall ^
12/10 - Arcata, CA - Humbrews / Humboldt Brews ^
12/11 - Eugene, OR - WildCraft Cider Works ^
12/12 - Bend, OR - Volcanic Theatre Pub ^
12/13 - Portland, OR - Doug Fir Lounge ^
12/14 - Seattle, WA - The Crocodile ^
** w/ Mikaela Davis
^ w/ The Mattson 2