Maria Muldaur Presents a Loving Tribute to a Blues Pioneer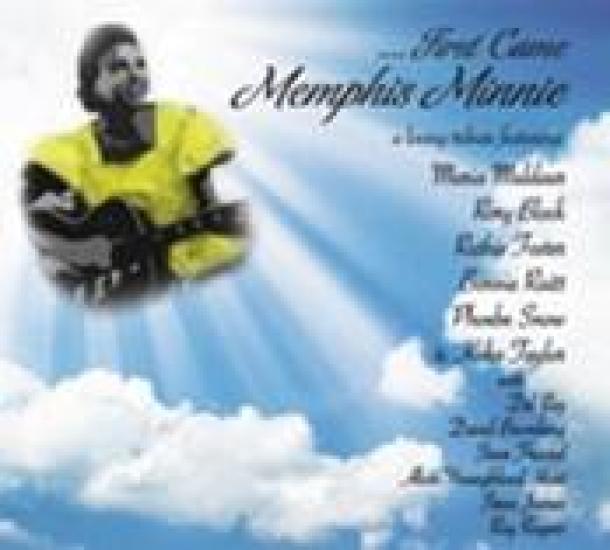 Stony Plain Records, Canada's roots music label, announces an October 9 release date for ….First Came Memphis Minnie, a loving tribute to the pioneering blues woman produced by multiple Grammy-nominee Maria Muldaur, featuring special guests including Rory Block, Ruthie Foster, Bonnie Raitt, Phoebe Snow and Koko Taylor. Other musicians appearing on the new CD are Del Rey, David Bromberg, Alvin Youngblood Hart, Roy Rogers, Steve James and Steve Freund. Stony Plain is distributed in the U.S. by ADA, in Canada by Warner Music and in foreign territories by a variety of well-established distribution companies.
….First Came Memphis Minnie includes several previously-released tracks from two of  Maria's Grammy-nominated albums, as well as new recordings by Rory Block, Ruthie Foster and Bonnie Raitt. Also, classic songs by Koko Taylor and Phoebe Snow are included: Koko's track comes from her CD, Old School, released in 2007; and Phoebe's from It Looks Like Snow, released in 1976.
Her 40th album is a true labor of love for Maria Muldaur, who considers Memphis Minnie to be not only a trailblazing musical pioneer for all women, but also a personal blues hero. "Way back in1963, when I was 'In My Girlish Days,' I had the amazing good fortune and privilege of meeting one of the original 'classic' Blues Queens, Victoria Spivey, when she was in her late 70s, living in New York City and running her own record label," writes Maria in her liner notes. "She took me to her apartment and played old 78s, looking for songs that would be suitable for my young voice. Of all the amazing tunes she played for me, the one that made the deepest impression was an old scratchy 78 of a haunting, soulful tune called 'Tricks Ain't Walkin'' by Memphis Minnie. From that moment to this, Memphis Minnie, and the example she set for me, has remained a profound influence on my life and my music. Here, I have joined with some of my Sisters in Music to pay tribute to the woman that inspired us and paved the way for us all."
The reigning queen of mid-20th century blues, Memphis Minnie was a true musical innovator who pioneered the electrified Chicago-blues-band sound. In her prime, she was a blues singer, songwriter, entrepreneur and guitar–player-par-excellence; a colorful, larger-than-life figure who in 1942 was one of the first blues musician to record with an electric guitar. In a recording career which spanned over 40 years, she released more than 200 songs, many of which she wrote and several of which endure today as blues classics, including "Chauffeur Blues," "In My Girlish Days," "What's the Matter with the Mill? and "When the Levee Breaks." From the beginning of the Great Depression through the end of World War II - through an endless stream of innovative recordings and consistently compelling live performances – she dominated the primarily male dominion of the Chicago blues scene.
"While many female classic blues artists in the '20s and '30s (Bessie Smith, Ma Rainey, Sippie Wallace, Victoria Spivey, etc.) sang accompanied by the likes of Louis Armstrong and other New Orleans-style jazz musicians, with bands that featured horns and piano, Memphis Minnie accompanied herself with a raw rhythmic guitar sound that came to be known as 'country blues,'" says Muldaur.
"At a time when women were 'kept in their place,' both personally and professionally, Memphis Minnie was tough, independent, outspoken, and played a mean guitar! But, she was more than just a guitar hero of early country blues. She ably adapted to newer trends and modernized her style, which helped account for her years of popularity. Memphis Minnie was one of the few figures to make the successful transition from the rural, acoustic guitar-dominated blues of the
1920s to the urban nightclub styles of the '30s, '40s and '50s. She was tough, determined, talented, and courageous enough to defy and overcome all the racial, social, economic, and gender barriers that existed in her time, forging the life she envisioned for herself on nothing but her own terms!"
Maria Muldaur will kick off the release of ….First Came Memphis Minnie with an extensive tour, including shows in a number of markets she hasn't visited in some time. She'll be accompanied by her Red Hot Bluesiana Band, and will perform songs not only from the new CD, but also from her critically-acclaimed and Blues Award-nominated last CD, Steady Love, one of the most accessible, joyful and soul satisfying releases in her ever growing catalog of memorable music.
Over the last decade, Maria Muldaur has released a number of lovingly and authentically produced acoustic blues albums paying tribute to the early blues pioneers and legends, and garnering multiple Grammy and Blues Foundation nominations. As on all her albums, Maria's distinctive, deep and impassioned vocals are here soulfully preachin' and shoutin' the blues.
For more information, contact www.stonyplainrecords.com and www.mariamuldaur.com
-
Tour Dates:
9/22                              WOW Hall                                           Eugene, OR
9/23                              Duff's Garage                                       Portland, OR    
9/26-9/27                      Highway 99 Blues                                 Seattle, WA
9/28-9/29                      Upstage Restaurant                               Port Townsend, WA
9/30                              Vancouver Fan Club                              Vancouver, BC
10/1-10/2                      Hermann's Jazz Club                             Victoria, BC
10/3                              Queen's Hotel                                       Nanaimo, BC
10/4                              Minstrel Café                                        Kelowna, BC
10/5-10/6                      The Royal on Baker                              Nelson, BC
10/10                            Dakota Bar & Grill                                Minneapolis, MN
10/13                            Callahan's                                             Auburn Hills, MI
10/17                            Bridge Street Live                                 Collinsville, CT
10/18                            Showplace Live at Patriot Place             Foxboro, MA
10/19                            Boulton Ctr. for the Performing Arts      Bay Shore, NY
10/20                            Tupelo Music Hall                                 Londonderry, NH
10/21                            Chaplin's Music Cafe                            Spring City, PA
10/26                            The Moon                                             Daytona Beach, FL
10/27                            Funky Biscuit                                        Boca Raton, FL
10/28                            Skipper's Smokehouse                           Tampa, FL
11/1                              Snug Harbor                                         New Orleans, LA
11/2                              Dosey Doe                                           The Woodlands, TX
11/3                              Dan's Silverleaf                                                Denton, TX