A man in the will-call line commented that he flew in from North Carolina to catch this show. Another girl drove for at least 30 hours from Connecticut to Morrison, Colorado, ticket in hand, to see one of the greatest forces in music play one of the most amazing venues on the circuit.
My Morning Jacket's Jim James is a seemingly spiritual man. Or perhaps mindful is the correct word. A MMJ show is a sermon of energy; and Red Rocks--that place could be absolutely empty and you'd walk in and your jaw would just hit the floor. So it would make sense that this band and venue join forces to deliver a show that pulls in thousands of locals as well as fans from thousands of miles away.
"I just can't believe that this place exists," James commented on the natural amphitheater, "it's like we're encased in two loving arms." (He'd potentially be encased by about 9,000 more sets of loving arms if the audience could get past security). James is simply one of the most energetic front-men out there these days, both physically and spiritually. He is a machine. MMJ's dedicated fan-base took note of the perfect band playing the perfect venue, and with the perfect opening act to boot.
Amos Lee took to the stage as the sun was starting to get low in the sky, and proceeded to charm the audience from the first note. With his acoustic guitar he threw down that smooth, undeniable Amos style, and took in the venue with eyes mostly closed for the first few songs. When they opened, everything got just a bit more beautiful. Accompanied by the amazing Andrew Keenan on pedal-steel, Lee warmed up the audience with "El Camino" and "Jesus," a song written about his grandfather and the day he died. The wind is another notable factor at Red Rocks, and it responded to Lee's brilliant performance in a perfect compliment from nature.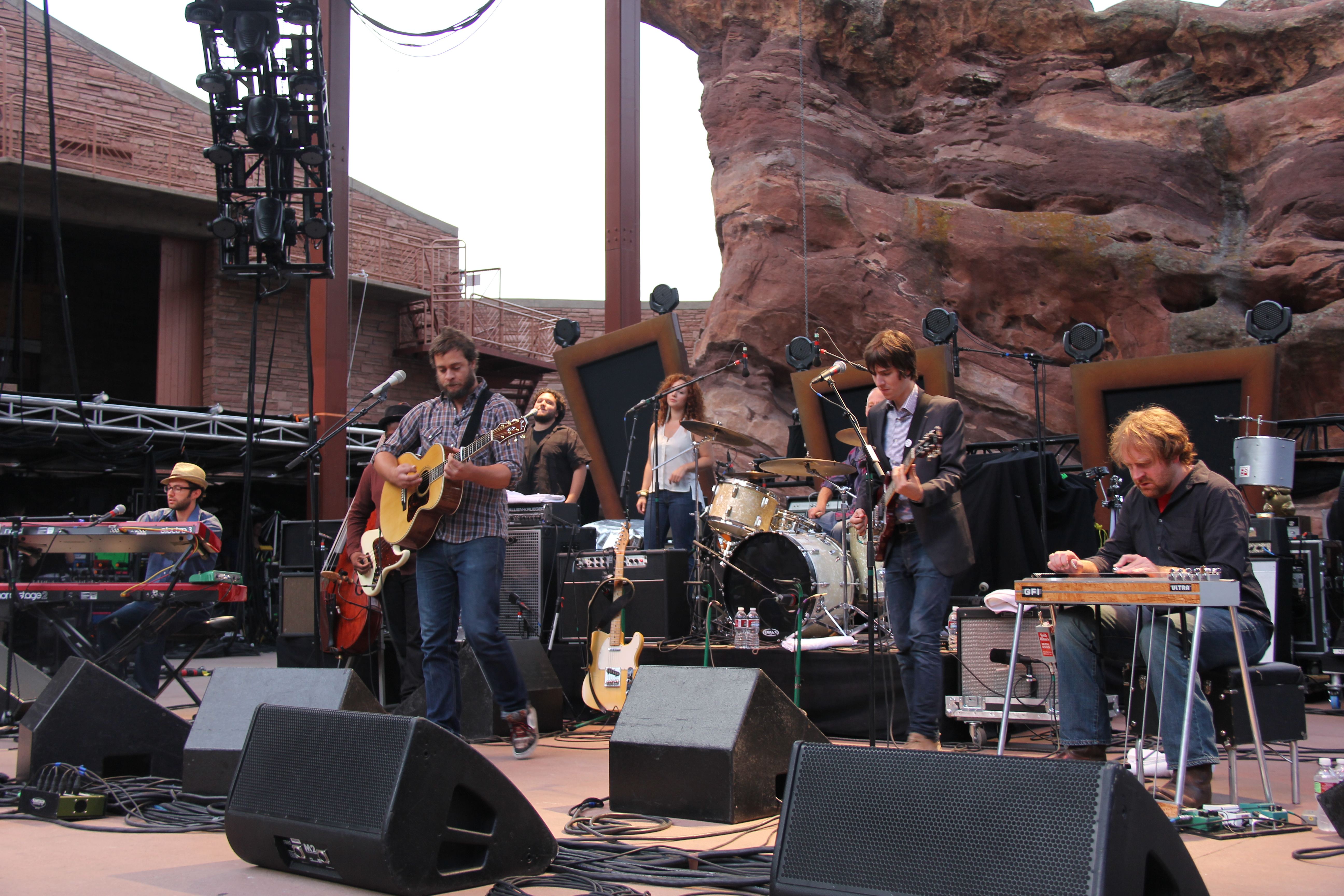 MMJ may be opening every show this tour with "Victory Dance" and "Circuital," but one has to admit that it's just exactly perfect. The steady groove of the first number not only is a expose of the new record "Circuital," but also sets an incredible mood for an evening, with James manning the mic and SP 404SX sampler as the rest of the band subtly, yet boldly chimes in. The album's title track moves to a lighter mood, with James on acoustic guitar, and utter celebration abound.
James donned his signature long-tailed jacket and proceeded to be an energy center within an energy center, jumping around, shaking his mane, dancing, reveling and even doing what seemed like a bit of rock and roll yoga. Guitarist Carl Broemel, bassist Tom Blankenship, keyboardist Bo Koster, and drummer Patrick Hallahan all felt the energy as well, not showing a hint of the road weariness that they must have felt from the night after night performances they've doled out all summer long.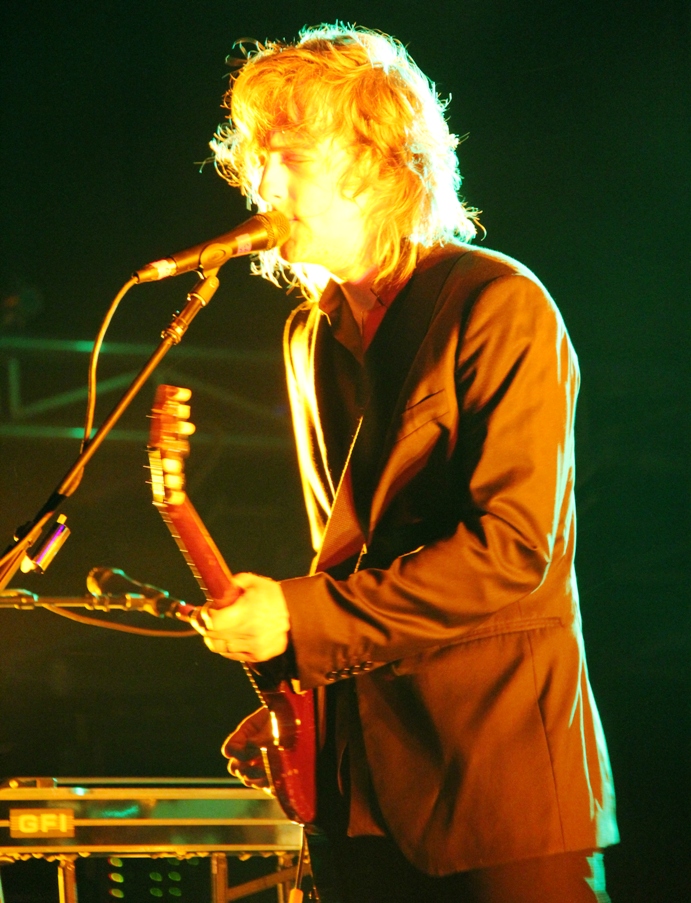 The show was a cornucopia of songs from the new album including the Ramones-esque "Outta My System," an absolutely stellar "First Light" (with Broemel killing it on saxophone and James on the Flying V axe), the new crowd favorite "Holdin' On to Black Metal" and the inarguable theme-song of the evening, "Wonderful."
And the old mixed with the new just fine. The hard-rockin' reggae style of "Off the Record" and a "Lay Low" with double guitars that would've made The Allman Brothers nod in approval shared time with an easy going "Golden," featuring Broemel on the pedal-steel and James on acoustic.
A quick second for drummer Patrick Hallahan. This guy not only plays his ass off with his jaw hanging open all night, but matches James' theatrical energy perfectly from behind the kit. He hits hard, he hits fast, he hits subtle when the time comes--but he always hits home.
The subtle beginning of "Dondante" built up and erupted all over the audience in stellar guitar apocalypse, and "Smokin' From Shootin'" cooled things down in a crowd sing-a-long, while "Mahgeetah" proved to be the perfect summer concert theme-song to close the set.
Just in case anyone felt shorted by all of the above as well as "Gideon," "Steam Engine" and "I'm Amazed," a glorious evening closed with a glorious "One Big Holiday."
An amazing night in the perfect place with the perfect folks. Everyone who attended, including MMJ and Amos Lee, will talk about Thursday as a highlight of 2011 for many years to come.