On Tuesday July 22nd, SoCal based band Pepper released their new album, Pink Crustaceans and Good Vibrations. Originally from Hawaii, the band brought their island rhythms and sounds with them to the mainland a few years back after they were noticed by a Los Angeles based indie record label. Picking up where Sublime left off, Pepper plays a mix of dub, reggae, and rock, and Pink Crustaceans encompasses this sound perfectly.
The similarities to Sublime were evident to me almost immediately. The tone of the vocals, the three-piece band, the emphasis on lyrical cleverness, are all reminiscent of Sublime's pioneering sound. Its not such a bad thing though, I'd always wished that Bradley Nowell would have lived long enough to put out a few more albums, and I don't think I'm alone in that desire.
Relaxed, soulful, and slightly sex obsessed (in a good way), the new album has a nice flow to it, so much so that you don't even really notice a pause until it's over. The first song on the album, Freeze, sets the stage for the album's sound right off the bat, with dub-style verses and an aggressive, rockin' chorus. The next track, Davey Jones Locker, is a little mellower, giving singer/guitarist Kaleo Wassman an opportunity to flex his vocal muscles. The falsettos performed by him in this song are one of the biggest ways to differentiate his voice from Nowell's, and he does them brilliantly. Bassist Brett Bollinger contributes vocal harmonies that were often lacking in Sublime's music as well.
The gentle sex obsession really comes to light in the third track, Things That You Love, a song written, presumably, to a woman of interest. "I'm picturing you naked standing in your boots," is my favorite line, and the theme continues into the next track, Wet Dreams. A little more of a rock and roll track, bolstered with hip-hop type synthesizer sounds, Wet Dreams is a little more high-energy, perfect for song #4, and another of my personal favorites. Love 101 follows at track 5, and is less overt about the sex in favor of a simple message of love, or at least giving love a try.
Track 6 is another song written to, or rather about, a girl, Lucy in this case (that's also the title of this track). Simple, sweet and light hearted, but not overly sentimental or sappy, Lucy is one of my favorite tracks off the album. Musical 69, actually my least favorite track on the album, comes next, and yes that is also a sexual innuendo ("put yourself around me in a musical 69!"). Very much a reggae track, Musical 69 grooves right along, a solid example of Pepper's danceable beats and island rhythms. I like the sound; I just don't really care for the lyrics. Sex appeal has its place, but the "69" reference reminds me of the verbal shenanigans I used to pull in middle school.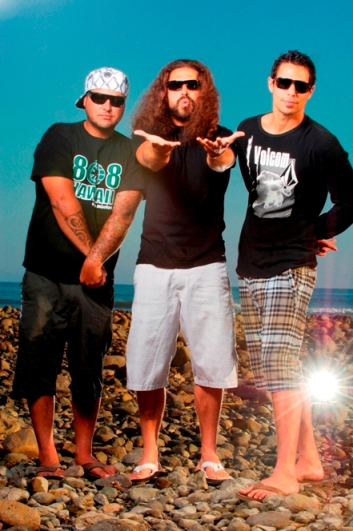 The second half of the album leans more towards the rock end of the spectrum, but without losing the reggae appeal. Track 8, called The Phoenix, is another of my favorites. A little darker and bass heavy, The Phoenix has a bit of a Stephen Marley vibe, and is one of the few tracks with anything resembling a lead guitar track. This track too, may or may not be about a girl ("my lady phoenix"). Followed by a few more rockers, called Do Something and Slave, tracks 8, 9, and 10 make for a good back-to-back-to-back listen. Do Something also features a damn decent change in tempo between verse and chorus, something that can be difficult to pull off.
The transition from track 10 to 11 is seamless. Although this track (Ambition) is also something of a rocker, it features a steel drum solo (although it may just be a guitar affected to sound similar to a steel drum set) in the middle that brings the reggae vibe back into the foreground. The vibe is all but lost in track 12, Stand and Fall, which is the closest thing to a straight-up rock song on the disc, showing off the band's ability to blend many genres together into a sound that screams of beach town.
Track 13, Blackout, is a little more difficult to describe. It starts out sounding almost like punk rock, but fades into a quieter, spoken word verse, and a simple one-word chorus ("Blackout!") that mirrors the opening notes of the song. Track 14, Drive, falls back into the dub sound to close the album, featuring brief hints of hand drums and upbeat guitar strumming. It is also one of the only songs to feature a lead guitar part, and ends with a few minutes of silence followed by a humorous, one-minute secret song, called perhaps Cockman, but since its not listed on the liner notes, that's just my best guess.
I give the album a solid B rating. All and all, I found Pink Crustaceans to be an enjoyable listen, and since few of the tracks are over 3.5 minutes, the album as a whole is the perfect length to hold my attention to the end. Not entirely original in their sound, but certainly good at what they do, Pepper's music puts me in a good mood, even when they're rocking through the second half of the album, and would be good for anyone looking to insert some rhythm in their life. Pepper is currently touring with Slightly Stoopid, and will be making two appearances near my home town in August, first at Red Rocks in Morrison, CO, then at the Fox Theatre in Boulder the following night. It's sure to be a good time, so check 'em out!