Secret Chimp Swings into the Spotlight at SF's Connecticut Yankee
Seeking refuge from a brisk and windy San Francisco evening, hirsute hippies and mustachioed hipsters file into the Connecticut Yankee for a special performance by jam band collective Secret Chimp.  Ironically enough, the Connecticut Yankee, which has undergone a plethora of name changes and facelifts since it first opened in 1907 as "Hilda's Saloon," is in fact a loyal municipality of Red Sox Nation. Go figure!
Secret Chimp features a complex concoction of seasoned blues rockers and country journeymen.  Anchoring the group is Jim Lewin of Great American Taxi, whose precise, weaving guitar lines captivated fans throughout the night. Bill Laymon, a touring member of both David Nelson Band and Kingfish, provided a firm backbone with his throbbing, tight bass work.  Add in Scott Cooper of Bay Area based The China Cats on rhythm guitar, and things really start heating up. And there's still so much more! Former Dark Star Orchestra drummer Mark Corsolini, who also plays with Front Street, pitched in with a steady rhythmic smack that channeled Mickey Hart of the Grateful Dead. Topping things off, DB Walker Band keyboardist Lachlan Kane laid intricate, ethereal organ tracks reminiscent of The Bands' Garth Hudson.
Interspersed with their tight, funky original material, Secret Chimp treated fans to a series of inventive covers. Harmonizing with a contrived southern drawl, the band blasted out a visceral, energetic cover of "Mystery Train." Propelled by Cooper's rhythm guitar, the track featured a fast, fiery tempo. Although we know there is pain and despair in the singer's voice, we also feel the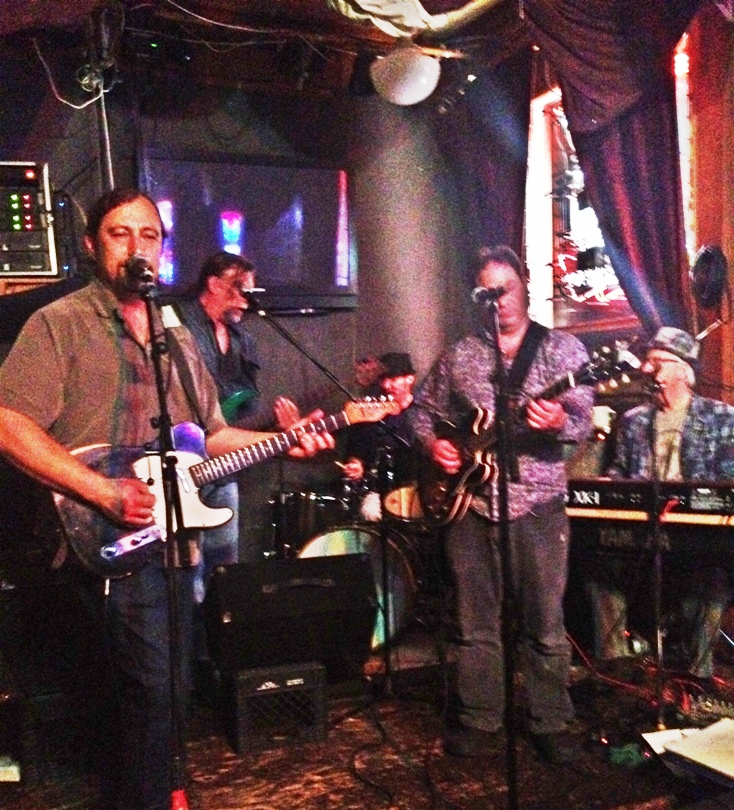 anticipation of the arriving train that offers up hope and relief. The vocal is uplifting and resonates with a fervor that expresses a very definite sense of sexual angst. The lead guitar is actually quite naughty, and we know exactly what's going to happen when the lovers are reunited. As the singer declares that the train "will never take his baby again," he unequivocally rejects that often-unchallenged dominance of the locomotive beast. Though the original version of this song, which dates back at least as far as Little Junior Parker, is rooted in a deep feeling for the blues, Secret Chimp's cover is something new and altogether unique. It maintains the dissatisfaction and abandonment of the blues, but weds it with the excitement and frustration 60s counterculture.  As the band breaks between sets, Cooper looked out at the audience and invited illicit activities with a wily smile, "if you have to go outside, make sure you come back with an illegal smile on your face."
During the subsequent intermission, a middle-aged couple was in deep conversation as they discussed the complexities and nuances of "Denver sensibilities." Ending this discussion abruptly, however, Secret Chimp picked up right where they left off by launching into a cover of Three Dog Night's "Brickyard Blues." Set against a stiff piano and bobbing baseline, Laymon tilted back his Stetson hat and purred: "Play me somethin' sweet, play me somethin' mellow / Play somethin' I can sink my teeth in like Jell-O / Play me something I can understand." Squeezing the mic stand until his knuckles turned white, the singer enthusiastically belted: "Play me some Brickyard Blues!"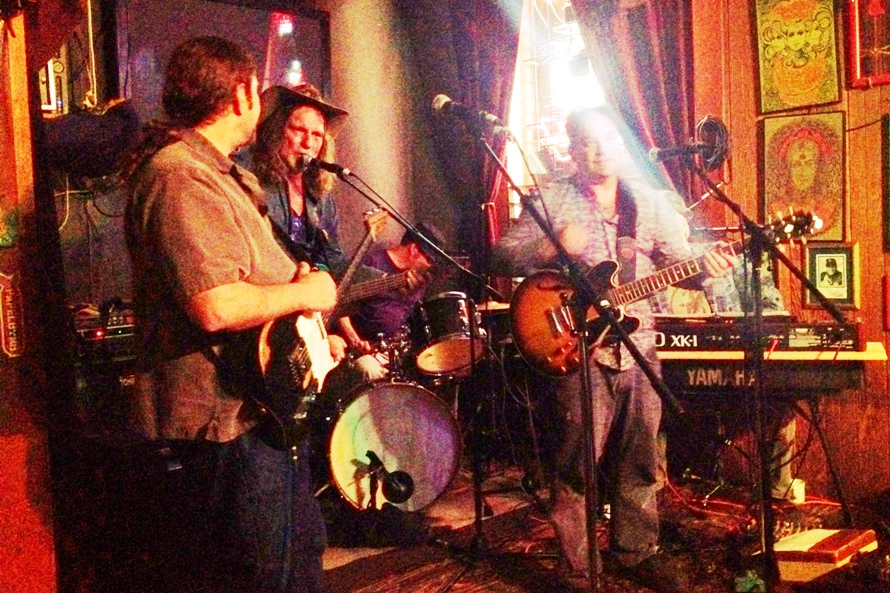 Delighting those in attendance with their take on The Band's "Twilight," Secret Chimp paid tribute to Robbie Roberston, Rick Danko, Levon Helm, Garth Hudson, and Richard Manuel as they sang in harmony: "Don't send me no distant salutations / Or silly souvenirs from far away / Don't leave me alone in the twilight / 'Cause twilight is the loneliest time of day." Following one stellar, timeless track with another, Secret Chimp whipped fans into a frenzy of euphoric twirling and swaying with a foot stomping rendition of "Panama Red," which drummer Mark Corsolini dubbed a "certified counterculture anthem." Singing out to a room full of grateful fans, the band dusted off the Peter Rowan classic: "The judge don't know when Red's in town / He keeps well hidden underground / But everybody's acting lazy  / Falling out and hangin' 'round." As the set reached a climax, the singers yelled out with reckless abandon "Panama Red is back in town!"