Influencing generation after generation of musicians—from Primus to No Doubt to The Red Hot Chili Peppers, Fishbone was and continues to be a monumental force in the disintegration of musical and social borders. Mixing styles including ska, reggae, heavy-metal, jazz, funk and punk-rock, the Los Angeles band has been a necessary treasure to the world of modern music.
The current line-up, led by founding members Norwood Fisher (bass, vocals), "Dirty" Walter A. Kibby II (trumpet, vocals), and Angelo Moore (lead vocals, saxophone, theremin), consists of John Steward (drums), John McKnight (keyboards, trombone, guitar, vocals), Rocky George (guitar) and Dre Gipson (keyboards, vocals).
Twenty five years from their debut LP Fishbone, and aged in physique, but not in energy, they unleashed a rhythmic madness on the intimate crowd at the decrepit Aggie Theater in Fort Collins. The audience—consisting of punks, metal heads, ska fans, preps, hippies, dread heads, and ranging in age from teens to middle aged, demonstrated the diversity of the band's following and paralleled the diversity of their music.
Robert Cristgau once described the band as "looking like postmodern vaudevillians who've just signed themselves in at the mental hospital," and though after all these years their appearance is slightly toned down (and don't get me wrong, baby, they're looking GOOD), their performance has not decelerated in the least bit.
Moore started off the show with a cart-wheel, and didn't stop jumping; dancing, shaking or running around like a maniac with an agenda for the next two hours—this man still works for his money. He was personable with the audience, crowd surfed, and tore ass on the saxes, theremin and vocals with the same juice he had in his twenties.
The boys ran through ska heavy numbers "I Wish I Had a Date," "A Selection" and "Cholly" from 1986's In Your Face and included songs off of most of their studio albums, with the exception of their heaviest release Give a Monkey a Brain and He'll Swear He's the Center of the Universe (1993). I had figured tracks from this album would have been a shoo-in with ex-Suicidal Tendencies guitarist George in the line-up. But nevertheless, the show was no less remarkable than it would have been with their inclusion.
"I Like to Hide Behind My Glasses" (Truth and Soul, 1988), "Everyday Sunshine" (The Reality of My Surroundings, 1991) and "Alcoholic" (Chim Chim's Badass Revenge, 1996) were horn heavy and loaded with funk bass slappin', reggae rhythms.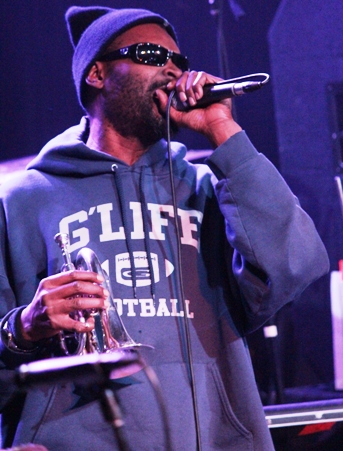 The ska flag flew high during "Let Dem Hoes Fight," "Behind Closed Doors," and "Lyin' Ass Bitch" complete with a mosh-pit in full effect on the floor. Moore injected his special brand of spoken word poetry and story telling in between songs, keeping new and old fan's eyes open wide.
The music world is blessed to be able to still check out this high intensity band of top-notch musicians. Don't miss them when they stop in your town. Catch a timeless piece of alternative music history that has, and continues to (new album due out sometime this year) influence and shape the progression of modern music.