The String Cheese Incident celebrated its 20th anniversary as a Boulder band during a three-day New Year's Eve run at the 1st Bank Center. Out of all the big name jambands that got their start in the '80s and '90s, I can say with certitude that SCI has evolved the most from its incipient incarnation. On its first night, it opened with a Sgt. Pepper's Lonely Hearts Club Band > A Little Help From My Friends couplet, with guitarist and vocalist Bill Nershi explaining the provenance. Originally, the sextet began as a quartet in 1993, adding keyboardist Kyle Hollingsworth a few years later and percussionist Jason Hann in 2006. The band, in turn, got a little help from its friends. But apart from growing by 50%, the real evolution has been the sound. Formed essentially as a newgrass group, SCI has incorporated layers of rock, jazz, funk, electronic, and Latin music onto their original repertoire to create rich, variegated soundscapes that keep Cheeseheads dancing with passion. Sunday evening was no exception.
If there is any song that demonstrates how far SCI has been willing to musically branch out, it was their opener, Bollymunster. As the name indicates, it was arranged to sound like a Bollywood song, but while it is founded on the interplay between strings and percussion, it is framed by an electronic resonance. Bollymunster was a very interesting listen, but it did not provide the best opening material to commence the festivities.
In fact, I would have far preferred SCI to begin with its second song, a powerhouse rendition of bassist Keith Moseley's Sometimes a River. It started out as a conventional mid-tempo rock piece, but then the jam got heavy with Hollingsworth's ethereal Hammond work during a solo between the second and third verses. River really heated up when Nershi took his turn in the spotlight. He didn't pick up an electric guitar to play with SCI until a decade after the band's formation yet, by the complete command and potency of his solo, it almost seems like it was too long. But that's just another element in the cauldron of SCI's evolution. Nershi's phrasing was very straightforward, but also uplifting and quite beautiful. It reminded me of a time when rock 'n' roll was king of the country, not just a relatively specialized genre.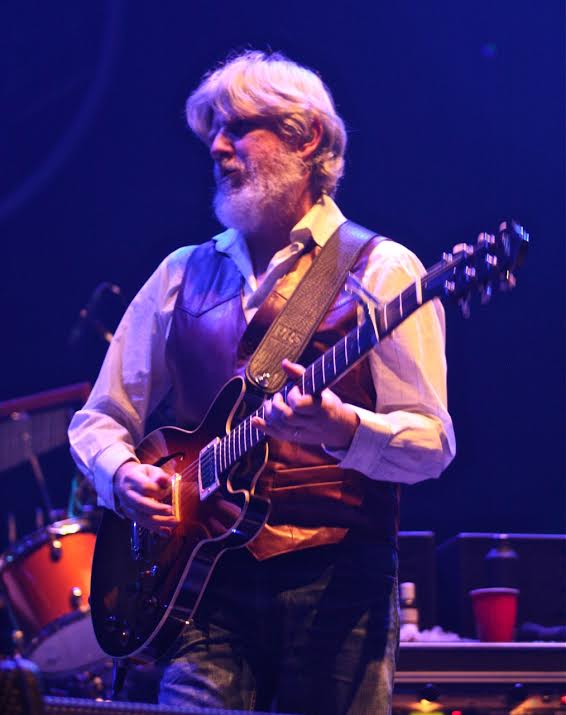 River segued into one of the band's two apexes of the first set: Rhum 'N Zouc. This Jean-Luc Ponty cover has been a mainstay in the Cheese oeuvre since its early days, but has found an even higher gear since Hann joined the band. He and drummer Michael Travis laid down a truly inspiring Latin jazz rhythm with an extra dose of syncopation. This piece has always created an opportunity for fiddler and mandolinist Michael Kang to shine. Ponty was a jazz violinist and he wrote Rhum 'N Zouc to show off his chops. Kang did a particularly impressive job in using notes sparingly, allowing Travis and Hann to cohabitate in the same space. Dancing on the floor of the 1st Bank Center became feverish and the crowd roared in approval upon its conclusion.
SCI brought out Wayne Coyne and Derek Brown from The Flaming Lips, who were watching the show from the wings of stage right. As an aside, The Flaming Lips trotted out a wonderfully decadent light show and stage props for its opening act. I also think that some of its efforts, like The Soft Bulletin and Yoshimi Battles The Pink Robots, are among the best albums I've ever heard. But The Flaming Lips were not a good opener for a band like SCI. The music was layered and lush, but usually down tempo and undanceable. The night before, Bootsy Collins opened for SCI and the entire crowd was pumped up from the beginning. And that's the difference between visceral funk and experimental rock. When they arrived on stage, Coyne delivered a three-minute speech about the legalization of marijuana over the opening bars of Merle Haggard's Okie from Muskogee. When the country song finally commenced in earnest, it was botched by Coyne's pitchy vocals and the air was just sucked out of the entire arena. The collaboration materialized from the lyrical connection to Colorado as well as The Flaming Lips' and Moseley's Oklahoma roots – but it fell flat.
However, the energy quickly resumed with Song In My Head, punctuated by Hollingsworth's ever-buoyant Hammond work and Kang's mandolin solo. With the electricity firmly back in the arena, SCI closed out the set with its second apex, a Best Feeling > Jam > Restless Wind triptych.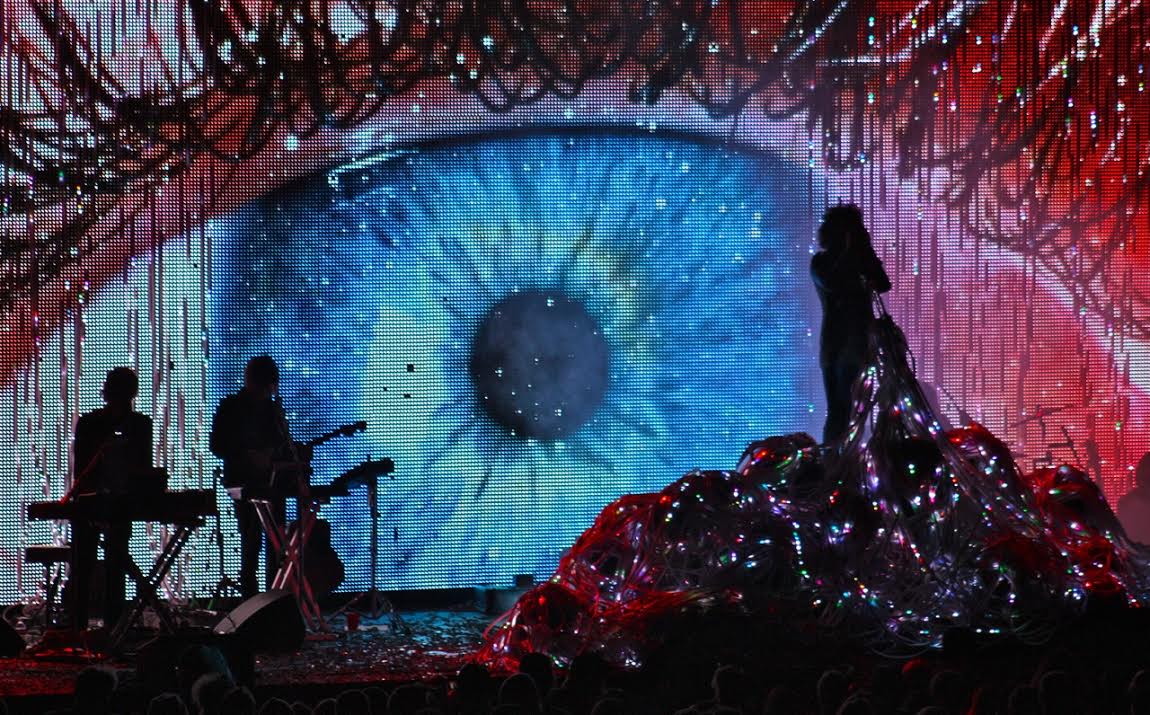 Kang, as always, sang the Keller Williams mainstay, Best Feeling. The rest of the band played quite sparingly around Kang's vocals and even during the initial jam, the other five musicians hit the edges, handing the reins to their mandolinist to take over. Kang kicked the jam off with a haunting display of reverb – it was like listening to Michael Hedges if he picked up an electric guitar. Sharp echoes rang out from his mandolin for a couple of minutes until he decided to marry his notes to the thunderous pulse of Travis's floor toms and hi-hats. This provided the pad from which Kang launched into an exquisite rock solo which had me pointing my face toward the sky and closing my eyes. It was my way of soaking in the pure, unadulterated joy.
Best Feeling segued into a nearly ten-minute jam, highlighted by Nershi's acoustic picking during the latter half. The band fed off of his creative fretwork before changing pace to introduce Restless Wind. After the verses, the sextet seemed to be on the same page when it abruptly slowed things down, likely in order to build up steam for an accelerando to end the set. For a couple of minutes, I was worried about where the band was taking the piece, since no momentum materialized. But, as often occurs, Travis and Hann ended the stasis by accelerating the rhythm. The crescendo and accelerando were perfect as Kang started the blaze with a fiddle solo before handing duties off to Hollingsworth to get the bonfire going on his Hammond. Just as rapidly, he passed the torch back to Kang who ensured everyone danced like the floor was on fire with a short, yet incredibly majestic, mandolin solo.
SCI brought out a host of guest musicians in the second set, the first among them a trio of brass stars: Karl Denson, Chris Littlefield, and Los Lobos' Steve Berlin. The set opened with Rosie, but didn't get cooking until Miss Brown's Teahouse. To be more specific, the meat of Miss Brown's sandwich, The Chicken, got the crowd fired up with a hybrid dose of New Orleans brass and booty-shakin' funk. The Chicken segued perfectly back into an abbreviated Miss Brown's reprise. While I was a little disappointed that the band did not explore the outer edges of this powerhouse like it normally does, I quickly forgot about it during the opening bars of the next song.
John Coltrane's Impressions proved to be the first big-time highlight of the second set. SCI has been sinking its teeth into this meaty jazz epic (which, having been released on its eponymous album 50 years ago, is celebrating a golden anniversary), since the late '90s, but rarely with the texture added by Denson's flute, Littlefield's flugelhorn, and Berlin's baritone sax. All nine men attacked each movement with the requisite emotion and acute listening skills to make one of Coltrane's signature compositions come alive. For the intro, the deep, gravelly sound of Berlin's sax combined, almost poetically, with the airy inflection of Denson's flute. Kang voiced the same notes as Berlin and Denson on his mandolin to provide a mid-range timbre, melting the high and low registers together. With the melody set, Littlefield took the first solo which was, through no fault of his own, just slightly muffled due to the volume on his microphone. Littlefield has an incredible sense of phrasing when he plays and I just wish the levels were a little higher. After Littlefield, things really started taking an interesting turn, beginning with an electronic segment. Hollingsworth, channeling Herbie Hancock, vamped on his Rhodes and then, about five minutes in, the jam dropped off a cliff into an eerie, ambient space. When a slow tempo was reestablished, Nershi bathed it in loud singular notes on his acoustic guitar, bending them in a fashion that almost emanated an Indian vibe. Denson followed Nershi's path, voicing his solo with a lot of tremolo and volume. About 11 minutes in, the drummers increased the tempo and Denson passed the baton back to Hollingsworth and Kang, who bridged the jam back to original riff.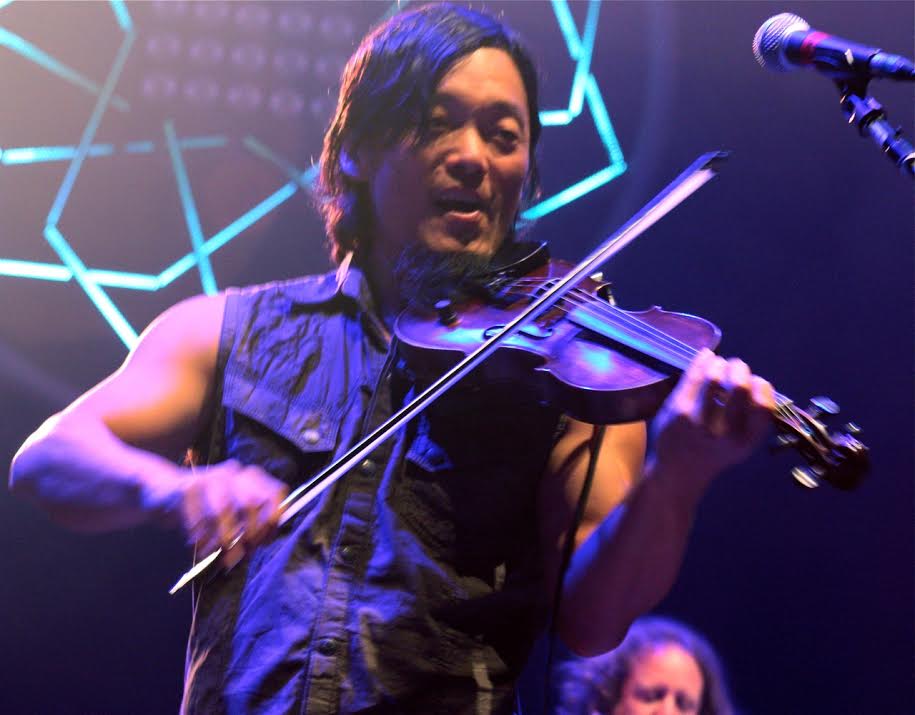 Berlin stayed on for the next piece, a cover of The Grateful Dead's Bertha, and was joined by bandmate David Hidalgo. This 11-minute version outpaced the sheer scope of anything The Dead ever did with this song, but certainly did not due justice to the feeling of a 1972 Bertha. Hidalgo delivered a rip-roaring guitar solo that had everyone dancing like mad until the band decided to pull the chord about five minutes into the piece. Letting the bottom drop out during Impressions provided a new soundscape to explore, but it was not a fortuitous choice for Bertha. Attempts to reignite the flame did not come to fruition until three or four minutes later. Granted, the finale, after the repetitious "Anymore" section imparted Hidalgo with one more opportunity pump electricity through the arena. Hollingsworth bolstered the solo with the type of organ and piano work that creates an involuntary smile. As a Deadhead, I just found the slow section in a song like Bertha a little too stunting.
Nershi's acoustic-driven Barstool gave the crowd a breather and Joyful Sound was, likewise, uneventful – that is until it segued into a Travis and Hann duet. Known together for their electronic band, EOTO, the two percussionists spent three minutes layering samples on top of some simple beats. The result was a pulsing tapestry of sound that compelled many in the crowd to bob their heads back and forth in unison.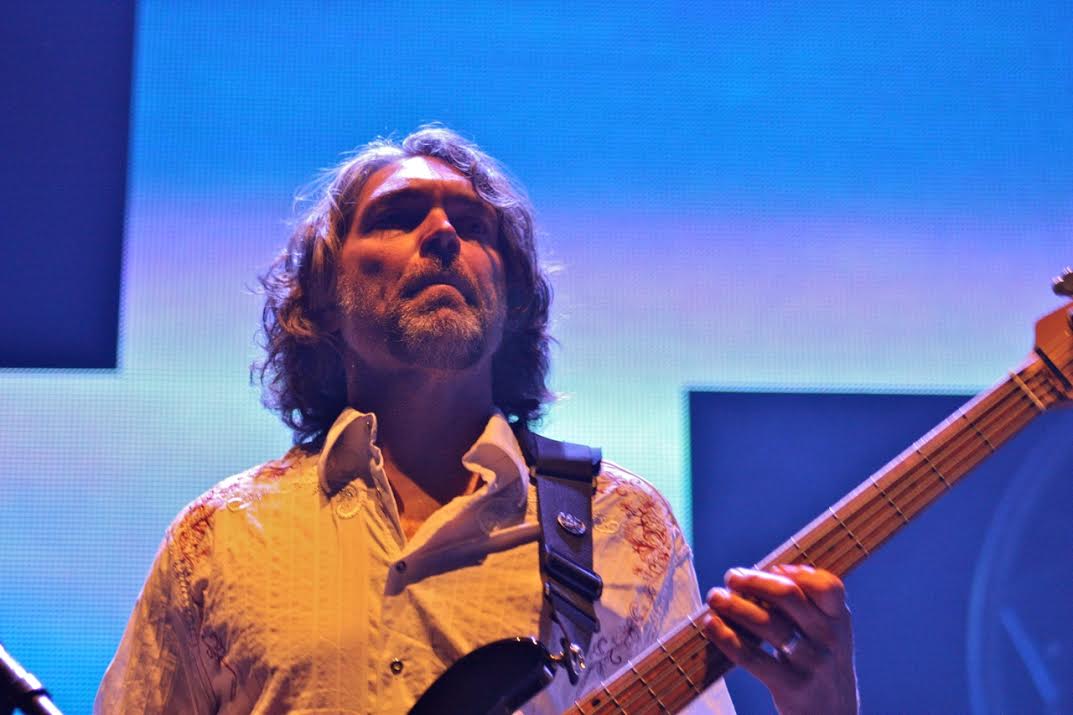 The rest of SCI, plus David Hidalgo, rejoined the percussionists and closed with a truly uplifting Close Your Eyes. It started with an extended instrumental jam intro before Hollingsworth's vocals. As with most any set closer, the band made sure that everyone was dancing on a floating cloud with its most sublime crescendo of the evening. Hidalgo took the first solo and then handed it off to Kang who brought it home with a soaring effort that spiraled upward with Hollingsworth's piano and organ flourishes, Travis's cymbals, and Moseley's thunderous bass notes until they all simultaneously climaxed.
Keller Williams joined SCI for a Breathe > Royals > Breathe encore to cap a solid night of music. It is hard to believe that 20 years has come and gone so quickly and a bunch of musicians that once played bluegrass standards has branched out to so many musical genres. Everything in the repertoire was on stage tonight, from rock to jazz to Latin to electronic and even funk. The sundry styles and bevy of guest of musicians made for a good mixture of salty, spicy, and savory Cheese.