Tapes 'n Tapes Beat the Blogs: Live at the Fox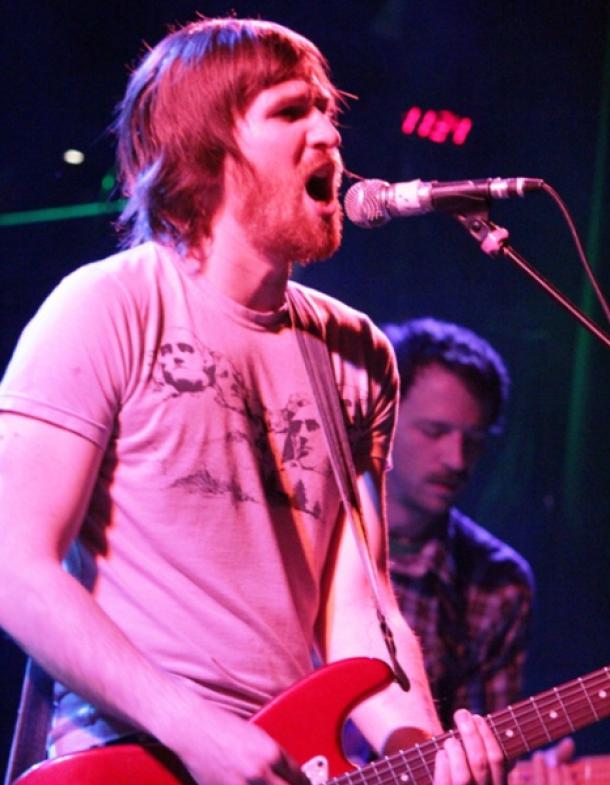 It was an evening of indie rock Saturday at the Fox. Tapes 'n Tapes, with support from Dale Earnhardt Jr. Jr. and Fellow Citizens all put in a full nights work taking the audience on a ride through effects-laden harmonies, sonic shoe-gazing and urgent power pop. The three groups collectively played one of the best shows billed as "indie" that Boulder has hosted in a while.
Fellow Citizens from Denver opened the show with a wall of texture, recalling early sonic layered sound of The Verve. Their echoing vocals and dense instrumentation were mentally permeating and audibly captivating (though unfortunately not done justice by the house sound). Eliza Boote's harmonium melds with the guitar work of Peter Goodwin and Nathan Wright creating an immensely full sound, with a hint of folk from the fiddle of Sarah Michaels. The Citizens are currently going through a bit of a line-up change, but regardless, are a band to keep your eye on.
Dale Earnhardt Jr. Jr. is the best thing to come out of Motor City since the assembly line automobile. Hitting the stage in pit-crew jumpsuits and bent-brim mesh ball caps, the harmonies of Daniel Zott and Joshua Epstein were simply mind blowing. Their electronic backed brand of 60s pop recalls the origins of a genre that has perhaps morphed into a slimmed down version of what it once was. "Simple Girl" recalls a cosmic Simon & Garfunkel sound. A cover of "God Only Knows," accented with rippling keyboards and sparkling cymbal rolls and crashes over a heartbeat consistent bass drum, did justice to their surf rock heroes.
The "live by the blog, die by the blog" hype that seems to follow Tapes 'n Tapes around like a dark media cloud lacked relevance on the evenings performance. Singer and guitarist Josh Grier has said "I don't ever find that it's very helpful to read your own press," and this is indeed the ticket in a world of poorly regulated cyberspace opinion vomiting. The foursome from Minneapolis played the music they play, in all of its alt/power pop glory, including selections from all three of their studio LPs including this years Outside.
The Minneapolis band has been compared to everyone from Pavement to the Pixies to the Talking Heads, and surely display those influences, but more importantly demonstrate that it is their own songwriting and inexhaustible energy that has gotten them where they are in the indie music world. They played loud. They played like they meant it. "Hang Them All" (Walk It Off, 2008) brought impressive bass lines from Eric Appelwick, rock and roll guitar, and generally had the whole band running—into a glorious anthem of chorus.
The grungy, slowed down blues groove of "Demon Apple," (Walk It Off) started low key and rode alongside a slithering, whistling keyboard line, before building into a climactic paramount of distorted guitar and cymbals. Song after song carried the audience through waves of punk, post-punk, blues, grunge, alt-pop and polka styles.
An upbeat, Latin flavored "One In the World" (Outside 2011) featured Matt Kretzman taking a break from keys to play some horn back to Grier's fast, jazzy guitar strums. "Conquest" also from Walk It Off showed a more punk influence, recalling the Clash with its riffs and vocals. The drumming of Jeremy Hanson was thorough and hard-hitting throughout the night; an absolute marvel on every song.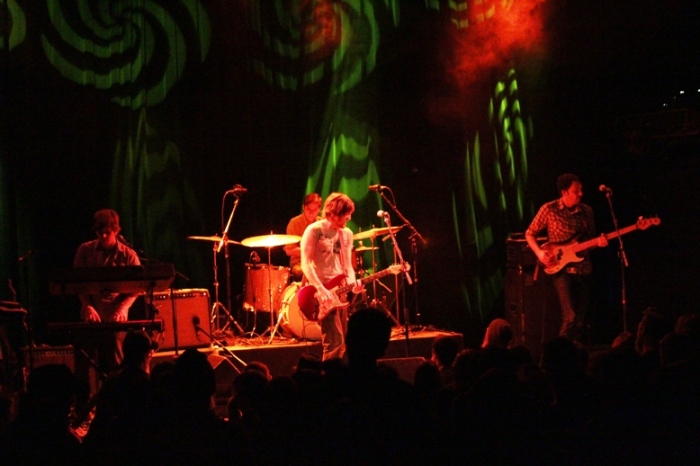 Whatever the media, or pseudo-media wants to say—this album wasn't as strong as that album—they got away from this or that which made them great—blah, blah, blah, blah. Any band's going to explore sound and mix things up from time to time. See Tapes live. That just might be where all their elements merge and shine the brightest.