Yo Mama's Big Fat Booty Band Announces Winter 2014 Tour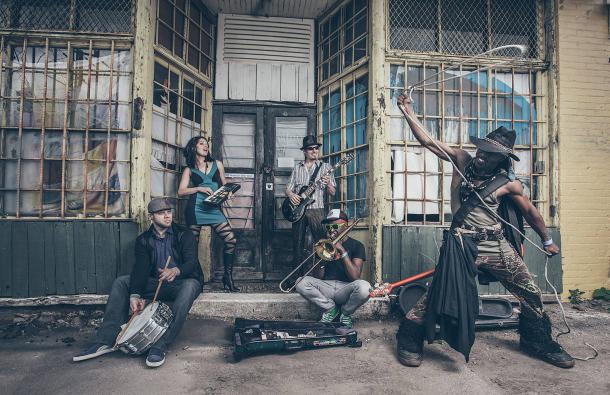 Yo Mama's Big Fat Booty Band is proud to announce their "Booty Show In The Snow" Tour. Known for their outrageous stage wear and thumping live shows, the Asheville, NC-based quintet will bring funk fueled energy to venues in Georgia, Florida, Washington, DC, New York and beyond. Tickets can be purchased through all venue outlets. A full listing of dates and venues is below.
The horn-driven intergalactic ensemble released Onward!, their fourth studio album, on October 22. The release was recorded at Echo Mountain Studios (Band of Horses, Avett Brothers, Zac Brown Band, T. Bone Burnett, etc.).
For more information on Yo Mama's Big Fat Booty Band, visit - http://nu.bootyband.com
To watch the official video for "Trunk Fallin' Off" filmed at Atlanta' famed Clermont Lounge, visit - http://youtu.be/YkWnWnxM2dc]
Yo Mama's Big Fat Booty Band "Booty Show in the Snow" Tour Dates:
1/10/14 - Sky City - Augusta, GA
1/11/14 - Underbelly - Jacksonville, FL
1/12/14 - Dunedin Brewery - Dunedin, FL
1/15/14 - The Funky Biscuit - Boca Raton, FL
1/16/14 - High Dive - Gainesville, FL
1/17/14 - The Social - Orlando, FL
1/18/14 - OM Bar - New Smyrna, FL
1/24/14 - Hoss's Deli - Newport News, VA
2/7/14 - The Hamilton - Washington, DC
2/8/13 - Sycamore Deli - Blacksburg, VA
2/12/14 - ABC - Harrisburg, PA
2/13/14 - Fontana's - New York, NY
2/14/14 - 10th Street Live - Kenilworth, NJ
2/15/14 - Triumph Brewing - New Hope, PA
2/19/14 - The Spot  - Providence, RI
2/21/14 - Nectar's - Burlington, VT
2/22/14 - Church - Boston, MA
3/21 - 3/23/14 - The Green Parrot - Key West, FL
3/29/14 - Slide Into Spring Craft Brew & Music Festival - Fernandia Beach, FL